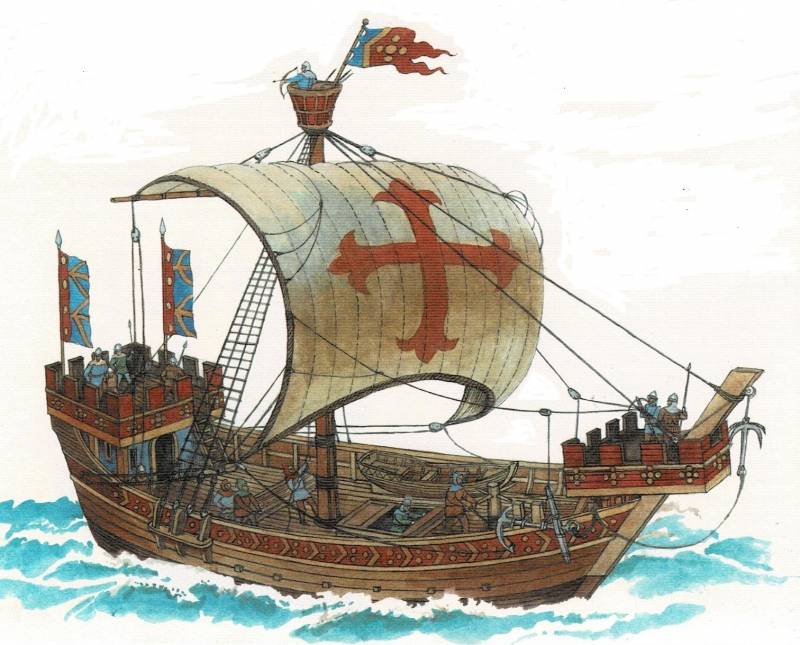 Hanseatic Cogg at sea. Drawing by a contemporary artist
Autumn has come
Dried flowers
And they look sadly
Bare bushes.
A. N. Plescheev
Creativity of parents and children.
Autumn has already arrived, and our children have gone to school. They began to spend less time at home, the influence of school, friends and other external environment increased, and ours correspondingly decreased. Meanwhile, we all want our children to become our continuation, to adopt our skills and abilities, our way of thinking, our culture in the broad sense of the word.
And achieving this is both simple and difficult at the same time. For example, children need to read. The truth is banal, but it's not always easy for adults to find time for this. Again, read books according to age, read what is interesting to children and in addition... read interesting.
You need to play with children, go to the forest, to a river, to a lake, to a museum, to an art gallery, to an exhibition of cats, dogs, cacti, theatrical costumes, tropical butterflies and beetles... Which, again, will require both time and money.
You need to take your child to a cafe and even to a restaurant! Let him learn to behave in public, eat and drink properly. For example, I first went to a restaurant back in 1961, and straight away to Intourist in Moscow, and this did not corrupt me at all.
And recently I was in one of our Penza restaurants and noted how many parents with children were there. Those who came there simply... to have dinner with their family, and not at all to demonstrate any old merchant habits.
And, by the way, it's not that expensive either. Although... yes, it requires some effort of the mind and wallet.
And, of course, you need to let your child work with his fingers, because his mind is located at their tips! That is, let them cut, glue, maybe even solder, if you have it yourself, work on an engraving machine (although, of course, having one in our apartments is still a hemorrhoid). I had a "Skillful Hands" machine, and there was plenty of garbage from it. But I also made very beautiful things on it, and I spent my time working on it usefully.
But you can also not resort to any difficulties, but make paper ship models together with your son or grandson (girls can also be involved in this, it's been checked!). And such that they can also swim. That is, so that later they could be launched in your bathtub or on the nearest pond. The technology for making such homemade products is extremely simple, but interesting and accessible to children even in the 1st grade.
Nevertheless, it allows you to make very attractive models.
historical
courts, in the process of working on which the child can learn a lot, and you, in turn, can talk to him about a lot and tell him a lot!
Well, let's say we decided to start with the simplest (or quite simple) model of the Hanseatic cogg. That is, the trading ship of the Hanseatic League - a union of trading cities in Europe. And it can be said that such ships sailed in the seas washing the north of Europe already in the XNUMXth century.
A novelty was the hinged rudder, which replaced the steering oar in the 30th century, and straight, strongly beveled stems towards the keel - the bow and stern ends of the vessel. The stem ended with an inclined mast - a bowsprit, which served to stretch the sail in front. The longest length of the coggs of the Hanseatic Trade Union was approximately 20 m, waterline length - 7,5 m, width - 3 m, draft - 500 m, carrying capacity up to XNUMX tons.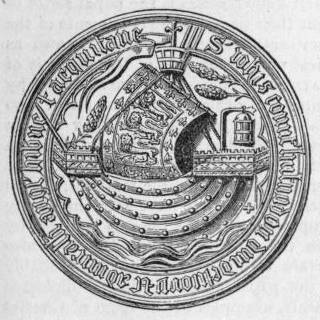 Seal of John Holland, Earl of Huntingdon, Admiral of England, Ireland and Aquitaine, 1435–1442, showing a cogg type vessel. Encyclopedia Britannica, 1911
It is interesting that many large ships of that time, as well as modern ferries and car carriers with horizontal unloading, were equipped with side ports that served for loading and unloading goods. This allowed them to take cargo on deck and at the same time unload the brought goods through the same port.
In the second half of the 300th century, two-masted and later three-masted cogs appeared. Their displacement was 500–28 tons. To protect against pirates and enemy ships, the Hansa merchant ships had on board crossbowmen and several bombards - powerful weapons for that time that fired stone cannonballs. The length of military coggs reached 8 m, width 2,8 m, draft 500 m, and displacement of XNUMX tons or more. At the stern and bow of the trading and military coggs there were still high superstructures.
In the Mediterranean Sea, two-masted coggs with slanting sails were sometimes found. At the same time, despite all the improvements, coggs remained coastal ships - suitable for sailing only near the coast. Meanwhile, Europe needed more and more spices, and their flow through the Mediterranean ports began to dry up due to the fact that even before the fall of Constantinople in 1453, the Turks captured all the coasts of Syria and Palestine, as well as North Africa.
So the history of this ship is very impressive, and the beautifully painted sail, superstructures and shields on their sides all give this model a very picturesque look.

Starting work on a paper model of a Hanseatic cogg
Well, we'll start working on it by remembering: the basis of any floating model is the hull. And the most primitive body is a hewn log. So we will make such a "log" from a sheet of thick A4 paper (Fig. A).
From the inside, the ends of the "log" need to be coated with glue for about two centimeters, squeeze them and fasten them with clothespins (Fig. B).
Now you need to carefully knead the middle part of your body blank and pinch the edges, just as you pinch the edges of dough pies. The profile should be similar to the profile in Fig. B. The stems (ends) are cut with scissors along the dotted lines and, if necessary, glued.
You can glue a deck of yellow colored paper onto the hull, lining it to fit the boards. And then use a razor blade or a modeling knife to cut through the ends of the deck according to Fig. G. and bend them inside the body. Paired pins are cut out of 0,5 mm thick cardboard and glued to the body front and back.
Also, the steering wheel (1) and sides (2) are cut out of cardboard and thick paper and glued to the body with nitro glue. By the way, it is now that the outside of the hull should be painted black with nitro enamel, and the bulwark (the side protruding above the deck) should be painted red.
Parts (3) are inserted at the ends, and superstructures are installed on top of them - castles (5, 6) with decorative hatch covers on them (10, 15). It is very important to carefully cut a hole on the deck, place the model on the water and, holding it with your hands, pour ballast into the hull - lead shot or iron nuts. You can fix it by pouring molten paraffin inside! The hole is closed with a decorative cover (20), which is glued to the deck.
The mast and yard are barbecue sticks, and the mast is inserted into the deck while the paraffin has not yet hardened. "Crow's nest" (7) for the mast, shroud fastenings (6), gate for raising the anchor (3) – all these "details" are cut out and glued together according to the design. How to make shrouds with embossed crossbars is shown in Fig. 5.
The flagpole of the stern flag (one or two at once) is a split straw (1). Well, flags and a sail in heraldic coloring can, firstly, be drawn, and secondly, made using the appliqué method, that is, cut out all the details of its design from colored paper and paste it in place. This work, however, will require skill from you, but no one is forcing you to carve exactly these six heraldic lions, and in addition to them, lilies, when you can carve one single lion in the entire sail. Or even just stick a big red cross on it.
However, today you can do things differently. Don't cut or color anything, but find all these images on the Internet, download, enlarge, and then print and cut out. The look will be very signature!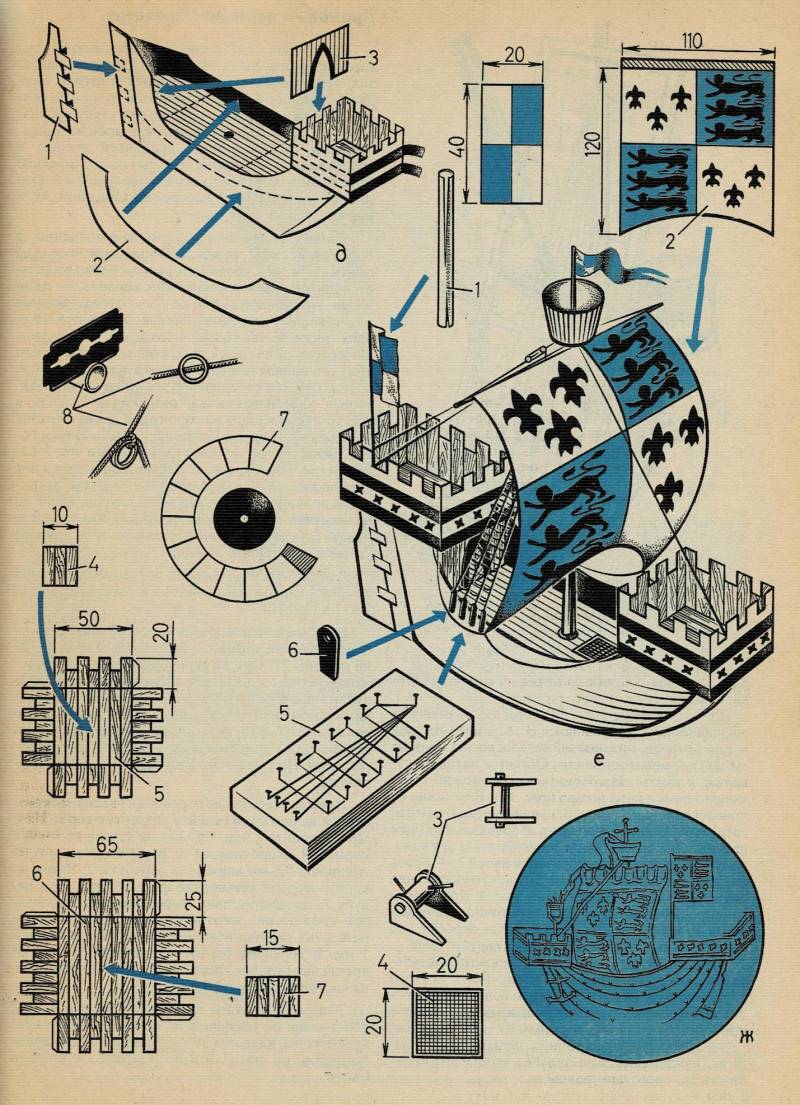 Completion of the Hanseatic Cogg model
The model is surprisingly well suited for making it with your child at home in a couple of autumn or winter evenings.
But it can also be used as a basis for circle work with children in grades 2–3, so that the best of the works can be presented to students and teachers of grades 5–6, where the history of the Ancient World and the Middle Ages is taught.
A whole collection of such ships can be assembled, because the cogg was of the so-called "round ship" type, and there were many of them in the history of shipbuilding. These are Greek merchant ships, and Roman ones - with a swan's head on a long neck at the stern, this is the same Viking knorr and Mediterranean nao - crusader ships with oblique sails on two masts, and even the same caravels from Columbus's squadron!
In a word, there is room for both your and your child's imagination to run wild, and the result will be mutual benefit.
Children, after all, are like a bank: the more you invest in them when you are young, the more you get from them when you are old.