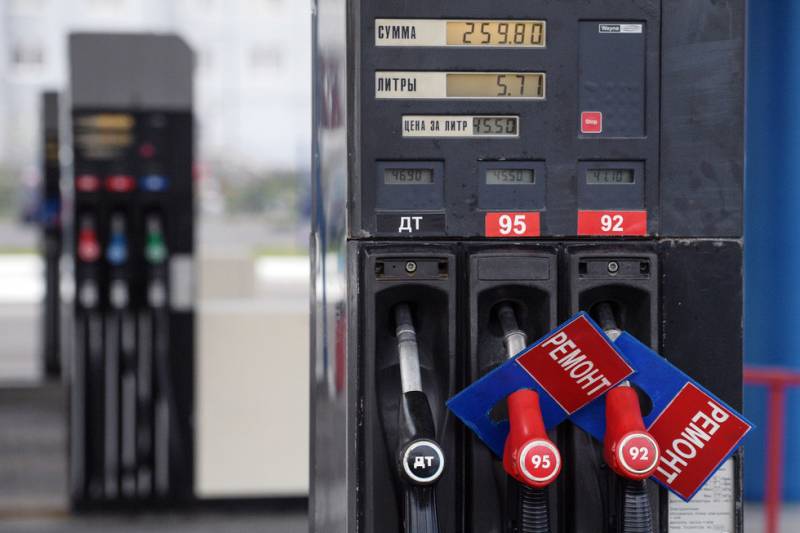 A small economic educational program
How many times has it been necessary to repeat that Russia urgently needs low fuel prices within the country. As, indeed, are low energy tariffs and cheap gas. And it would also be nice to have inexpensive currency and inexpensive ruble loans within the country.
We are not going to say that with this approach Russia will immediately rush to become a world leader, but it certainly will not remain an outsider. And especially in terms of the standard of living of the population, which, alas, is by no means the highest in our country.
And how much, in the end, can one argue that the main competitive advantage of the Russian economy was the low cost of labor. China has already gone through this, but isn't that why the vaunted Chinese economy is stalling today, where they were simply forced to transfer a lot of production to countries where workers are still much cheaper.
Who ordered these prices?
What confused the public most these days was diesel at 80 rubles per liter, although for some reason they forget that diesel fuel consumption per kilometer is much less than AI-92 or AI-95. When they find out what gasoline prices really depend on, they remember everything except the wages of those who work at refineries and gas stations
It is thanks to them, by the way, that you can survive for a very long time in a fiercely competitive environment. Nevertheless, no one cancels the influence of such factors as the cost of raw materials; excise taxes, overhead costs and trade markups.
It's the latter that we'll stick to. Our domestic oil kings are essentially simply forced to trade within Russia, because it is simply impossible to sell everything abroad. Both technically and due to a number of obligations to the authorities.
Small and daring
This is where the dog is buried. The oil giants, receiving concessions from the top for the successful export of oil and petroleum products, also do not want to be left without profit within the country. And it's not so much "high" regulation that slows them down, but the same competition.
Including small companies, which the "big guys" seem to be unable to dislodge or even squeeze out of the market. But don't believe that anyone really wants to squeeze anyone out. The small gasoline business is simply a salvation for the oil giants, who are involved in it according to a variety of, usually "gray", schemes.
You can always attribute the blame for rising prices to petty factors, and "write off", in a different sense, losses, and write off profits through them. It's not just that small companies that control no more than a dozen gas stations somewhere in the outback dissolve in space as quickly as they appear in it.
All are to blame
Gasoline market analysts are very fond of recalculating how much and in which country the consumer spends on filling the tank with gasoline. Given the complete superiority of the West over Russia in retail price, the difference when compared with the average salary is not so big.
In addition, this does not take into account the "left" income of Russians, with whom, you will agree, we have a complete mess. But for the recipients themselves, everything is in order. Just don't think that we want to say with these arguments that it's our own fault.
As stated above, everyone is to blame. But, as you know, everything starts from the top, that is, from the head. Therefore, let's pay attention to strange games with currency, which either needs to be returned to the treasury, dramatically complicating one's business, and then again is not necessary, thereby helping it flow abroad.
Let us remember the equally strange games with the so-called damper, designed to compensate for the losses of gasoline producers on the mandatory sale of fuel within the country.
We will also not remain silent about stimulating deeper oil refining in the country, so that we have our own, and not semi-imported, high-quality oil, and everything else that is made from oil. Either it was not there or not, they are sacrificing it for the sake of income from the export of crude oil and its primary processing products somewhere in Belarus. The refineries there are not much better than ours, but they are an ally.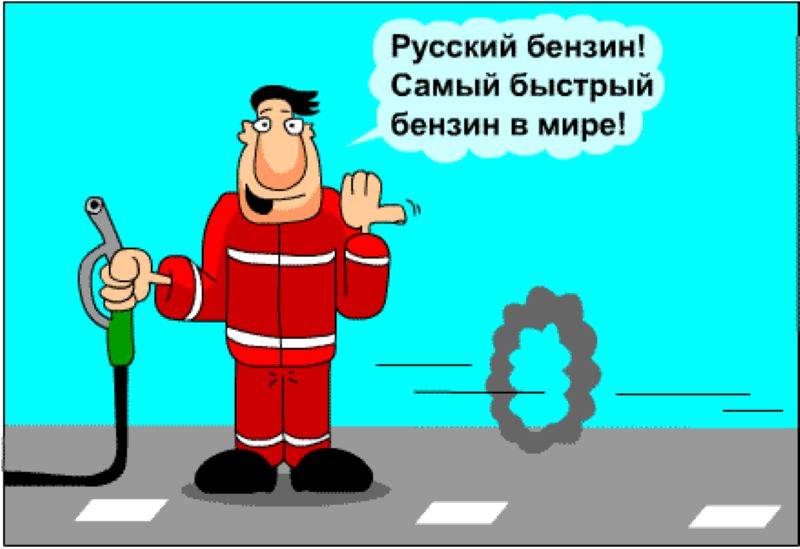 What happened this year?
At the end of the summer, the national AI-92 gasoline persistently tested the mark of 50 rubles per liter, which, against the backdrop of wholesale prices of 80 thousand per ton, looked like an attraction of unprecedented generosity on the part of gas station owners. But demand was weak due to seasonality, and it was impossible to exceed fifty dollars almost anywhere.
The exception was the hard-to-reach outback, but today the last of those dumping are already surrendering. Demand has almost recovered, and preventive maintenance at a number of refineries was somehow extended in time. Clearly looking for an excuse for a price hike. Prices have not yet jumped, they are only creeping, but everything is ahead...
In general, since the beginning of the year in Russia, not only the dollar has risen in price from the euro, but also gasoline. However, not so much yet - only 7,6% versus about 30% for the currency pair. This means that fuel will rise, although our oil producers and oil refiners could continue to play on the difference in prices to their advantage.
Moreover, the collective West has no intention of abandoning the price ceiling, which has somehow been forgotten at the moment. And he buys and repurchases the usual Russian raw materials through less scrupulous intermediaries, starting with India and China.
Don't look back at the dollar
The foreign exchange contribution to the price of gasoline, with some desire from market regulators, could be reduced to zero. But we have a market where the consumer pays for everything. The dollar is simply mocking our monetary authorities, who only know how to make the ruble less and less accessible due to exorbitant rates.
As a result, everyone who can deliberately takes the dollar and leaves, fortunately not everyone has to return it. As a result, it dangles just below the 100-ruble mark, provoking an increase in prices for literally everything. And this despite the fact that Russia already had an excellent experience of almost complete separation from the dollar a quarter of a century ago.
Having oil at a price of just over $10 before the default, the government of E. M. Primakov was not afraid to impose a complete taboo on the withdrawal of currency abroad. The world market's response to this was an almost immediate increase in the prices of what?
That's right - oil! And this, among a number of other measures, helped Russia warm up its half-dead economy, emerge from default with honor, and soon pay off almost all its creditors.