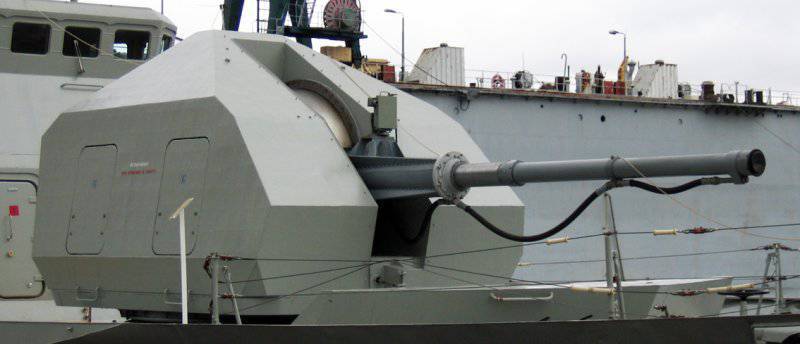 The web resource flotprom.ru citing a source in Nizhny Novgorod JSC "Burevestnik Central Research Institute" reported that the first production model of the improved 100-mm automatic ship artillery A-190-01 Universal made by OJSC "Burevestnik" successfully passed qualification tests, confirmed full compliance with the requirements of the customer and shipped to military shipbuilders to equip the small rocket ship "Grad Sviyazhsk" project 21631, being built at JSC "Zelenodolsk Shipbuilding Plant named after AM Gorky".
At the end of 2010, the government of Russia decided to organize the serial production of A-190-01 at OJSC Burevestnik Central Research Institute. This company is recognized as the most prepared for the manufacture of technical systems of such complexity. Production cooperation was formed with the inclusion of the leading enterprises of the artillery industry.
After the technical upgrading of production facilities and thorough technological preparation, a whole series of A-190-01 samples for naval ships being built under the State Armaments Program for the period up to 2020 was put into production.
At the same time, the specialists of the Central Research Institute "Burevestnik" carried out an improvement in the design of the artillery installation, relating to the transfer to the modern element base of electrical, hydraulic equipment and equipment of the automatic control system of the complex. These changes contribute to the reliability of the system.
The first production model of the new installation A-190-01 was manufactured and passed shooting tests in a large volume - more than 700 shots. The tests confirmed the full compliance of the installation with the requirements of technical conditions and the effectiveness of measures for its improvement. Confirmed the reliability of the gun.
The operation of the production and technological complex and the reliability of the Burevestnik Central Research Institute for Cooperation, such as OJSC Motovilikhinskie Zavody, OJSC Uraltransmash, OJSC Murommashzavod, OJSC VNII Signal, OJSC SKB PA, and others have been tested.
In the Petrel Research Institute, the A-190-01 samples are assembled and debugged according to the 2013 program of the year.
Meanwhile, before 14 in December 2012, the same resource flotprom.ru reported on the completion of the last A-190-01 A-20380-A-100 state-of-the-art artillery testing plant at the Arsenal Machine-Building Plant in St. Petersburg, St. Petersburg. According to a source in the Arsenal Machine-Building Plant OJSC, "in the coming days, the gun will be delivered from the landfill to the Northern Shipyard and assembled ano aboard the corvette "This is our last 130-millimeter gun, and now they will be releasing the Nizhny Novgorod" Petrel ". All efforts of our company will be focused on the creation of a new naval XNUMX-mm artillery installation "Kartaun" for the frigate "Admiral Gorshkov".