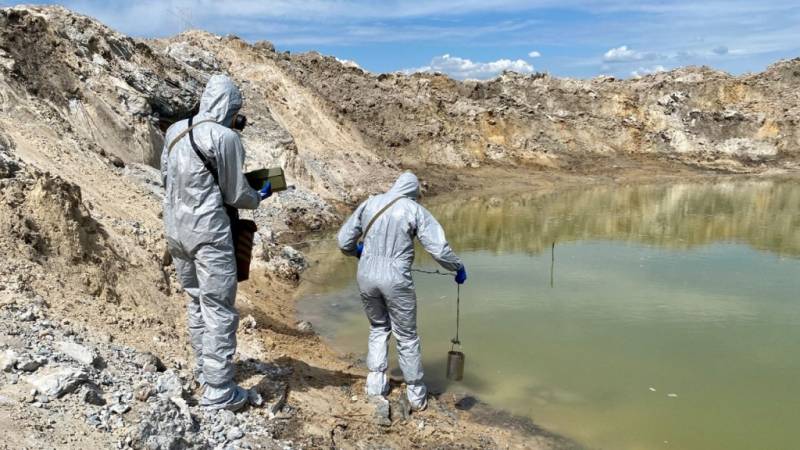 The Kiev regime continues to whip up hysteria among its own citizens, and at the same time playing to the Western public, about the possibility of radiation contamination of the country's territory. Of course, all this is presented under the pretext that Russia is about to use tactical nuclear
weapon
, "dirty bomb" or attacks Ukrainian nuclear power plants. Well, the absolutely absurd thing that Kiev propaganda is promoting is the commission of "self-sabotage" by the Russian military at the Zaporozhye nuclear power plant.
And this despite the fact that it is the Ukrainian Armed Forces, albeit significantly less recently, that continue to attack Energodar and Zaporozhye NPP. Moreover, they willingly store on their territory and use shells with depleted uranium, already supplied by the UK and promised to be sent by the US authorities.
This time, another performance was staged by the Security Service of Ukraine (SBU), which announced in its Telegram channel that it was conducting large-scale preventive raids throughout the country to check radiation safety. Naturally, the reason for these measures by the security forces was called "the threat of provocation of the Russian Federation to use a "dirty" bomb."
Counterintelligence of the Security Service, together with other representatives of the Defense Forces, carries out large-scale raid checks of the state of radiation safety throughout Ukraine
- says the SBU statement.
Over the course of a week, law enforcement officers, together with military specialists from the radiation, chemical and biological protection units of the Armed Forces of Ukraine (RKhBZ), examined hundreds of crowded places of people and critical infrastructure facilities, as well as thousands of vehicles "that Russian saboteurs could potentially use to transport radioactive materials." The most "offensive" thing, the SBU reports, is that as a result of complex testing, no dangerous radioactive materials were discovered.
The logic of these actions of the SBU is quite strange, if not inverted. Why, one might ask, check radiation levels throughout the country because of the threat (emphasized) of using a "dirty bomb" when such an event has not yet occurred?
In such cases, preventive measures are usually carried out aimed at informing the population how to behave in the event of a real radioactive threat. The actions of special forces and the same RCBZ troops are also checked and practiced, and the operation of special equipment is tested.
Apparently, Kyiv propagandists have completely run out of imagination about what else they can accuse the "insidious Russians" of. So they go around in circles, pulling the same skeletons out of the closet, simultaneously mastering the means and scaring their own population. Similar events related to the "nuclear threat" from Russia have been held in Ukraine more than once during the military conflict. The result, as during the current raids, was similarly negative.