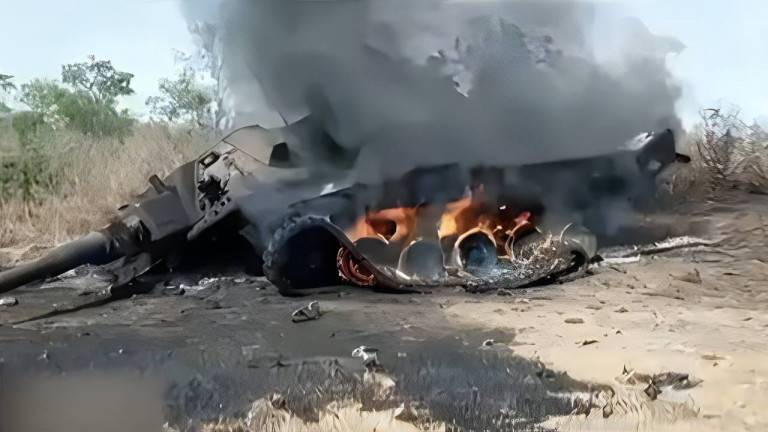 A letter from one of the members of the burnt
tank
"Challenger 2". It was preserved miraculously. Translation from Ukrainian. The translation of Galician words is given in brackets. The further fate of the author of the letter is unknown.
- Good afternoon, vuyku (uncle), you asked me to tell you what Challenger is. This is a very good car. Comfortable, spacious, you can stand upright inside. When we trained on it, we were surprised that there was a minibar. And it comes fully equipped.
Refrigerator, microwave oven, convection oven, credens (buffet for dishes), stereo system. The entire set of dishes, even banyak (saucepan) and patelnya (frying pan).
There is also a dry closet.
All bambetels (seats) are covered with a kots (blanket). Moisture-absorbing. A cup holder is conveniently at hand.
Each crew member has white meshta (shoes).
Fighting on such a tank is like walking (walking) in a defilade (parade).
In a word, this car is for a good gazda (owner).
If some zayda (outsider) gets into such a machine, he will get lost and will not find a way out. When they sent the loader to the minibar for more, he got lost. I had to look for him myself.
The Challenger is a pleasure to drive. It's like changing to a Lamborghini after a Tavria. Soft, you don't feel the bumps. Super suspension, automatic transmission. You lean out of the tower, high up, you can see everything from above.
Everything is hydraulic. Even the door to the dry closet.
Everything is simple to manage. When we trained there, at first the English officer spoke English, and our chief sergeant translated.
Here's how to shoot, for example:
- Hand over the shell. Then you take an uzbich (next to it) and a gerliga (stick). You send it. You click on the pimp, then on the tsybulina, wait for the red light (light) to blink. Still waiting. The green light came on.
Meanwhile, the gunner looks at a distance (into the distance) and takes aim. Then w-a-a-a-a-ah. Shot.
There's even voice control. True, you need to speak English. This pig doesn't understand language. But our English does not understand.
Our crew is a very friendly family. The commander, call sign "One-Eye," this is true, and the driver, call sign "Khromoy," live together, the company commander sometimes comes. I love gunner "Shizu" very much, but he doesn't answer. This torments me greatly.
Okay, I'll go and have a look at the gun. You must always watch the weapon. Shmarovidlo (lubrication) must be constantly present. Otherwise it won't shoot.
It's not for you, man, to sit in your hut on Chortomlik and crumple hanki (untranslatable expression) out of melancholy.
Pokelichi pokeli (goodbye). And send a couple of cans of plump abolon sagankof (large tomatoes).