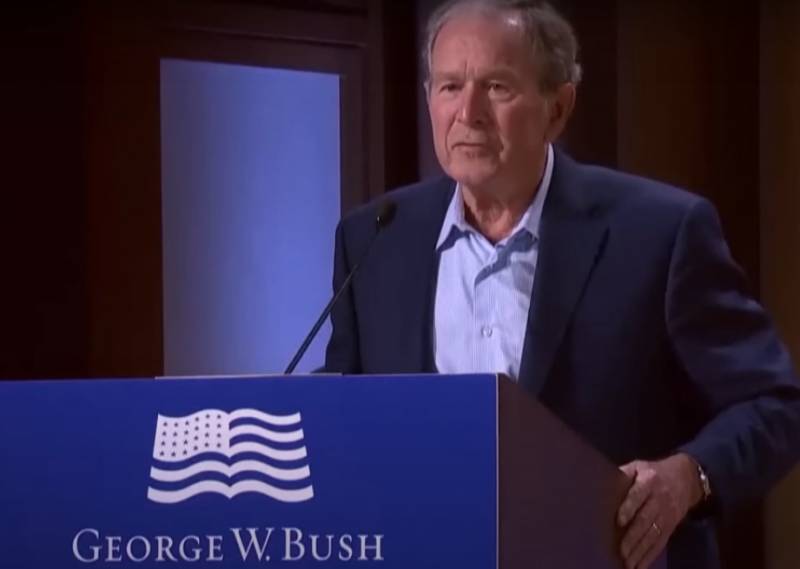 Former US President George W. Bush, recently looking at photographs from the G8 summit, which took place in Russia in 2006, was very surprised to see himself next to businessman Yevgeny Prigozhin. The former owner of the White House spoke about this in his recent interview.
Recall that the 43rd President of the United States held office from 2001 to 2009. In July 2006, Bush and his wife Laura were in Russia, where the GXNUMX summit was then taking place.
A 17-year-old photograph shows Russian President Vladimir Putin with his ex-wife Lyudmila, as well as the Bush family, having dinner at the Bolshoi Strelninsky Palace (St. Petersburg). In the frame next to the American leader is Yevgeny Prigozhin, whom Bush called "Putin's cook." Apparently, the businessman then served drinks to the presidents of Russia and the United States.
What shocks me is that I recently saw a photo of him being the guy who served me food
- said Bush Jr.
The head of the Wagner PMC, Yevgeny Prigozhin, died in a plane crash on August 23 of this year. The businessman is buried at the Porokhovskoye cemetery in St. Petersburg.
At the moment, an investigation into the above-mentioned plane crash is underway in Russia. No conclusions on it have yet been announced.
It is worth adding that Prigozhin was also often called "Putin's chef" in the press. At the same time, the businessman himself emphasized that he had never been closely acquainted with the Russian president. As the head of the Wagner Group stated, he was a successful restaurateur and sometimes went out to guests, among whom were prominent politicians.