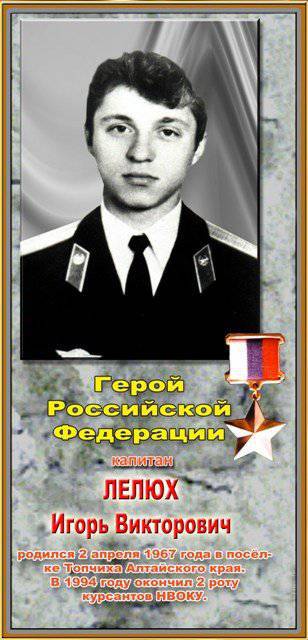 The morning of January 1, 1995, when most Russians came to their senses after the New Year's fun, 27-year-old captain Igor Lelyukh met in the center of Grozny on the armor of an infantry fighting vehicle. The atmosphere here was far from festive. On the eve of the city entered the federal troops. The operation, begun with the vigorous promise of the Minister of Defense "to take Grozny with one regiment in two hours," soon turned into a bloody fight. In the first hours, several units were cut off from the main forces and were involved in violent battles in the burning streets. The notorious 131 of the Maikop brigade, surrounded by militants at the railway station, was particularly hard hit. To help the bleeding Maykop battalions, a group of GRU special forces under the command of I.Lelyukh was thrown.
"Igor should not have gone on that fateful business trip," says Galina Mikhailovna, the officer's mother. - He was on family leave: his wife was in the hospital at the ninth month of pregnancy. The commander, knowing this, categorically forbade him to go to Chechnya, but he still voluntarily went there with his scouts. Those who knew him were sure: the son of the Kuban Cossack, hereditary officer, commander could not do otherwise.
The order received by the Lelyukh reconnaissance group was from the category of those referred to as "mission impossible". A column of gasoline tank trucks and trucks loaded with ammunition had to break through to neighborhoods that were "crammed" with militants. At the avant-garde BMP assault troops drove the special forces, led by Igor. The main fire of Dudayev's ambush on a narrow street between high-rise buildings also hit them. The first shots from grenade launchers hit several vehicles. The fighters who jumped out of the burning trucks and BMP immediately fell into the crossfire of snipers and machine gunners. Captain Lelyukh and his subordinates, dropped by an explosion of armor, were left behind to cover the departure of their comrades. The militants several times offered the scouts to surrender, but only shots were heard in response. A group of special forces fought back to the last and died in full force, causing great damage to the enemy.
Brave captain posthumously awarded the title Hero of Russia. His eldest son Lesha was one and a half years old, the youngest, Sergei, whom Igor never saw, for less than a month. The father of the hero, Viktor Iosifovich, a paratrooper officer and liquidator of the Chernobyl accident, soon died from grief. Igor's widow Natalya had to take legal action for several years, seeking the legitimate right to a pension supplement for the loss of a breadwinner. The younger brother of the hero, Andrew, served in the same part, nine times been on mission in the Caucasus. In Berdsk and Novosibirsk - the cities where Igor Leluh served, he erected monuments.