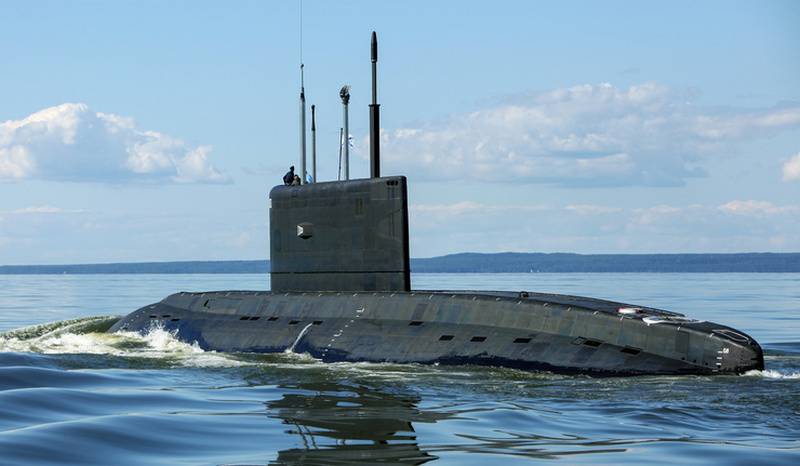 Diesel-electric submarine "Mozhaysk", built for the Pacific
fleet
, continues to undergo factory sea trials in the waters of the Baltic Fleet. During the next exit for testing, the submarine made the first deep-sea dive.
The fourth "Varshavyanka" for the Pacific Fleet, as part of the tests, plunged to a depth of 190 meters at one of the sea ranges of the Baltic Fleet. The crew and commissioning team of the Admiralty Shipyards are on board the submarine. During the dive, they checked the operation of the systems and mechanisms of the submarine, and also worked out the control of the submarine at depth. Four days ago, on August 31, Mozhaisk made its first dive to a depth of 50 meters.
After the completion of the underwater part, the crew of the Mozhaysk submarine surfaced and continued to carry out testing activities in accordance with the plan
- declared in the Ministry of Defense.
As with the first dive, the safety of the submarine was provided by the SS-750 rescue ship, as well as warships and
aviation
Baltic Fleet.
"Mozhaysk" will enter the fleet in November this year. After the official ceremony, the submarine will remain in the Baltic to practice combat training tasks, the inter-fleet transition to the Pacific Fleet is scheduled for next year.
"Mozhaysk" is the fourth serial submarine built in the interests of the Pacific Fleet, after the lead "Petropavlovsk-Kamchatsky" and serial "Volkhov", "Magadan" and "Ufa". The submarine was laid down on August 23, 2021 and launched on April 27, 2023. To date, the company is completing the construction of the last submarine of the Yakutsk series, also laid down in August 2021, it is planned to transfer it to the fleet next year, at which the series will be completed.