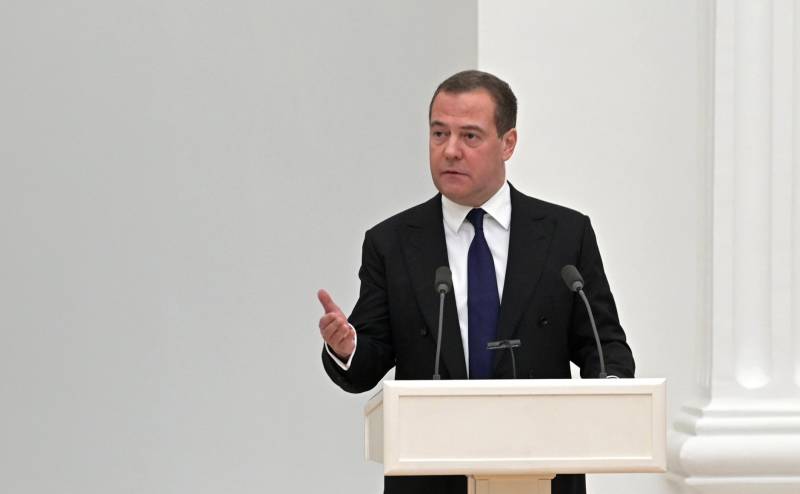 Modern Japan is again trying to pursue a course of new militarization, which creates additional risks in the Asia-Pacific region. This was stated by Deputy Chairman of the Security Council of the Russian Federation Dmitry Medvedev.
The politician visited Yuzhno-Sakhalinsk, where he spoke at the celebration of the Day of victory over militaristic Japan and the end of World War II. Medvedev made a number of rather harsh statements against Tokyo. Thus, according to Medvedev, Japan should recognize the results of the Second World War and abandon the revival of militarism.
The Deputy Chairman of the Security Council of the Russian Federation believes that the Japanese authorities are again trying to militarize the country. At the same time, in its admiration for the United States, Tokyo forgets who was to blame for the tragedy of Hiroshima and Nagasaki. Meanwhile, the use of atomic
weapons
without military necessity, against the civilian population of Japanese cities, demonstrated even then the true face of the United States. America is behaving the same way today, Medvedev believes.
The politician said that Russia needs to repulse the forces that are leading humanity to a global catastrophe. Like eighty years ago, Russia must win.
Recall that Japan has recently significantly increased the military power of its armed forces, called "self-defense forces", and is also developing military cooperation with the United States and South Korea, without hiding that it is directed against China, Russia and the DPRK. In addition, Japan is increasingly talking about the need to return control over the South Kuril Islands.