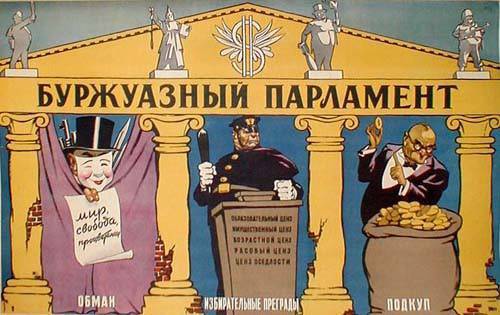 What happened to the USSR, said Eduardo Gatsia Osós, is a big mountain for so many people around the world, even for those who like to enjoy communism. And it's not about politics. Those who considered themselves to be anti-Communists also found themselves without support. And not from class consciousness were people hoping for the USSR, not because "Flight of all countries, unite." All this has long been wrong, and in the West a worker is the same blizzard, only without money. And they hoped because you said: "Man is a brother to man." And everyone yearns for this, whatever they say in public.
Because everyone here feels like flies attached to sticky paper. This paper is sweet, and it seems that you yourself would be drawn to it, and you got stuck - and it became depressing. To resist all this propaganda of the "New World Order", which climbs into your soul and through the process, and through advertising, and through the windows, the person has no strength. He gives up, but he always had confidence that the Soviet Union is in the world and there is a very cultured Soviet people, who will not bite at the sweet girlfriend and will not adhere to the paper trap - and then, you look, they will help us to tear off. And what do we see? This kind of people and bogged down deeper than all and turned into a very very unlikely lie. If so, everything changes in the world.
Look, - says Eduardo, - how a person is made into a net. We stand in the port in Nigeria. Next - the Cuban ship. On the coast of Cubans, the authorities do not allow - they say, there is no democracy in Cuba. Who is so sensitive to the rights of man? The military regime of Nigeria, the obvious fascists, who killed entire tribes, millions of people, no one knows exactly how many. But they are theirs for Bush and to be glad to serve him, as all dictators used to be, that Batista, that Somoza. And today is the same in Angola. Bush, and yours, most likely, all demanded free elections from Angola. When I was in Angola, they said to me: if there are elections and if the present regime is victorious, they will arrange a meat-eater for us. So it happened. Savimbi established a bloody bathhouse in Angola, and no UN is going to clean up.
But the point is not dictators or Savimbi. Here is a nigerian doc. All he has is a piece of burlap cuddle nudity. He gets pennies - and a bowl of rice with corn flour. He lives in a hut of leaves, we went to him. Instead of furniture carboard box. I could throw children away, but I couldn't be able to see them die, one after another. Everyday cocoa and apochis are the best land of Nigeria "working" in Europe and America. And he understands this, and he understands why he has never in his life ever tasted chocolate from Nigerian cocoa. And at the same time - poking a finger at the Cuban flag: "Oh, I'm afraid of Castro!" Well, what are you afraid of? "Well, they have no democracy." What is democracy, what is it for you? "They have no freedom!" What a hell of freedom, you must first feed the children, they are dead with your hunger! He is silent, compressed, feels that all this nonsense about democracy has been hammered into his head, and she has become dearer to him. So this docker also suffers that the USSR collapsed. It means everything. Now it is established all over the world that children are nonsense, and multiplicity is the most important thing in life. And he secretly hoped that someone would put this world from head to foot.
And he asks me with the hope of Eduardo: "Do they really think in Russia the same way you do this docker? After all, he did not study at school at all, and you have an engineer as an engineer." And I can not console him. Yes, they say, they think about the same, and first of all, just as engineers. Although the children do not die of hunger for them, but even if it comes to that, they will not back down from this democracy. After all, now we have a lot of parties - such happiness.
Yes, for some people multiplicity is important, - Eduardo agrees. For those who became a fan of politics. One is ill for one team, another for another - whose will take? But you will see that soon there will be few such fans. Football and more interesting and honest policy. In general, this has nothing to do with democracy. I have been to all the ports - both in Africa, and in Latin America, and in Asia. Such a democracy has been established everywhere, everywhere, and parliamentary and multi-party. Yes, is it at least a little interfere with losing a country or shooting a peasant? Look what they did with Latin America. After the war I sailed on passenger ships. We drove there full steamboats - every month thousands of people. And in Argentina, and in Urgy. The richest land, the population - the same Europeans, can not say that, they say, negros, do not know how to work. And today all of them, if they could, would sail the ocean back to Europe. Their production grows every year, and everything goes to pay the debt, and the debt increases. And now we hear that the USSR climbed into this pit to the International Monetary Fund. But everyone already knows exactly how it is arranged - it is impossible to get out.
You say - the corporation was in the USSR. You have not yet imagined what a correction is in an impoverished country. There all are trained, and there can be no other way. When you enter the port, normally for the inspection of the vessel are 4 person - from the port, from the police, from the customs and sanitary services. Now go to any port in Africa or Latin America. A man flies to you for thirty. Drink, snack, and then everyone should be given in the paw. And you can't be angry with them - the family cannot be kept for a death, and we have known almost everyone for many years.
If we are talking about democracy, then here's a simple indicator for you - the doctors on the ship. If society values ​​a fisherman or a seaman as a person, and not as a working force, it is spent on a doctor, this is democracy. That is why our Spanish captains, as they arrive in the fishing area, first of all find out where the nearest Cuban or Soviet ships are, and make sure that they are always within reach. Because the Cubans and you on every ship have a bell, and during the time of fishing there are injuries almost every day, you will tear off your finger or hook with a hook. And people feel calmer when they know that if it is a serious matter - they will stay with a Cuban warrior, he will rise with his suitcase and even, if necessary, he will do the operation. And he will not take money - he will laugh. Today, you don't give a damn about it, but let us see what the Russian fishmen say tomorrow, when they are left without a doctor, and the boatswains will be doing the operations with consultations on the radio. Here we have the top of the series.
Or here's another - you say, trifle. Previously, the Soviet, almost every vessel was a biologist. We always wondered where they got so many scientists from. And for us it was very important that someone is studying the sea, and he asks us. Now and then the Soviet captains are asked by radio: hello, Eduardo, where you have a freeze, go to heels, find that there is in her stomach - our biologist is needed. Do you think it is unimportant for a fisherman - to feel like a member of the crew, who does not just drive away the treachery, but leads the scientific work? It is important, yes you do not care. And your fybaky will be tomorrow without any problems, and without biologists.
Will it be only tomorrow at the Russian frybak? Something they have become almost invisible. And when you can see, look sick. Previously, Soviet ships were the cleanest and most beautiful. And today they look like pirate. They do not repair, do not paint and do not even eat. In the last flight we went to Salenno, in Italy. It is near the Russian ship, already under a foreign flag. And I know the captain for a long time. The ship pushes port punches - the Russian distribute contraband, brought boxes of American cigarettes. Then I look and I don't believe my eyes - they pull the ropes from the ship, and one drags the cans with paint. The shell is all rusty and the paint is sold. I ask the captain - what is happening? And he laughs. Do you want, says, give you a ship? Buy, Eduardo, the ship is almost new.
What are you, you bastards, did with your country?
I did not find an answer to this question of the Spanish Moray. We ourselves still do not understand what we, bastards, have done with our country.