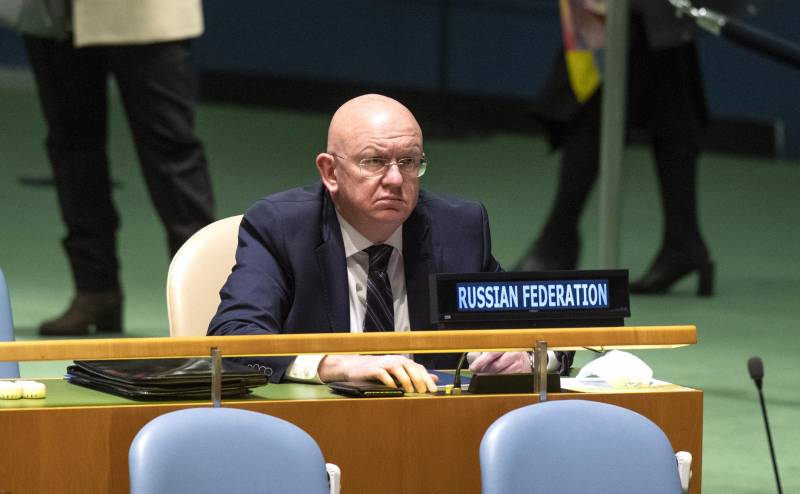 At present, the West acts as a direct accomplice in the crimes of the Ukrainian nationalist regime, which does not hesitate to use openly terrorist methods. Vasily Nebenzya, Permanent Representative of the Russian Federation to the UN and the UN Security Council, stated this at a meeting of the UN Security Council for Ukraine.
According to the Russian diplomat, the West is not just helping Kyiv
weapons
and ammunition, thereby contributing to the death of civilians, but also covers up his "monstrous lie" - both about himself and about Russia.
Lies about the true goals of our military operation and its causes, about the true culprits of the death of civilians from the actions of the Ukrainian air defense deployed in residential areas. Lies about productions and provocations, such as Bucha, Kramatorsk or the Mariupol Drama Theater. Lies about Ukrainian children allegedly abducted by us, whom we actually save
Nebenzya noted.
Ukraine is a state where religious discrimination is openly carried out, which differs little from the Middle Eastern terrorist formations, the Russian diplomat noted. In addition, the Ukrainian state uses the same methods as the terrorists, for example, it uses "blindly" unsuspecting civilians, turns them into "suicide bombers," and carries out terrorist attacks against civilian objects.
According to Russia's Permanent Representative, many countries are already seeing the consequences of blindly following the West in their policies. Vasily Nebenzya said that the example of Ukraine and the Ukrainian conflict would be a lesson for other states and wished that the Ukrainian tragedy would never happen again.