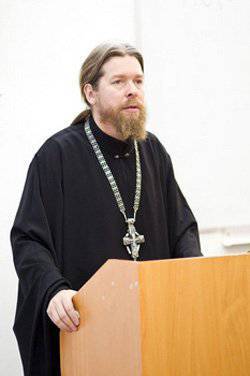 Report on the Interregional Pimenovsky Readings
The policy of tolerance, of course, brings some fruit. What about multicultural policy in Western Europe? We see what a crushing defeat this policy has undergone, based precisely on what Europeans call tolerance. And this is recognized one after another by the leaders of leading European countries.
We all know how difficult is the dialogue within the country, within one civilian people, the dialogue that connects people from different times. And it is extremely important that today at your Pimenovsky readings, this question is posed: where can we find the real, real, lively dialogue of cultures that we need so much today? We in the Church are very familiar with special experience, which is called "ecumenism." For decades, there have been dialogues between representatives of different confessions, different religions, but we all know perfectly well that beyond offices, beyond academic audiences or, shall we say, the official relationship has not gone. What can really be the basis of the dialogue of cultures and, even more broadly, the society itself, its humanitarian component, which is also so demanded today?
Let's take a look at how real, not contrived, not forced by theorists, dialogues of cultures in
stories
and how they evolve today.
What was the basis of culture and society in ancient Greece? I will not be mistaken if I say that it was a civilization of heroes - both mythological and real - Pericles, Alexander, Philip. What was the basis of civilization and, in many respects (not absolutely, but in many ways), the culture of ancient Rome? This, too, was, in fact, a civilization of heroes and a society based on a kind of cult of heroes — Muzio Scovola ... What was the basis of Byzantium? It was also a society of heroes, only the collections of their life stories were called the Lives of the Saints. The same was in Russia. Western European civilization - again, knights. There was, of course, officialdom, and anything, but the general public outlook was oriented precisely in this vein, and that was how the nationwide spiritual and moral priorities were set. The founding fathers of the United States of America are also heroes. Recall how they glorified them even, so to speak, in official life. In the US Capitol, George Washington, the first president of the United States, was portrayed neither more nor less than Jupiter. In the times of the Great Depression, difficult for the country, when collapse and corruption reigned around, when it would seem there was no place to take a hero, the Americans nevertheless found him - a "cowboy," to put it simply, a shepherd, who is morally in many respects not saying that absolutely, oriented society. Almost all of those present here grew up in the Soviet Union, and it's not for you to talk about what the image of the hero meant in Soviet times. Produced by propaganda and ideology, how it still influenced our lives! And the state was not afraid to make these heroes, just like the same Ancient Rome did - to lift them on a pedestal. And this was a pledge of that spiritual and moral health, which nevertheless persisted in Soviet times, and then was transferred to us. I'm not talking about heroes, so to speak, purely ideological, but in fact there were often real ones.
What is today? Today we are undergoing a process of deideologization, the deheroization of our history and our country. Recently, I went to a large bookstore and in a prominent place I saw a book about Georgy Konstantinovich Zhukov. Disgusting book, lying! We remember how Pushkin spoke about Napoleon, the enemy of Russia: "Leave the heart of the hero, what will he be without him - a tyrant." Everyone, of course, was during the war, but any hero can be destroyed if one takes away his heart and selects the reasons for which he committed these or other acts. Any hero, state or military, can, of course, be very easily converted, according to Alexander Sergeevich, into a tyrant. And this process of degeneration, we are quite successful. There is not a single hero of Russia and even Russia, who would not be slandered, whose image would not be systemically distorted in the most ruthless manner in the ideas of our society.
Three years ago, we started talking about General Vlasov, first in our Church, and then spread to the whole society. Very competent kind historians appeared who began to say that Vlasov is, in fact, the protagonist of the Great Patriotic War, we know nothing about him, but in fact his aspirations were pure and holy and what he did - This is a great struggle against totalitarianism. I wrote an article on this subject, where I held the opposite opinion: "a traitor is a traitor". And at the end of this article there were such words: "as long as our schoolchildren, answering the question:" who was the hero of the war ", will call General Karbyshev, and not General Vlasov, Russia will exist". One schoolgirl of 14 years, having read it, asked me: "Batyushka, and who is General Karpyshev?". After that, I decided to bring together students of our Sretensky Theological Seminary (this is 200 people), glorious children brought up in Russian traditions, and ask them: "Who is General Karbyshev?" First course: no one raised his hand. Second course: one person. The third course: one person. Fourth year: two people. Fifth year: everything, because they did it at the seminary. Then I asked: "Who is General Vlasov?", And everyone raised their hands. I wondered: "What did General Vlasov do?" Opinions are roughly divided around 50 to 50. One half of the guys said it was a traitor. And the second half, I emphasize, the Orthodox boys brought up in Orthodox families expressed something like the following: "This is the kind of person who, in the times of Stalin, fought against totalitarianism, the cult of personality, and that's where you don't understand - is he good? bad, we ourselves do not understand. " Then I asked those five people who knew about Karbyshev, how they knew about him. One was told by parents, three - by Sunday school teachers, and one received information about General Karbyshev in a regular secondary school in the city of Petropavlovsk in Kazakhstan. Here are the fruits of the very same degeneration and exaltation of other heroes, which are now being imposed on us.
On the other hand, degerization is necessary, and it occurs from time to time both in civilization and in society in order to separate the true, highly moral, spiritual heroes from the heroes imposed by ideology. This is sometimes a very correct and necessary process. But when he goes too far, the tragedy begins - the one about which I have just told you. Although my story about Vlasov and Karbyshev is only a small harbinger of tragedy.
The dialogue of cultures ... I have no doubt that it is conducted implicitly, in addition to academic, so to speak, reflections, it is conducted on its own. What can be a dialogue, a real dialogue of simple schoolchildren, for example, Orthodox and Muslims. Theology is too hard for them. Tolerance (with all that is, of course, necessary) is too boring for them. But when one tells about Khoja Nasreddin - about a hero, even a collective one, and another tells about one of the Russian Orthodox "heroes" - about the same Reverend Seraphim of Sarov, - they will find a common language. Because, I repeat, the foundation and the base of society must be built on heroes. We, unfortunately, often forget it.
Sometimes such a dialogue of cultures can be very complicated. For example, the dialogue of enemies. But he is also possible, again through the prism of those very heroes. Let us recall Pushkin and his "Poltava", when Peter I, as heroes, lifts up his opponents - the Swedes, who were captured by him. It would seem, what could be the dialogue immediately after the bloody battle of Poltava? But it is still possible and happening.
What will we see, going back to today? We will see the media that form certain heroes, we will see the ideological component of this process. In our country, the state ideology is prohibited, as is known, by 13, by that article of the Constitution. But we all understand perfectly well that, to put it in the folly, a holy place is never empty. Moreover, a de-ideologized state is not viable, whether we like it or not. This does not mean at all that it is necessary to call again for a totalitarian Soviet state ideology or something like that - there is even no question of that. But a certain strategy, humanitarian strategy, strategy in the field of culture, education and upbringing, the country, of course, is needed. And the foundation of this strategy, we certainly have to determine, to borrow, at least to peep, to learn it from the very ancient and new cultures, which are based on the glorification of heroes. After all, the same Mucia Scevole was erected a monument in Rome. I remind you that Muzio Scsevola is a young man, a young patrician, who was caught in the camp of Roman enemies, demanding treachery from him. He put his right hand on the fire of the altar, and when the hand began to burn, he said: "This is what a free Roman can do." It was a tremendous example for the whole of Rome for centuries.
When I read in the press that a young man on the bus stood up for a girl who was insulted by some people and was killed, I don't understand why this real hero, who would have done the same thing in war, and in any other situations, why would this man not put a monument in his city? Then this monument will bring up many, many generations, although it would seem that the guy did a bit. Actually a lot. The hero is the one who gives his life "for his friends", which is well known to everyone sitting here. In the eyes of the Savior, such a person receives the highest praise: "There is no more that love when a person puts his soul for his friends." For God is love.
But our current attitude towards heroes is at the mercy of, as always, the market. I will not list all those heroes that today's mass media produce, public opinion, and so on - this is sheer cowardice, vulgarity, rudeness, and so on, and so on, which is now being put on a pedestal. And then we wonder why the younger generation is such and such and such and such. Yes, because the characters are. If they do not put up man-made monuments (although this happens), then spiritual monuments are actively and clearly erected and imposed on society.
Of course, we have some spiritual heroes. Today in the intellectual, so to speak, space, by and large, there are two heroes, two beautiful, elderly people - Dmitry Sergeyevich Likhachev, infinitely respected by me, whom I had the good fortune to know personally, and Andrei Dmitrievich Sakharov. Here you have two heroes of today's Russia who are allowed to leave officially. And the more you will not be heroes. Alexander Solzhenitsyn should be a hero, but there he wrote something wrong, something he said wrong - and also was degenerated. The saints are also being degeroised. On Echo of Moscow, for example, there is now a discussion about Alexander Nevsky: a Tatar minion and no one else, no need to invent all these holy calendar. Read, very interesting.
Therefore, it remains an open question: can we see the heroes in our life today, talk about them, and help the younger generation, first of all, to notice them? The issue is fundamentally important, because a civilization is built on the heroes in many ways, very much in many ways.
This is in our power: in the power of the Church, and in the power of the state, and in the power of each of us. If we do not do this, then the holy place will not remain empty, and still those who destroy, vilify and make our society cowardly and unviable will remain on pedestals.
Thank you!