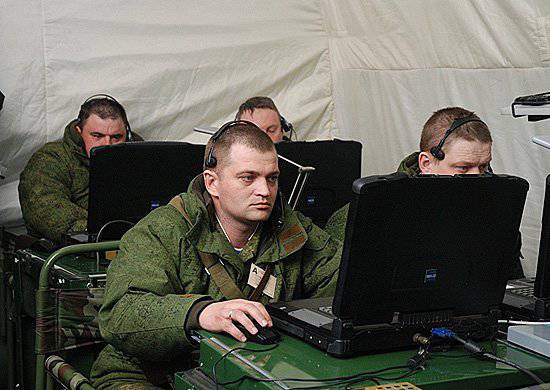 The newest automated command and control system (ACCS) at the tactical level of Andromeda-D confirmed its high performance and operational performance during the experimental command and staff training (CPS), which ended today at the proving ground near Ivanovo.
Andromeda-D showed high efficiency and reliability of all the subsystems integrated into it during the QPS, which was carried out in order to test the capabilities of the telecommunications equipment and video conferencing of the automated command and control system to ensure the management of practical actions of the airborne units on the ground in real time.
To test the complex in field conditions, two modules of the Andromeda-D automated command and control system, as well as complexes of the Polet-K automated command and control system of the airborne division and paratrooper battalion, and four state-of-the-art equipment for various purposes undergoing testing were deployed at the test site in the Ivanovo region. military trials.
The automated control system of the airborne units of the airborne units of the artillery and air defense units of the Airborne Forces were the modernized mobile reconnaissance and fire control units of the Rheostat and Barnaul-T, respectively.
To check all parts of the ACS in Moscow (in the Airborne Command and the General Staff of the Armed Forces of the Russian Federation), command and control posts were deployed, officials of which, during a videoconference, not only participated in training management, but in real time from a distance of 300 km they observed tactical progress drawing on the ground with the participation of parachute, reconnaissance units, artillery and air defense of the Ivanovo airborne compound.
The head of the training, the chief of staff of the Airborne Forces, Lieutenant General Nikolai Ignatov highly appreciated the results achieved during the CST "The prototypes of the control modules that we tested today in a single segment of command and control ensured the implementation of all the tasks with high quality," he said.
According to him, the system works confidently and efficiently. "The main thing is that we are developing the practice of using automated control systems, building up at all levels the skills of using high-tech equipment when performing combat training tasks," the general emphasized.
During 2012, the Andromeda-D ACCS was successfully used during paratrooper tactical exercises, including during the Kavkaz-2012 strategic exercise. In total, more than 60 combat training activities (joint staff, command and staff training and exercises) were held, during which commanders and headquarters received the practice of managing units and subunits using digital telecommunication equipment and video conferencing by Andromeda-D and Polet-K ".
Troop tests for automated command and control equipment at the Andromeda-D tactical level for the needs of the Airborne Forces were completed at the end of 2011. Its serial deliveries to the units and military units will begin in the 2013 year.