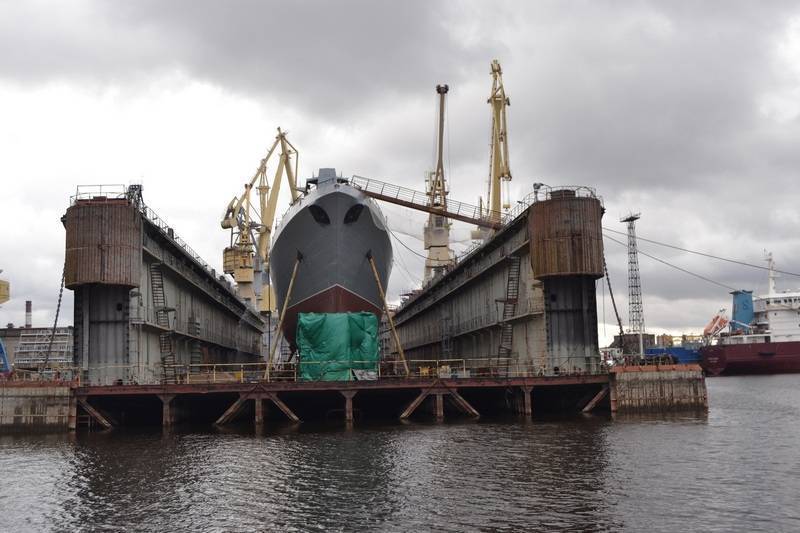 The third serial frigate of project 22350 "Admiral
fleet
Isakov of the Soviet Union, which is being built at the Severnaya Verf shipyard, will soon be launched, the head of the enterprise, Igor Orlov, said.
The frigate "Admiral Isakov" is being prepared for launching. The ship is almost completed, all the main mechanisms are installed, now the hull is being painted. According to Orlov, the ceremony of launching the frigate will be held early next year. The ship is the third serial ship of Project 22350 after the lead Admiral Gorshkov and the serial Admiral Kasatonov and Admiral Golovko, as well as the last ship of the basic configuration.
"Admiral Isakov" is preparing to launch. I don't think it will work at the end of this year. But at the beginning of next year we will launch it. He is fully prepared for this.
- leads
TASS
words of the head of "Northern shipyard".
The frigate "Admiral of the Fleet of the Soviet Union Isakov" was laid down at the "Severnaya Verf" on November 14, 2013, in July 2017 the formation of the hull began by joining the blocks. In September 2021, the frigate received a Russian power plant, turbines and a gearbox of the DGTA M55R diesel-gas turbine unit were installed on the ship.
A year ago, Severnaya Verf shared plans to transfer frigates 22350 to the fleet. According to Orlov, the military will first receive the Admiral Golovko frigate, then the Admiral Isakov, and then the Admiral Amelko and Admiral Chichagov frigates of the already modernized project 22350.
Project 22350 ships have a displacement of 5 thousand tons with a length of 135 m and a width of 16 m. The frigate is able to travel 4500 miles, while reaching speeds of up to 29 knots. The autonomy of navigation is 30 days. Crew - from 170 people. The frigate is armed with: 130-mm artillery mount A-192, anti-aircraft missile system "Polyment-Redut"; launchers for 16 Onyx or Caliber anti-ship missiles, Paket anti-submarine complex, Ka-27 anti-submarine helicopter.