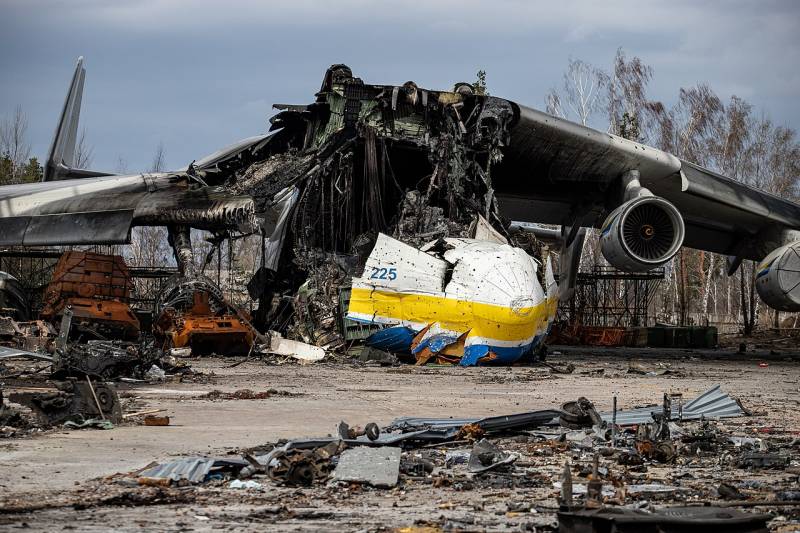 In Gostomel, the technicians of the Ukrainian company Antonov are busy removing the surviving parts from the remains of the Mriya aircraft. This is reported by the Ukrainian press.
Recall that the world's largest transport aircraft was destroyed in the first days of a special military operation of the RF Armed Forces at Gostomel airport. However, some spare parts on the aircraft survived. Therefore, it was decided to remove them, since later they can be used in the construction of a new similar aircraft.
It should be noted that earlier the Antonov company announced the start of design work for the construction in the future of a new large transport aircraft of the Mriya type.
Interestingly, the Kiev regime also found the "culprit" of the destruction of the Mriya aircraft. The former general director of Antonov, Sergei Bychkov, did not take the plane out of Gostomel, despite the relevant recommendations of the Ukrainian security forces. As a result of the Russian strike on the airport, the aircraft was destroyed. Now Bychkov is on trial for his negligence, according to the Ukrainian authorities.
True, it is not very clear how the Ukrainian company is going to use the new aircraft, if it is nevertheless built. After all, air communication in combat conditions remains risky. Therefore, it can be assumed that parts from the Mriya will be sold or given for study to Western experts in the field of aircraft construction.