16 December 2012 of the year in Rostov-on-Don made the first flight of a new heavy transport helicopter Mi-26 (serial number 34001212635, serial number 32-05) completed by the construction of Rostvertol OJSC for the Ministry of Defense of Russia. December 21 This helicopter made a flight after receiving a complete new standard dark-gray coloring of the Russian Air Force and the tail number "04 yellow". This helicopter became the seventh built on the Rostvertol for the Russian Air Force in 2012 and the eleventh built under the 2010 contract of the year with the Ministry of Defense for the supply of X-NUMX Mi-18 helicopters (the first four vehicles of this Rostvertol contract were produced for the military department in 26 year).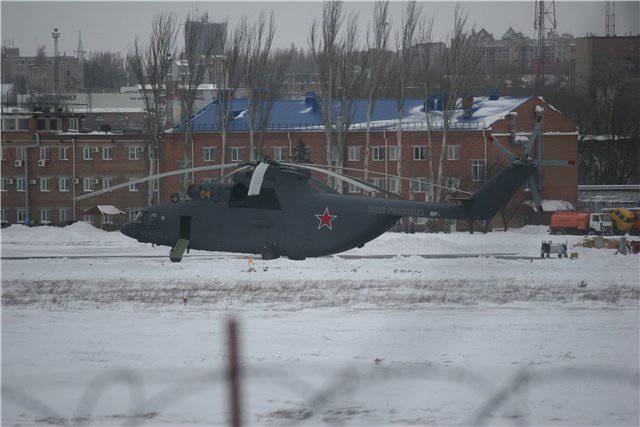 Mi-26 transport helicopter (34001212635 serial number, 32-05 serial number, 04 yellow serial number), built for the Russian Air Force at Rostvertol. Rostov-on-Don, 21.12.2012
In May-June, the Rostvertol plant under this contract handed over to the Russian Air Force two Mi-2012 helicopters (the last 26-series vehicles) - helicopters with the 31-31 serial number (the 09 blue side number, 88 serial number) and with serial number 34001212629-31 (tail number "10 blue", serial number 87).
Then the company built five helicopters of the new 2012 series for the Russian Air Force in 32. Of the 32-series helicopters built on Rostvertol, the 32-01 serial number (07 blue tail number, 34001212631 serial number) made the first flight of 6 September 2012, the 32-02 serial number (tail number 08 blue, 34001212632 serial number) - November 6, 32-03 serial number machine (34001212633 serial number, 10 blue side number) - November 29, and 32-04 serial number (34001212634 serial number, side the number "03 yellow") - December 4.
Helicopters with tail numbers "07 blue" (32-01) and "08 blue" (32-02) have already been handed over to the Russian Air Force and arrived on December 13th at the 573rd Army Air Base
aviation
to Khabarovsk. It is expected that by the end of the year the remaining three 32-series vehicles will also be delivered, including the last helicopters with tail numbers "03 yellow" (32-04) and "04 yellow" (32-05) will be delivered to the 48th Army airbases in Kamensk-Uralsky (Uprun, Sverdlovsk region).
Thus, in 2012, Rostvertol, having built seven new Mi-26s, set a record for the production of helicopters of this type from 1994 of the year (when ten Mi-26s were commissioned).
According to the information available, a total of X-NUMX helicopters of the Mi-2012, Mi-52H and Mi-26 types will be built for all customers at Rostvertol in 28.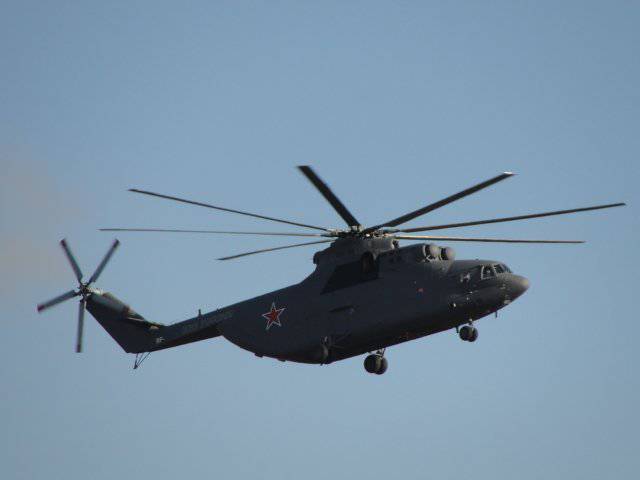 The Mi-26 transport helicopter (34001212633 serial number, 32-03 serial number, 10 blue crew number), built for the Russian Air Force at Rostvertol. Rostov-on-Don, 04.12.2012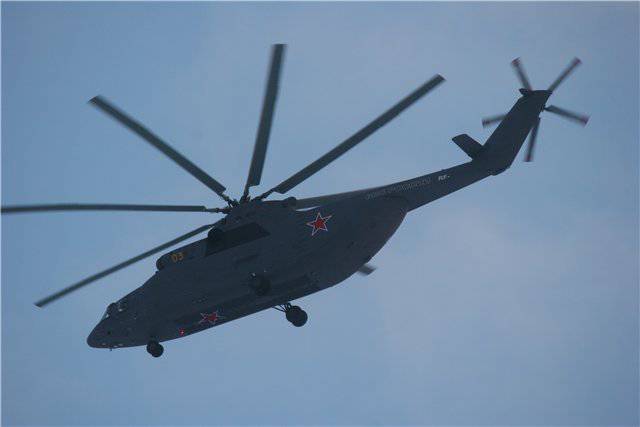 Mi-26 transport helicopter (34001212634 serial number, 32-04 serial number, 03 yellow serial number), built for the Russian Air Force at Rostvertol. Rostov-on-Don, 17.12.2012