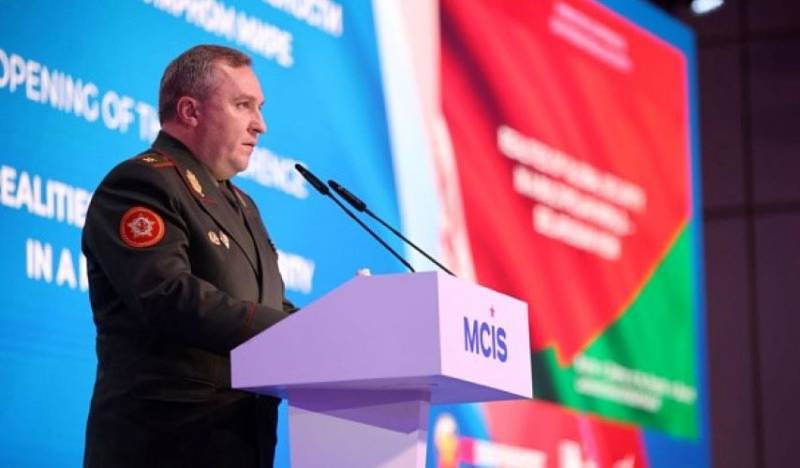 Belarusian Defense Minister Viktor Khrenin touched upon a number of geopolitical issues, including the situation around Ukraine, speaking at the XI Moscow Conference on International Security.
According to the minister, the countries of the so-called "golden billion" continue to pursue a policy of imposing their hegemony and world views on other countries and cultures even more strongly. This, in turn, leads to the resistance of many countries of the world, which today has resulted in a global confrontation between the West and the East on the territory of Ukraine, Khrenin said.
The proxy war that unfolded there (in Ukraine) actually put the planet on the brink of a third world war.
- said the minister, speaking at a conference in Moscow.
However, despite all the risk, there are politicians in the West who continue to push the world into the abyss, while trying to revive the colonial past in a new formation.
The head of the Belarusian Defense Ministry called a kind of colonization of new territories and the expansion of NATO, which is being done to use the territory and population of new member countries in a possible war with the East, which refers to all countries that oppose the plans of the West.
Khrenin also noted that NATO's plans to create a 300-strong group of troops on the "eastern flank" of the alliance appeared for a reason and were not aimed at defense, but at a surprise attack.
According to the minister, in order to effectively resist the West, other countries need to stick together and work actively within the framework of such organizations as the CSTO, CIS, SCO, BRICS.
The position of the Republic of Belarus is unequivocal - to stop the war by any means. Then it might be too late
- said Khrenin, hinting at a possible escalation of the conflict.