Recently, a series of scandals flared up around the Ministry of Education. This time, corruption scandals have been relegated to the background, but the situation with the ongoing education reform has taken the lead.
An amazing thing comes out: according to public opinion polls, as well as the opinions of specific representatives of the educational process (students, students, their parents, teachers, veterans of the teaching profession), the reform option that is being carried out today does not suit the overwhelming majority of respondents, and the ratings telling about the fall the level of quality of modern education, appear with enviable regularity not only in the domestic, but also in the foreign press. However, apparently, supporters of the reformation manner taken as a basis are absolutely not going to reckon with the majority opinion or the published indicators today.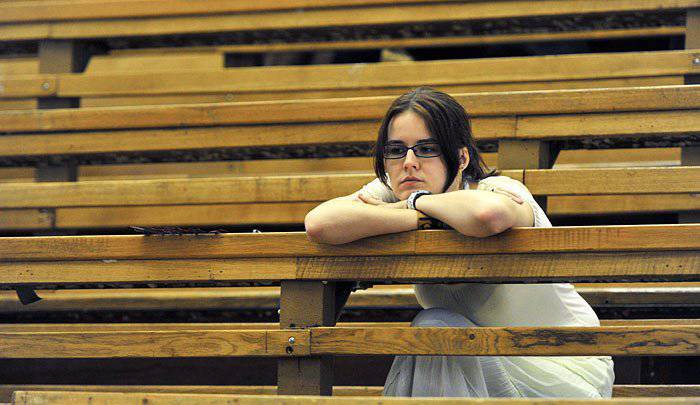 The State Duma literally the other day at the request of the Ministry of Education and Science adopted a very controversial law on education. Moreover, information about the adoption of this document was in passing somehow mentioned in the federal media. Like, what is there to tell, what to discuss? This is not such hot cakes as, for example, the resignation of Serdyukov or house arrest Vasilyeva. Of course, the pies are completely different here ... But it depends on the adoption of such a law, no less, the fate of our whole country, the fate of future generations, no matter how pathetic it may sound.
The bill itself, it should be noted, has been trying to go through the State Duma for a long time. His foundations were born when the ministerial post was headed by a man like Andrei Fursenko, whose name among those familiar with educational problems is not hearsay, has become consistently associated with the generation of new and new difficulties in the Russian educational sphere. No, it's impossible to say that the draft law was adopted without discussion. The Ministry at the time announced that it was ready to listen to suggestions and wishes from practicing teachers and all those who are somehow related to the field of education and training. Special sheets for submitting their proposals were sent to educational institutions, it was possible to leave your comments in the course of improving the bill on a special service. At the same time, more than half a million (!) Changes were proposed that professional teachers and students themselves considered necessary to take into account for the real modernization of education. The Ministry of Education and Science, which today is headed by Dmitry Livanov, received about 40 thousands of collective appeals about which items need to be revised to make Russian education more efficient.
However, what was the surprise of those who advocated making effective amendments when the final form of the law on education remained virtually unchanged. The ministry took into account only some not the most significant proposals, and the "skeleton" of the law itself remained in the form of a "skeleton of a lizard", which was either somewhere dug up, or created artificially in the ministry even while managing that Mr. Fursenko.
The main points of the new law are: the elimination of the system of primary vocational education (that is, all vocational schools and colleges will instantly become technical schools or they will be attached to technical schools or simply disbanded); the system of the Unified State Exam (USE) remains unshakable, which, of course, gives the graduate more opportunities for admission, but at the same time does not reflect either his real knowledge or objective abilities. The law on education considers a system of distance and even family education, which, on the one hand, seem to expand the range of opportunities for education as such, but can become a completely uncontrollable link in the preparation of students. There is information about the conduct of business activities, which, perhaps, will bring the necessary funds to schools, technical schools and universities, but whether such profits will at least fit in with the educational activity itself is a big question.
The situation with the priorities in education also looks very complicated, if it is appropriate to define them at all. At one time, Dmitry Medvedev, while in the presidency, said that in Russia there is a substantial surplus of educational institutions of higher professional education, which conduct educational activities of a humanitarian nature. He indirectly identified the technical vector of higher education as a priority for the development of an innovative economy. Of course, the army of pseudo-humanitarians, who after graduation from high school can not answer questions about literature,
stories
, law, social studies, which, by definition, must respond, the country does not need. You need an optimal number of specialists in the humanitarian and technical professions.
However, we have such words of senior government officials are often perceived as a go-ahead in order to quickly change the guidelines: if the leader said that "there are too many humanitarian universities," then it is time to "fix" the situation as a matter of urgency. How to correct? Well, of course! Enter a list of "ineffective", according to which you can quickly fit to one size as universities that grew mushrooms after rain in the last 2 decades, so those who have a single story more years than Messrs. Fursenko and Livanov combined ...
Much has already been written about what today is needed to recognize the effectiveness of a Russian university. Judging by the recent criteria of the Ministry of Education, a university can be effective if it is a half-empty building with huge squares, where students from Kenya or Vietnam study only and a couple of 100 points from the North Caucasus, for example ... However, in most Russian universities (of any profile) and with areas, and with foreigners, and with 100-balloons on the exam, the problem. But this does not mean that to solve it, state universities with 50-100-year history and traditions can be carefully covered, translating under the auspices of more "effective", but dozens of non-state universities that prepare for whom it is not clear and not clear what purpose, judging by A new law on education, to provide additional guarantees ...
The situation with the reformation of the Russian education and worried at MSU. For several years now, this university has been discussing the fact that the reform is being carried out on the wrong track, but so far the vision of the problem solving by university staff in the Ministry of Education and Science is ignored. In particular, the academic council of the philological faculty of Moscow State University has attended to a sharp decline in education in Russia, not only in general, but also specifically in the humanitarian sphere. Teachers say that, despite the presence of a huge number of universities with a humanitarian focus in Russia, the level of students' training itself is poor. A formal approach to both learning and assessment, sometimes just goes beyond all reasonable limits.
Moreover, the schools decided to follow the path of a strange optimization of humanitarian subjects: they cut back hours of literature and history, and now they also want to combine the first one with Russian into one subject. Why? Economical! Why should the country be educated and literate people, because it is not useful to them in their "technical" work. I learned how to write "pas-ruski" "Hello, shrimp!", Well, okay - you can use it as an advanced manager. Does an advanced manager need to know when there was a Russian-Japanese war or, for example, the Battle of Neva. Does he need it? ..
The most amazing thing is that the younger generation itself unwittingly spurs on the fact that "it does not need him", because you can take and mark the correct answer in the tablet, and if you wish - get a smartphone and "google" everything you need ...
The role of the teacher? I'm sorry, what? Yes, in the field of our education today, even such a concept is not politically correct. After all, the fact is that for some time, the STUDENT has been at the head of the whole system. Lump! And this lump must necessarily be protected in rights, free from teacher claims and certainly be certified in all academic disciplines, even if the teacher last time saw the lump when she asked to add her as a friend in social networks, "to find out what's new at school (high school). " The teacher, it turns out, should neither teach nor educate the learner ... According to the new concept, he must ensure that he himself is brought up, developed and trained: he was looking, so to speak, for ways to educate himself. But not everyone, forgive me, the nedoros is not ready to receive a "fish", but a "fishing pole", so that she (fish) can be caught with her mind and with her own hands. Such "fishermen" - units.
In modern consumer society, we ourselves realize that it is easier to buy than to manufacture, make, develop. Planting potatoes or cucumbers - what a delusion, but why then supermarkets ... To draw the details of the scheme yourself? - here they laugh - you can download ... With this approach, the role of the teacher falls to a historically low level. If in pre-revolutionary Russia, in the Soviet Union, the teacher was positioned as an unconditionally respected person, today respect for the teacher is often measured by the cost of an hour of his rehearsal services, and even does not play any role ... But we, you see, build an innovative economy in the image and likeness western.
And after all, the developers of the new education system are not embarrassed that neither the UK, nor the United States, nor France, or Italy are among the world leaders in terms of education. The first places, according to the recently published international rating of educational systems Pearson, today belong to such countries as Finland, South Korea, Hong Kong, Singapore, and Japan. Russia in this ranking takes a modest place 20. As can be seen, most of the leading countries in education represent a region of Southeast Asia. Here, as in Finland, our own educational system is practiced, which, oddly enough, has absorbed certain segments of the Soviet system of training and education. Here they do not try to make high-profitable companies out of schools, technical schools and universities, the effectiveness of which is evaluated precisely by the level of profit ... Universities that graduate the unemployed do not breed here. But a system is built in which, if you get a specialty, then you work in a specialty (well, or close to it), and do not sit out your pants in the next educational institution that emerged into the world, which prepares for a whole series of professions: from a ufologist to a manager screwdriver assembly.
For comparison, with the population of 130 million people in Japan (12-13 million less than in Russia), about 2,5 million students in 720 universities receive higher education here. We have this figure is just phenomenal: 7,5 million people almost in 1500 universities! Some get a second, or even a third with a fourth higher education, doing the most real "collecting" diplomas collecting dust on a shelf. Such a record, which, frankly, is extremely difficult to be proud of. It is difficult to be proud because of 7,5 million people, three-quarters go from university to nowhere: graduates have to look for work, which often has absolutely nothing to do with the received specialty. Moreover, quite a few students of Russian universities admit that they study not for the sake of education, but for the sake of "crust", or simply because everyone is learning. A peculiar option "Everyone ran, and I ran."
But this is a higher education. But there is also an open source system in which, according to new educational standards, training for a whole range of technical professions is 2,5 ... Not two, not three, but 2,5. That is, someone apparently wanted very much to "optimize" funding, but he didn't take it into account, but what will the staff of these educational institutions do after graduating from their pets in January, if the majority of teachers leave on vacation only in July ... Perhaps, the Ministry of Education and Science is going to send everyone to 8-month holidays - from January to September. But you have to pay for vacations ... And where is the optimization here? ..
In general, while it turns out as in the proverb about what they wanted as best ... The law is literally in an emergency procedure adopted, the majority of deputies vote with all limbs "for", and what this reform will lead even in the medium term, the legislators do not try think. And you have to think ...