Last week came from the State Duma
news
that the deputies will soon be ready to discuss the issue of recruiting women aged from 18 to 27 in the Russian army. Such information could not but cause a discussion. In order not to lead the reader into a state of stupor, you must immediately declare that the deputies plan to make the service of conscription in the army for girls voluntary. You want - go, you want - do not go. One of the possible options, which is discussed in the Duma sidelines, looks like a mass mailing of subpoenas from district military registration and enlistment offices to all girls who have reached the age of 18, who have not reached the age of 27. It is planned that, having received such an agenda, the girl herself will be able to decide whether to respond to it or just ignore it.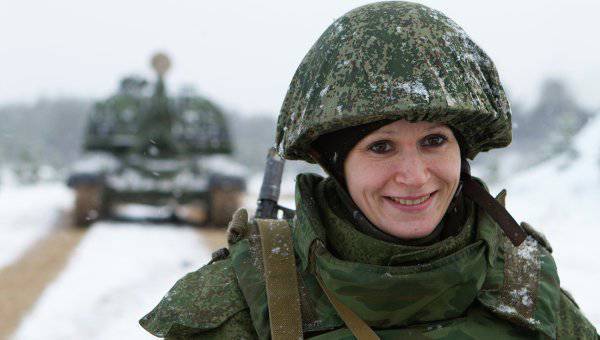 The State Duma deputy from the Communist Party faction Vladimir Komoyedov, who heads the defense committee, says that serving women in the modern army is effectively practiced by some states of the world, and this does not contradict the fact that a woman can consciously fulfill the tasks of protecting the borders of the Fatherland.
On the one hand, such words have a rational basis. After all, there are many girls in Russia who show an interest in the military profession and themselves want to get into the military system. At the same time, these girls often have the most illusive opportunities to start studying in modern military universities, especially after certain optimizing procedures, for example. And if a female has a certain interest in military service, then why should the state not really give those who wish such an opportunity. Moreover, one can take into account the fact that modern girls look at military service much more positively than young people. If we evaluate the statistics that have begun to appear lately, then about a quarter of all girls who have reached 18-year-olds express a desire to serve in the ranks of the Russian army. Of course, 10-12 percent from this number can be eliminated according to certain psychological criteria, because often talking about military service for a young girl is a banal bravado and a desire to please this or that guy, but the rest could have realized their wish. As they say, if a woman wants, then she should not be denied ... The deputies, apparently, also decided to attend to this issue.
However, this medal has its downside. This side is expressed at once in several problems that cannot but be mentioned. The fact is that women in the army, as they say, exist today (there are about 50 thousands), most of whom are employed in staff positions (financiers, secretaries, scribes), a large number of women are military doctors. All this is good, but the question immediately arises: is the Russian army ready to receive an additional number of servicemen who will serve in similar positions, or do the army still need combat-ready units ... Obviously, it would be much better to attract female servicemen to direct service, connected not with filling in reference accounts and other documents, but with the reality of military affairs, if, of course, women themselves wish to do so.
But today the Ministry of Defense is unlikely to offer suitable conditions for women specifically for this service, let's say, for the service "with meat", under which they will
weapon
, and combat, and new communication systems to master the technique, and take part in exercises. Unfortunately, it's one thing to say that a woman wants to serve, which means you need to meet her in such a desire to meet, and it's quite another thing to form a suitable base for this kind of service. One may refer to the fact that women perfectly fulfill the military duties assigned to them in the Israeli army (in the border, infantry and even artillery troops), but there are solid traditions in Israel in this regard. Women in this country are liable for military service, and this state of affairs was formed not because of someone else's whims, but for reasons of real need, because Israel has actually been in a state of ongoing struggle for a place under the sun since its existence. And in such a situation, military traditions for both sexes are formed in much more natural ways than the usual expression of proposals from deputies.
Of course, one could only be glad for those women who would have had the opportunity to realize their dream and go through conscription service in the ranks of the Russian army. But in this case, it's still worth starting not with sending agendas to women, but with preparing conditions for this kind of service (if, of course, such conditions are really planned to be introduced). But it may happen that the deputies will pass a law, according to which the military registration and enlistment offices will make proposals to women for military service, and they will take on the proposals, and they will respond en masse ... Then, in the military units, the commanders will wrestle: where do they send the girls?
After all, there are other problems: from having enough uniforms to accommodating girls in barracks. Well, you see, they are not in the same beds with male soldiers to sleep ... Although the latter will only be happy about this ... But as an option to popularize the conscription service, it's very much nothing ... And if without jokes, then really only one problem, let's say , women's dislocation can be a big question, if, of course, the deputies do not plan to "allocate" one or two ladies of military age and status to the military unit ...
And with the agendas themselves somehow everything is ambiguous. Here, perhaps, I agree with the opinion of Lev Ponomarev, who says that the mass distribution of "invitations" to the service for girls aged from 18 to 27 years alone can cost a lot of money. Not only that many young men of the male gender often ignore the agenda, to put it mildly, and if 75-80% of female recruits also ignore them, the spending looks a bit rash.
In this case, if the legislators are really going to consider the issue of conscription of girls for military service, based on their desires, then you can go the other way: working with educational institutions in which girls study. The leadership of schools, NGOs and vocational schools, universities could provide the military commissariat with lists of those students and students who deliberately express a desire to do military service by conscription. Such an approach will lead to substantial savings of funds and will create options for individual work with each of those who have expressed such a desire. In addition, it is also possible to organize special receptions in the military registration and enlistment offices themselves, where the girl could apply for a call-up service.
However, all these actions should be carried out only when the army itself and its leadership will be ready to provide women military personnel with a full set of conditions for high-quality army service. Here is the case when flooding a fever for the sake of positive accountability is simply unacceptable, and here, unfortunately, it is often the tick in the required column that decides a lot ...
Let us hope that the initiative with the voluntary appeal of women for military service will be comprehensively discussed, and in addition, detailed studies will be conducted to find out: is there a significant percentage of girls who are ready to give some time for a "deadline" and carry out real, including combat missions. Otherwise, the initiative itself can turn into another populism.