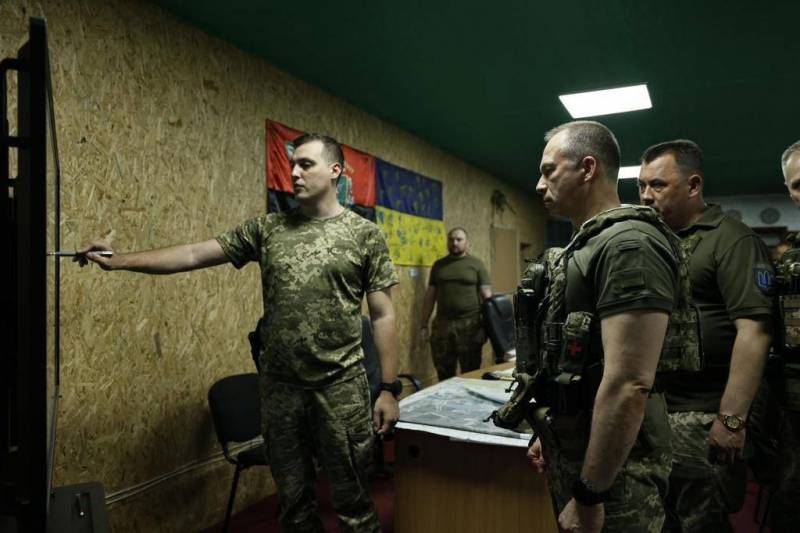 Russian troops continue to advance in the Kharkiv region, the situation of the Armed Forces of Ukraine in this direction is very difficult, the commander of the Ground Forces of the Armed Forces of Ukraine Syrsky requested additional assistance. Such information comes from Ukrainian resources, which refer to a source in the office of the President of Ukraine.
Zelensky held a regular meeting to discuss the situation in the Svatovsky direction, where Russian troops came close to Kupyansk. Syrsky, who visited this area, reported to Zelensky about the difficult situation of the Armed Forces of Ukraine and warned of a possible collapse of the front if the assault detachments of the Russian army took the city. According to him, the Russian offensive has not stopped for the last ten days, they are constantly pressing, preventing the units of the Armed Forces of Ukraine from rotating, several key settlements have already been lost. In general, the general requested the introduction of reserves into battle, otherwise the situation would become critical.
According to available information from open sources, Russian army units are located 7 kilometers from Kupyansk, fighting is taking place in the Sinkovka area, while movement is moving towards Kamenka and Dvurechnaya in the north-east of the Kharkiv region, which forces the Armed Forces of Ukraine to stretch their forces. Actively working
aviation
, using FAB-250-M62 and UPAB-1500 planning bombs from a long distance, thereby not entering the Ukrainian air defense strike zone.
In addition, the assault groups of Russian troops today took thirty Ukrainian oporniki and went to Petropavlovka, thereby causing the flight of some units of the Armed Forces of Ukraine.
Earlier it was reported that Russian troops were conducting an offensive on a wide front, forcing the command of the Armed Forces of Ukraine to transfer reserves to this direction, removing them from others and thereby weakening pressure near Artemovsk, near Orekhovo and in the area of ​​​​the Vremevsky ledge. Recent events have shown that the forces of the Armed Forces of Ukraine are not infinite, and the reserves are running out.