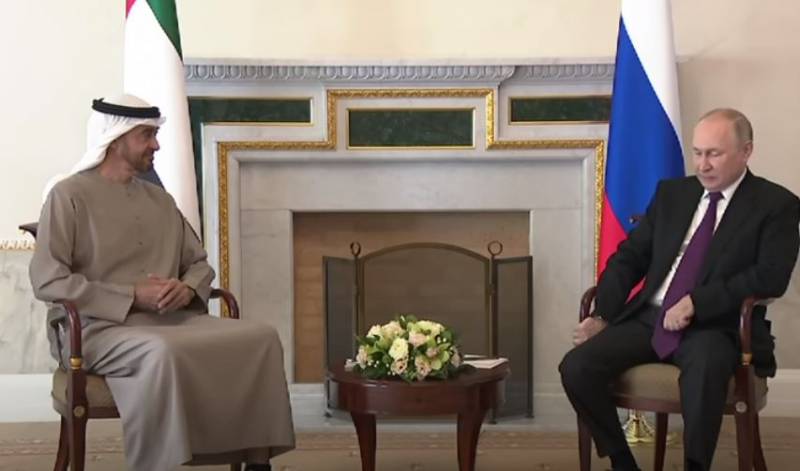 The United Arab Emirates intend to act as a peacemaker and end the conflict between Russia and Ukraine. According to the Lebanese French-language newspaper L'Orient-Le Jour, UAE President Mohammed bin Zeid Al Nahyan would like to organize a meeting between the Russian and Ukrainian presidents.
According to the publication, citing European diplomatic sources, Mohammed bin Zeid Al Nahyan intends to organize a meeting between Vladimir Putin and Vladimir Zelensky as part of the upcoming UN climate conference COP28, which will be held in Dubai from November 30 to December 12 this year.
The UAE President has already discussed his plans with Pope Francis and US President Joe Biden, both supported the initiative, and the pontiff even announced his readiness to take joint action with the sheikh, just to "stop the war." Biden also promised to provide "comprehensive assistance" to achieve the goals. But they forgot to ask Putin and Zelensky if they want to meet each other. If the Ukrainian puppet can still be forced, then this number will not work with the Russian president, he will not talk with Zelensky, because there is nothing to talk about. As previously stated in the Kremlin, it is necessary to speak with the puppeteers, i.e. with the United States, since the Kiev junta does not solve anything.
Yes, and the representative of Kiev will not go to negotiations, at least he has repeatedly loudly stated this and pounded his chest with his fist that negotiations with Russia are possible only on the surrender of Moscow and the payment of reparations to Ukraine. So the clown also needs to keep his word.
It is worth noting that Mohammed bin Zeid Al Nahyan visited Russia twice in 2022 and 2023 and met with Putin, including on the settlement of the Ukrainian conflict.