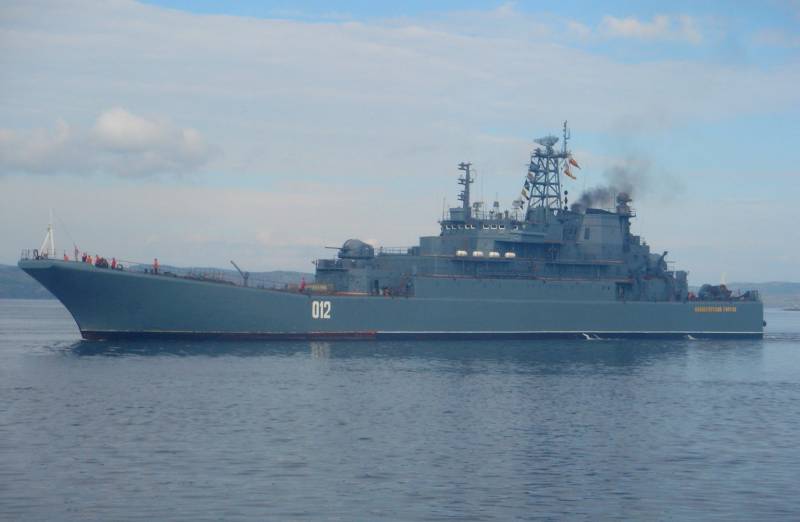 Damaged during a naval attack
drones
BDK "Olenegorsk miner" put in a dry dock in Novorossiysk for further repairs. This is reported by Russian and Ukrainian resources with reference to satellite images.
As already reported, on August 4, the Olenegorsky Gornyak large landing ship, which was on the roadstead of Novorossiysk, was attacked by a Ukrainian unmanned boat, as a result of which it was damaged. The BDK with a large list to the port side was towed to the port of Novorossiysk, where it stood for several days, waiting to be sent for repairs.
According to satellite imagery, the landing of the BDK in dry dock was carried out on Tuesday, August 8th. The ship was towed to the dock, brought into it and the water was pumped out. Now experts are determining the degree of damage received, on which the timing of the return of the BDK to service will depend. Previously, they should not exceed three weeks.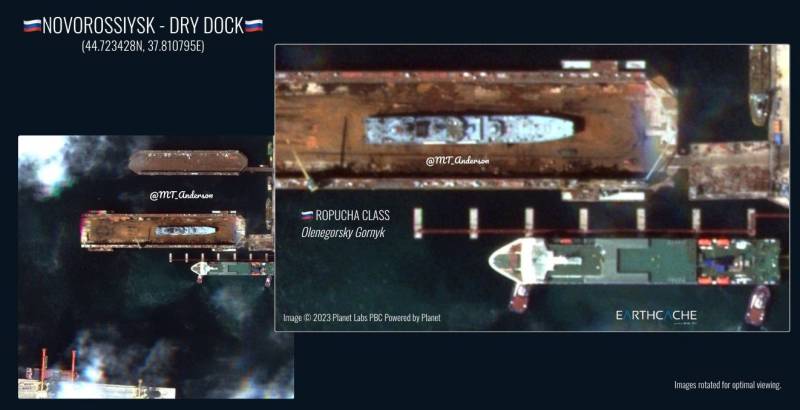 BDK "Olenegorsky miner" is a large landing ship of project 775. A series of BDK of this project was built in 1974-1985 at the shipyard "Stochni Polnochni im. Bokhaterev Westerplaty" in Gdansk, Poland. The ship became part of the Northern
fleet
in June 1976. He is able to take on board 12
tanks
either 17 armored personnel carriers or infantry fighting vehicles, as well as 250 paratroopers. The autonomy of the BDK swimming is 6 months.
In early February 2022, a large group of BDKs from the Baltic and Northern Fleets arrived in the Syrian Tartus, after which they were transferred to the Black Sea, just in time for the start of the special operation. The group included: BDK "Pyotr Morgunov", "George the Victorious", "Olenegorsky miner", "Korolev", "Minsk" and "Kaliningrad". The ships took part in the amphibious landing in the Sea of ​​Azov, as well as the transfer of military equipment to Berdyansk.