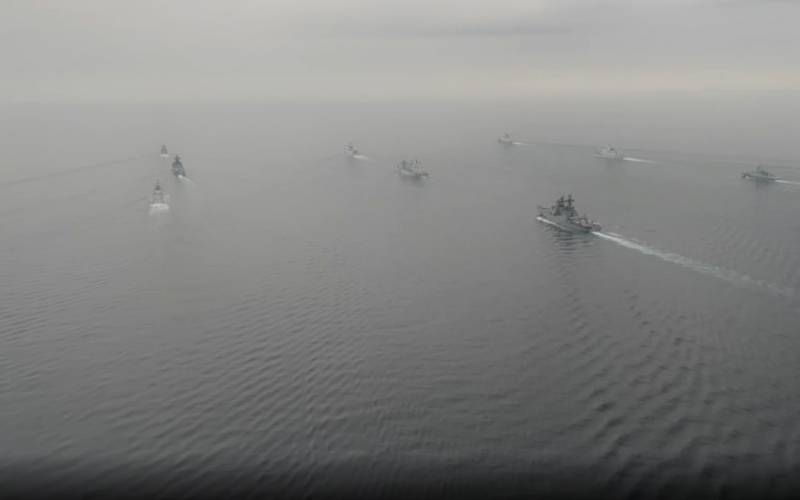 Warships of the Russian Navy and the Navy of the People's Liberation Army of China (PLA) continue to perform the tasks of the third joint maritime patrol of the Pacific Ocean, the country's Ministry of Defense reports.
Thus, according to the Russian Defense Ministry, the crews of the ships have already passed the Sea of ​​Japan, the La Perouse Strait, the Sea of ​​Okhotsk and the Kamchatka Strait. They also worked out joint actions in tactical maneuvering, conducted communications training. They carried out landings and takeoffs of helicopters from the decks of each other's ships.
It is worth noting that the distance that the detachments covered from the very beginning of the patrol exceeded 2,3 thousand nautical miles.
As for the southwestern part of the Bering Sea, a detachment of Russian and Chinese ships conducted an anti-submarine exercise, during which the Russian Navy and the PLA Navy worked out actions to search for, escort and destroy potential enemy submarines.
Upon detection of an "enemy" submarine (according to the scenario of the exercises, it entered the region closed to navigation), shipborne sonar search tools were used along with Ka-27PL carrier-based anti-submarine helicopters.
After the coordinates and parameters of the movement of the target were determined, recommendations were developed using
weapons
. In order to hit a conditional submarine, the sailors fired a volley of reactive depth charges.
Of the anti-submarine ships, the international detachment of our country includes the Admiral Tributs and the Admiral Panteleev, of the corvettes, the Thundering and the Hero of the Russian Federation Aldar Tsydenzhapov, along with the Pechenga medium sea tanker. On the part of the PRC Navy, the destroyers Guiyang and Qiqihar take part in the patrol, the Tongling and Rizhao patrol ships, as well as the Taihu complex supply ship.
Recall that the third Russian-Chinese maritime patrol in the Pacific began on July 28. The sailors of the two countries conducted the first such joint maritime patrol in 2021, while the second one took place last fall.