December 20 in the main building-up workshop of the Center for Ship Repair Zvezdochka OJSC held a solemn ceremony for laying down a rescue tugboat (SBS) of the 20183 project developed by OAO TsMKB Almaz (St. Petersburg).
The state contract for the manufacture and supply of the latest vessel for the needs of the Ministry of Defense of the Russian Federation was concluded on August 1, 2012. The reinforced ice class multi-purpose vessel is designed for search and rescue operations, sea transportation of heavy and large-sized samples and containers of marine equipment, research and testing equipment, military and special equipment. It is possible to use the vessel in the interests of shelf research, transportation of pipeline sections, etc. The composition of the naval
fleet
Russia's new ship should enter at the end of 2016.
By order of the commander-in-chief of the Navy, the vessel under construction was given the name Akademik Aleksandrov. The initiative to perpetuate the memory of Anatoly Petrovich Aleksandrov - an outstanding Russian physicist, one of the fathers of the Russian nuclear submarine fleet - belongs to the labor collectives, TsDB MT Rubin, TsMKB Almaz and the Zvezdochka Ship Repair Center.
The main technical characteristics of the rescue tug of pr. 20183: displacement - 5400 t; full speed - 14 knots, crew - about 70 people. On the ship is a platform for the occasional landing - take-off helicopters.
SBS "Akademik Alexandrov" - the third ship line 20180, built on the "Zvezdochka". In 2010, shipbuilders of the Ship Repair Center handed over to the customer the basic rescue towing vessel of the 20180 av., Called the "Star". In 2014, the Yagrinsky shipbuilders are to transfer to the Navy marine transport of weapons from the 20180TV Akademik Kovalev project.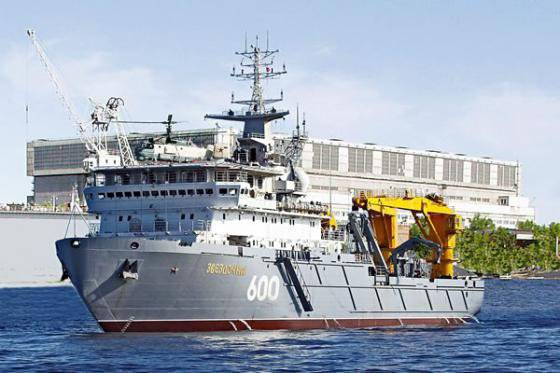 Rescue towing ship "Star" project 20180. Source: old.nationaldefense.ru