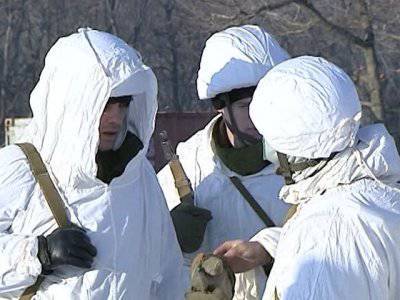 Despite the anomalous frosts, the troops of the Eastern Military District conduct several large exercises at once. Given the weather conditions, the soldiers were dressed in coats, felt boots and fur mittens. And every half hour they rest in the heating points. On the coast of the Ussuri Bay at the Ermine range these days, marines conduct exercises.
Closed area on the shore of the Ussuri Bay. Blank cartridges here do not shoot. Maximum precautions. On land - the cordon, on the sea, in the direction of which the fire is fired, navigation is prohibited. People in white camouflage coats take positions at the firing line.
- Sailor Blazhko ready for battle!
At the Marine Corps near Vladivostok, the first in this winter season, fire training classes take place in extreme conditions - with minus 20-ti. Now black berets perform fire exercises from a Kalashnikov rifle with single shots from all positions: standing, lying down and from the knee.
Weapon
say marines, works flawlessly. Barrels of automaton burn hands even at such a low temperature.
"When you do the exercise, it is very warm, one can say hot ... When there is a lot of opponent, you need to shoot accurately and clearly," says Denis Bushuev, commander of the engineering corps company of the marine brigade.
Conditional enemy landed. These are plywood targets built along the coastal strip. Experienced shooters turn them into a sieve, beginners get criticism from commanders.
"There were two" fives "and one" milk "... This means that I shot myself that way," says senior sailor Pavel Zakharenko from the marine brigade. "I would like better, we will try, correct, learn!"
Black berets are trained by a group of people with cameras. This is Vladivostok bloggers.
News
with exercises on land and at sea the first to appear on their web pages. This patronage relationship between the online community and the Pacific
fleet
already more than a year.
"For some time now, the military has been interested in what people outside of ideology think, unbiased, completely impartial. It's just that a person came, looked, shared," says blogger Dmitry Dvinsky.
The Marines performed fire exercises with a preliminary overall rating of "good." In the coming days, already fired recruits will be taught ways to survive on the snowy seashore.