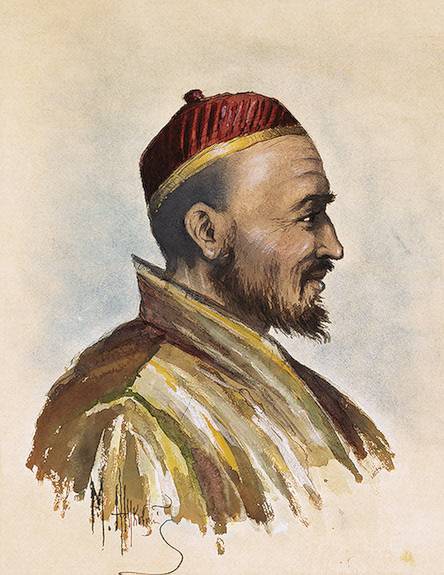 Pyotr Badmaev in the portrait of M. Zhukovsky, 1880, Hermitage
Scarier than Rasputin?
Among the last supporters of the Russian monarchy was a very unusual person, whom few people expected to see in St. Petersburg at that time. Some consider him an adventurer and a charlatan, others - a successful doctor who really helped many people, and a prominent diplomat.
At birth, he was named Zhamsaran (Jamsaran), but together with his brother he was baptized by the Tsarevich himself (heir to the throne) - the future Emperor Alexander III. He received the Christian name Peter, and his surname "Badmyn" (after the name of his father - Badma) turned into "Badmaev". The hero of the article was not only a doctor, but also a high-ranking diplomat, and retired with the rank of a real state councilor.
He also taught the Mongolian language at St. Petersburg University, but nevertheless became famous precisely as a connoisseur of oriental medicine. As a doctor he became a member of the imperial palace, the houses of the highest dignitaries of the state and gained great influence. He was even called the gray cardinal, who allegedly completely controlled his high-ranking patients.
S. Witte, for example, argued that Badmaev tried to "make his knowledge a source of all sorts of personal scams." This mysterious doctor really treated members of the imperial family, aristocrats, ministers, hierarchs of the Orthodox Church, as well as the famous preacher John of Kronstadt. A.F. Kerensky recalled that it was in the house of Badmaev that two influential patients of this doctor once met - the Minister of Internal Affairs of the Russian Empire A.D. Protopopov and Grigory Rasputin.
Pyotr Badmaev is known to many from the famous novel by Valentin Pikul "Unclean Force", in which this writer gives him a truly derogatory characterization:
"Dzhamsaran Badmaev, this insidious Asian, had the nicknames Bedbug, Owl, Rotten... Count Witte said that Badmaev would cure any person, but at the same time he would definitely involve the patient in some kind of scam...
Understanding what is the easiest way to get rich, Badmaev specialized his clinic in the treatment of syphilis. He turned weakened aristocrats into ardent men, and passionate aristocrats (at the request of their husbands) turned into cold fish ...
Badmaev knew how to bind people without taking any oaths from them! His strength lay in the fact that all these ministers, their wives, senators, their mistresses remained in front of him ... naked.
Badmaev kept medical secrets, but he always knew how to blackmail patients with knowledge of these secrets! A sophisticated political intriguer was hiding behind the blue toga of a magician doctor.
No one knew what was contained in the mysterious "wafers" of Badmaev, and S. Yu. Witte said that this man "cannot be angry" because he "can devour the Russian Tsar." And Nicholas II once said about Badmaev:
"Something scares me about him."
And here is the opinion of Alexander Blok:
"A smart and cunning Asian who has political chaos in his head, but in the language of a joke, and who, in addition to Tibetan medicine, was engaged in the Buryat school and concrete pipes."
Grigory Rasputin said about Badmaev: "This Chinese will deceive even the devil himself," and admitted that he was afraid of him. And here is how V. Pikul described the relationship between the "psychic" Rasputin and the "eastern healer" Badmaev in the already cited novel "Unclean Power":
"By means of drugs, sometimes exciting, sometimes cooling, he (Badmaev) seemed to control Grishka at a distance, which made Rasputin dependent on a charlatan doctor. Rasputin's documentary story has been preserved: "Why don't you visit Badmaev? You go to him, dear-ay ... It hurts well with grass. He will give you a tiny glass of tincture, and - wow, how! - You want women. And he also has a mixer. Drink it, when your heart is vague, and immediately everything will seem like nonsense to you. You will become so kind, so stupid. And you won't care at all."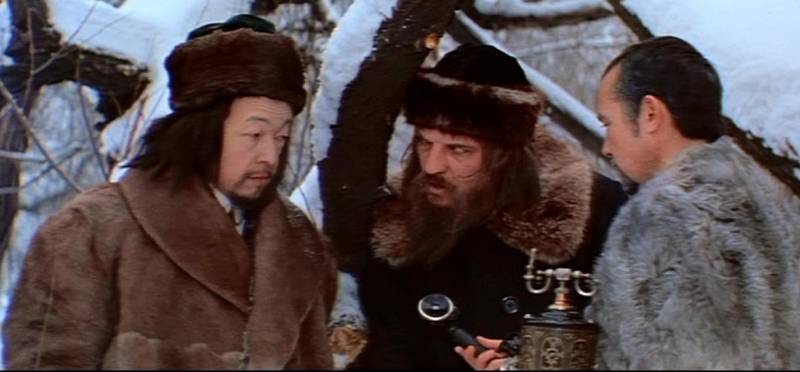 P. Badmaev and G. Rasputin in the film "Agony", 1975
Here Pikul did not invent anything, and Vladimir Purishkevich, a convinced monarchist who took part in the murder of Rasputin, spoke about the same. He claimed that, in addition to other medicines, Badmaev made two tinctures, one of which increased male potency, and the second "deprived the mind." And in the salons of the St. Petersburg nobility, rumors spread that Rasputin had drunk Nicholas II with the second tincture of Badmaev.
Indeed, it is quite difficult to explain many of the actions and decisions of this emperor, they are so illogical and frankly harmful not only for the state, but also for the ruling house, for the entire Romanov dynasty. Involuntarily, you will wonder if Nikolai took them while under the influence of drugs?
It was suspected that Tsarevich Alexei Rasputin, who suffered from hemophilia, was treated precisely with the help of herbs received from Badmaev. But Badmaev, personally acquainted with Nicholas II, would hardly have ceded to Rasputin the role of the main healer of the heir to the throne. And Rasputin's successes are really impressive.
It has been proved that at least four times (in 1907, in October 1912, in November 1915 and at the beginning of 1916) he literally saved the prince from death, and certified court doctors, whose forecasts about the inevitable death of Alexei did not came true, they simply shrugged their shoulders, unable to explain these cases otherwise than as a miracle.
It is now established that the use of hypnosis or even simple distraction significantly reduces bleeding in patients with hemophilia. And Rasputin anticipated this discovery, he said:
"Those who bleed so much, they are very nervous, anxious people, and in order to calm the blood, you need to calm them down. And I was able to do it."
He also "calmed down" Alexei's parents. Nicholas II directly said:
"When I have worries, doubts, troubles, it's enough for me to talk with Gregory for five minutes to immediately feel strengthened and reassured ... And the effect of his words lasts for weeks."
And the notorious Felix Yusupov, in whose house the "Starets" was killed, in a conversation with State Duma deputy V. Maklakov, said:
"Rasputin has a power that can be encountered once in hundreds of years ... If Rasputin is killed today, in two weeks the Empress will have to be placed in a hospital for the mentally ill. Her state of mind rests solely on Rasputin: she will fall apart as soon as he is gone.
There are no doubts about other cases of Rasputin's cure of diseases, which are now called psychosomatic.
It is known, for example, that in just 10 minutes he cured the son of a merchant of the first guild, A. Simanovich, from an illness that has long been known as "the dance of St. Witt." And he saved Simanovich himself from gambling addiction - an irresistible desire to play cards. So it can be argued that Badmaev and Rasputin developed their own treatment methods, the effectiveness of which is simply impossible to doubt. And if Badmaev left behind at least a translation of the Tibetan treatise "Four Foundations" ("Jud-Shi"), then Rasputin's technique is lost forever.
It is a pity that this man, who was born in a simple peasant family, did not have the opportunity to receive a medical education in tsarist Russia. He could become the founder of his own scientific school, universities and clinics specializing in the treatment of mental and neurological patients would bear his name, leading psychiatrists and neurologists around the world would consider him their teacher.
But back to Peter Badmaev. Using his influence, he convinced his godfather Alexander III and his son Nicholas II of the need for an active expansionist policy in the Far East. Badmaev really wanted to annex Mongolia, Tibet and even China to Russia. Therefore, some consider him one of the culprits of the Russo-Japanese War - since both Mongolia and China were in the sphere of Japanese interests.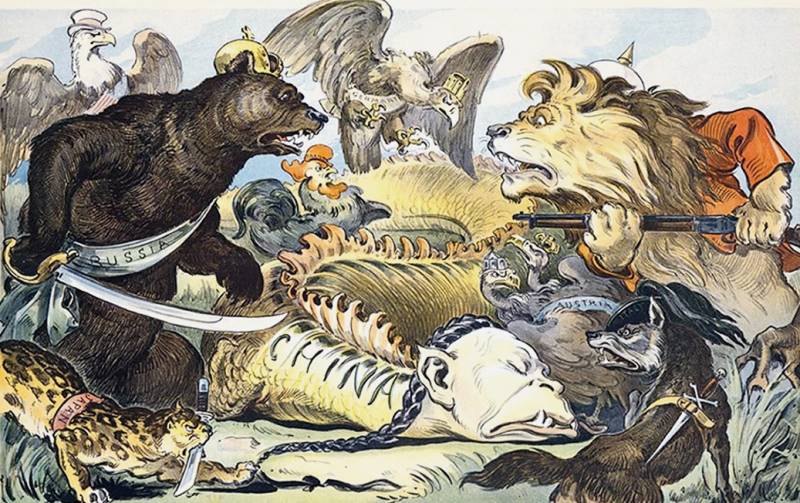 "The Partition of China by the Great Powers". Early 1900s cartoon
But let's start the story about Peter Badmaev in order.
Way to Petersburg
Zhamsaran Badmyn was born into a fairly prosperous family leading a nomadic lifestyle in the Trans-Baikal Aginskaya steppe (between the Aga and Onon rivers). This happened either in 1849, or in 1851, and Badmaev himself, being arrested by the Cheka, claimed that he was born in 1810. It looks simply incredible, also because this is the year of birth of his older brother, Sultima. However, in a surviving statement addressed to the chairman of the Cheka dated August 10, 1919, Pyotr Badmaev states:
"I, a 109-year-old man, just because I have a big name, popular among the people, have been in prison without any fault or reason for two months now."
And his daughter Aida did say:
"When I was born, my father was one hundred and seven years old."
That is, she proposes to consider 1807 as the date of birth of the father.
Among the ancestors of the hero of the article were both Buryats and Mongols, moreover, he claimed that he was a descendant of Genghis Khan through the female line. Tsarevich Alexander once asked him: up to what knee is it customary for the Buryats to study their genealogy?
Jamsaran replied:
"It is accepted until the ninth, but I taught until the eleventh, because in the eleventh generation our family descends from Genghis Khan."
older brother and teacher
Zhamsaran was the youngest son in the family, and brother Sultim, who was born in 1810, who studied the methods of traditional Tibetan medicine in one of the datsans, was old enough for his father (by the way, training in a datsan could last 20 years). Sultim became an emchi-lama (literally, a clergyman) of the Steppe Duma, an administrative self-government body of "foreigners" that existed in 1822–1903.
On June 11, 1852, the Nerchinsk Medicinal Department issued him a permit for medical activities:
"The healer Gelun Lama Sultim Badmaev is freely allowed to treat his relatives, but without touching the Russians."
In 1854, when there were not enough European certified doctors, he performed admirably during a typhus epidemic. As a reward, he asked for the rank of officer. In St. Petersburg, they became interested in the report of the Governor-General of Eastern Siberia N. Muravyov-Amursky about some exotic foreign doctor - a lama, who helped to localize the epidemic.
And at the suggestion of the military doctor, Major General I. I. Reiman, Sultim Badmyn was invited to the capital of the empire to try out his methods in the treatment
"obsessed with tubercles (as purulent skin infections were called) in all stages of development, and test their remedies on patients obsessed with cancer in the Nikolaev military hospital under the supervision of doctors."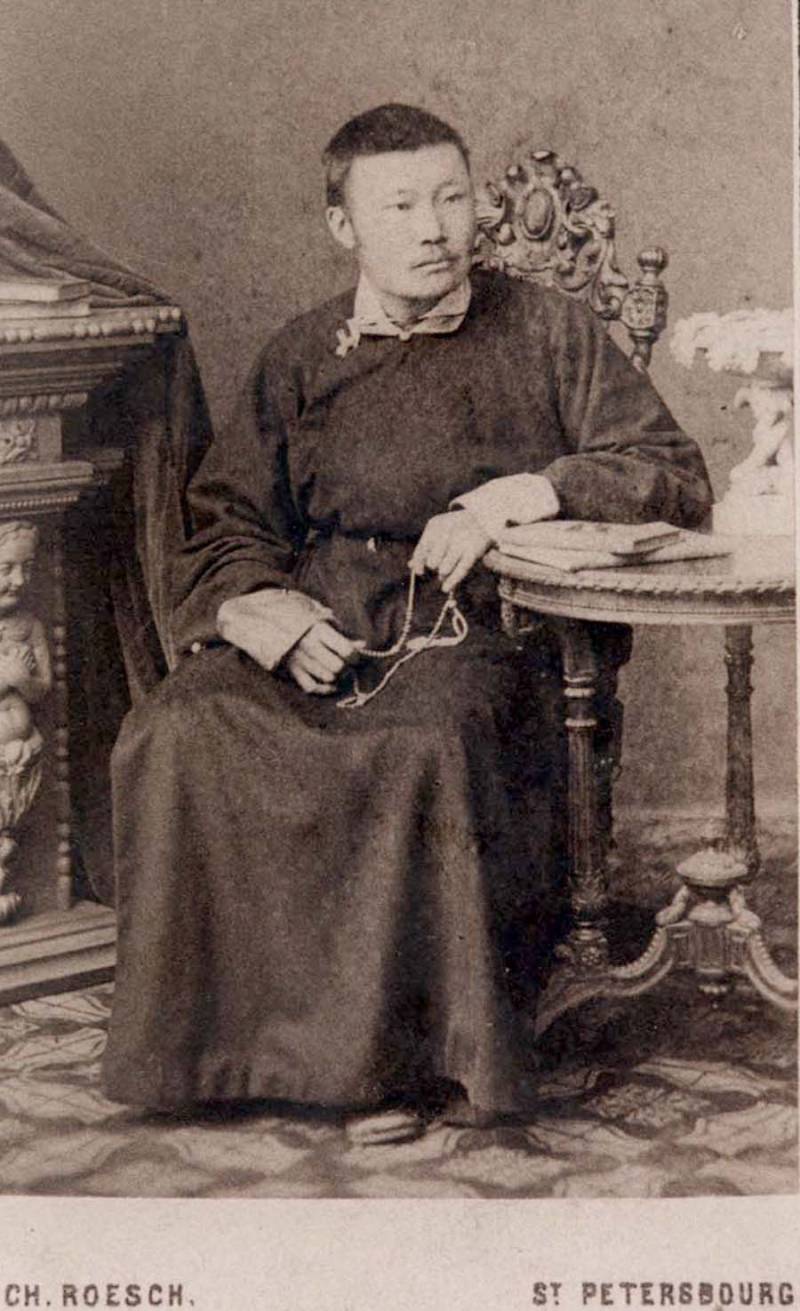 Supposed photograph of Sultim Badmaev, 1860s.
It is curious that even before arriving in St. Petersburg, Sultim was elected a member of the Siberian branch of the Imperial Russian Geographical Society.
Professor Grigoriev in his work "The Imperial St. Petersburg University, during the first fifty years of its existence", published in 1870, reports:
"Badmaev (in paganism Sultim, after the adoption of Orthodoxy Alexander Alexandrovich) is from the Buryats of Eastern Siberia, the former senior lama of the Aginsky steppe duma. The extensive knowledge acquired by him in the field of Tibetan medicine, and the unusually successful practice among the Nerchinsk Buryats made him famous in the circles of the local Russian authorities in 1853 ...
In 1857 he arrived in St. Petersburg, asking permission to demonstrate his medical knowledge here as well. Attached for this purpose, by the Highest command, to the 1st military land hospital, under the supervision of doctors, he treated there with great success from various diseases, mainly from consumption and cancer, and at the same time followed the methods of treating hospital doctors with such zeal. that in July 1861 he successfully passed the exam for the title of medical assistant.
This scientific aspiration and his practical knowledge in medicine brought him in January 1862, unlike others, the rank of a collegiate registrar with the appointment of a practicing doctor among the Buryats.
After that, Sultim received what Count Muravyov-Amursky asked for - the right to wear a uniform and enjoy the privileges of a military doctor.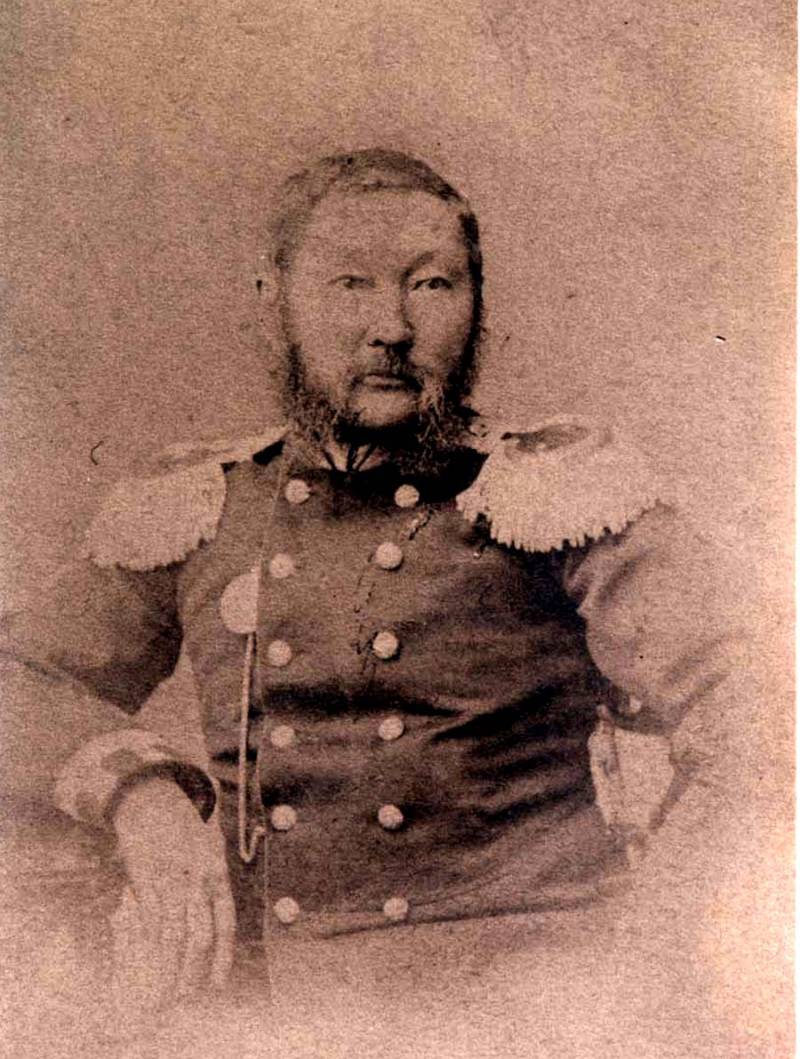 Let's continue Grigoriev's quote:
"At the end of 1864, Badmaev, at his request, was allowed by the Highest Command to be seconded for two years to the clinics of the St. Petersburg Medical and Surgical Academy to study surgery. Having acquired a large practice in the capital during these two years and wishing to stay here forever, he offered his free services to the university as a lecturer, a specialist in Mongolian languages ​​with the right to serve. The university did not miss the opportunity to take advantage of this offer and ... interceded through the authorities for leaving him the content that he received from the Trans-Baikal Region. Since May 1868, Badmaev was allowed to receive his lecturer's salary.
Already in 1860, Sultim opened a pharmacy of Tibetan medicines in St. Petersburg.
Things went well - even Empress Maria Alexandrovna was treated by Sultim. And in 1870, he summoned his younger brother Zhamsaran, who had just finished his studies at the gymnasium of the city of Irkutsk. He began to help him in his work, and in the meantime, to prepare for the entrance exams for the Oriental Faculty of St. Petersburg University.
Upward movement
One of Sultim's patients was John of Kronstadt, rector of the church of St. Panteleimon, and for the brothers, the meeting with him became fateful. John introduced them to Tsarevich Alexander (the future Emperor Alexander III) and when in 1872 Sultim and Zhamsaran wished to convert to Orthodoxy, the heir to the throne became their godfather. Sultim at baptism was given the name of the reigning Emperor Alexander II, Zhamsaran - the name of the first Russian emperor.
Both brothers received the patronymic of their godfather - they became Aleksandrovichs. Baptism Sultima is called feigned by many. There is evidence that earlier, on the contrary, he opposed the baptism of his countrymen and was even arrested in his homeland for anti-Russian propaganda. On July 13, 1866, Bishop Veniamin (Blagonravov) of Selenginsky wrote to Archimandrite Vladimir (Petrov) about Sultim's arrest:
"The Buryats themselves presented all his letters, private and circular, also something like a proclamation, in which he aroused the spirit of discontent in them and turned their thoughts to Mongolia, most of all he stressed that they were baptizing them in order to later turn them into peasants and give them to the soldiers.
But it was still 6 years before his baptism. In 1866, no one wanted to seriously engage in the work of a capital doctor who had already become influential and had high patrons, and Sultim returned to St. Petersburg.
But his younger brother, the hero of our article, on the contrary, really wanted Mongolia to join Russia. And, it seems, he became a sincerely believing Christian, his youngest daughter Aida claimed that in her father's office there was an image of the healer Panteleimon, in front of whom a lamp was constantly burning. But he did not forget the faith of his ancestors: he became one of the main sponsors of the construction of the first datsan in St. Petersburg.
In 1871, Zhamsaran Badmaev, who had not yet had time to be baptized, entered St. Petersburg University at the Oriental Faculty in the Mongolian-Manchurian category.
At the same time, as a volunteer, he attended lectures at the Imperial Medical and Surgical Academy (but he never received a medical diploma).
He graduated from the university with honors in 1875, after which he was hired by the Asian Department of the Ministry of Foreign Affairs.
Meanwhile, in 1873, his brother Alexander (Sultim) died, and Pyotr Badmaev, in parallel with his studies, and then with work, began to conduct business in a pharmacy and receive patients. Moreover, he expanded the business by opening a private clinic for wealthy individuals. According to the records of Badmaev himself, in 1875 he had only 163 visits, in 1877 - 965, in 1879 - 6, in 549 - 1885.
And in all his life, he, working 16 hours a day, according to his records, received more than 573 patients. He made the diagnosis solely by the pulse, the session lasted about a minute, after which the visitor was given a coupon with the number of the powder that should be bought.
There are data on the number of powders sold in Badmaev's pharmacy - 8. Since 140, his future second wife, Elizaveta Yuzbasheva, was in charge of the pharmacy. Pyotr Badmaev's consultation cost up to 276 rubles in gold, but he took workers for a ruble in banknotes, and sometimes even for free. After the revolution, in an appeal sent to the chairman of the Petrograd Cheka, F. D. Medved (the same one who, together with I. V. Zaporozhets, did not save Kirov later), Badmaev wrote:
"I have treated persons of all nations, all classes and persons of extreme parties - terrorists and monarchists. A mass of proletarians were treated by me, as well as the wealthy and noble classes. Until the moment of my last arrest, I treated sailors, Red Army soldiers, commissars, as well as all classes of the population of St. Petersburg.
Badmaev's popularity in St. Petersburg was enormous, but he never received official status. The conclusion of the medical council read:
"It is impossible to secure the right of statehood to Tibetan medicine, which is nothing more than a combination of rudimentary archaic science with ignorance and superstition."
By the way, the name of Badmaev got on the pages of the encyclopedia of Brockhaus and Efron, where it was said about him:
"He treats all diseases with some special powders prepared by him, as well as herbs; despite the ridicule of doctors, a huge number of patients flock to Badmaev.
It should be remembered that at that time doctors did not have antibiotics, corticosteroids, effective antispasmodic, vasodilator, antihypertensive, bronchodilator and other drugs at their disposal. But even at the end of the XNUMXth century, bloodletting was widely used in the treatment of all diseases, which helped only in isolated cases (for example, in hypertensive crises), but blood loss always weakened the patients.
And therefore, given the low level of official medicine of that time, it can be assumed that the results of treatment according to Badmaev's methods were indeed better than in the city hospitals of St. Petersburg. The mysterious powders of Badmaev at least did not worsen the condition of his patients. And faith in a miracle drug that is sure to help often works better than the drug itself.
In the next article, we will continue the story of Pyotr Badmaev, talk about his translation of the Tibetan treatise Zhud-Shi, grandiose plans to annex Mongolia, China and Tibet to Russia, the peak of his medical career, life after two revolutions.