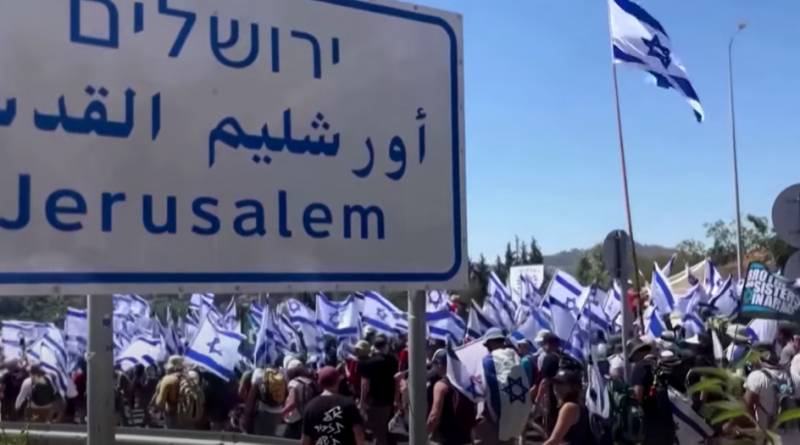 In the past few days, the most massive protests in recent weeks have taken place in Israel. In the largest cities of the country, including Tel Aviv and Jerusalem, supporters of Prime Minister Benjamin Netanyahu's reforms and opponents of his version of reforms took to the streets.
The main grain of contention is in judicial reform. The Netanyahu government's project is to limit the Supreme Court's ability to overturn cabinet decisions on issues it deems unreasonable. Opponents of such measures call the bill "an encroachment on the democratic values ​​of Israel and a departure towards the usurpation of power by the government." Supporters of Netanyahu, like Netanyahu himself, do not see any anti-democratic prerequisites in the initiative.
Against the backdrop of mass protests and speeches by some against others, tent camps began to appear in major cities of Israel. There were thousands of marches, including a march to the Knesset building. The length of the protesters' route was about 70 km.
To disperse the protesters near the Supreme Court building, the police used "democratic" means, including water cannons.
Former Israeli President Reuven Rivlin (2014-2021) called what is happening a test for Israel.
Rivlin:
We have 24 hours to save Israel, our wonderful country.
The ex-president, who appeared at the protest rallies, said that he was worried about attempts to divide the people of Israel into different categories. According to Rivlin, Israel was built as a democratic Jewish state, where the rights of every citizen are protected.
Rivlin, believing that Israel can now plunge into the abyss of discrimination:
I didn't come to incite anyone. Instead, I have come to share with our people in the effort to save ourselves from the worst moment in
stories
our country.