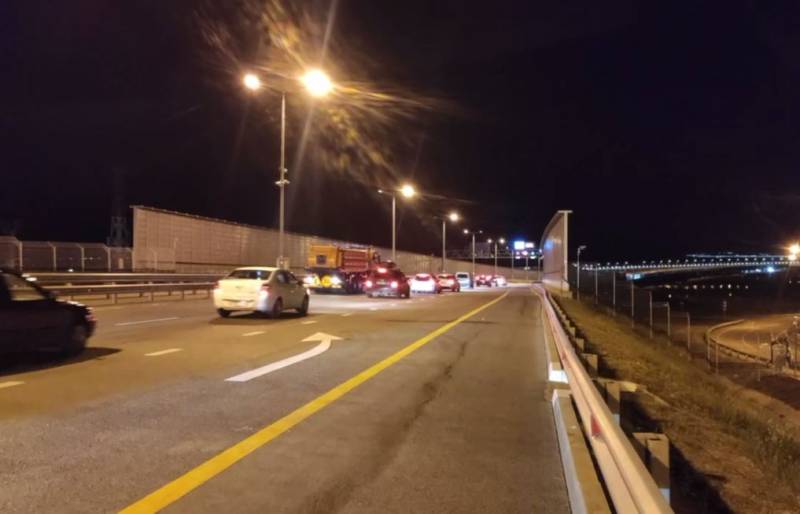 While in Kyiv they continue to declare about the "blocked logistics" of the Russian army due to the undermining of the Crimean bridge, car traffic has been launched on the bridge itself, while in reverse mode. This was stated by Deputy Prime Minister Marat Khusnullin in his TG channel.
Traffic on the automobile part of the bridge was restored after midnight, the first cars went along the extreme right lane of the Taman-Kerch direction. While traffic is allowed only for cars, trucks are still transported through the ferry crossing. According to Khusnullin, preliminary diagnostics showed that traffic on the bridge is possible, in addition, tests were carried out on the span displaced during the explosion.
As was reported to the President today, the bridge was prepared for launch as soon as possible. Carried out a preliminary diagnosis of the structures of spans, which confirmed that their condition allows you to start the movement
- wrote the Deputy Prime Minister in his TG channel.
Reverse traffic is carried out only in the area of ​​the damaged part, in the future two lanes are open for motorists. At the moment, a temporary traffic scheme has been developed. It will remain in effect until the completion of restoration work, which will take, as already reported, up to two months on one side of the bridge, and more than three on the other.
As previously reported, the Ukrainian terrorists did not manage to damage the bridge piers, only two spans were damaged as a result of two explosions. One will be completely changed, the second will carry out restoration work.