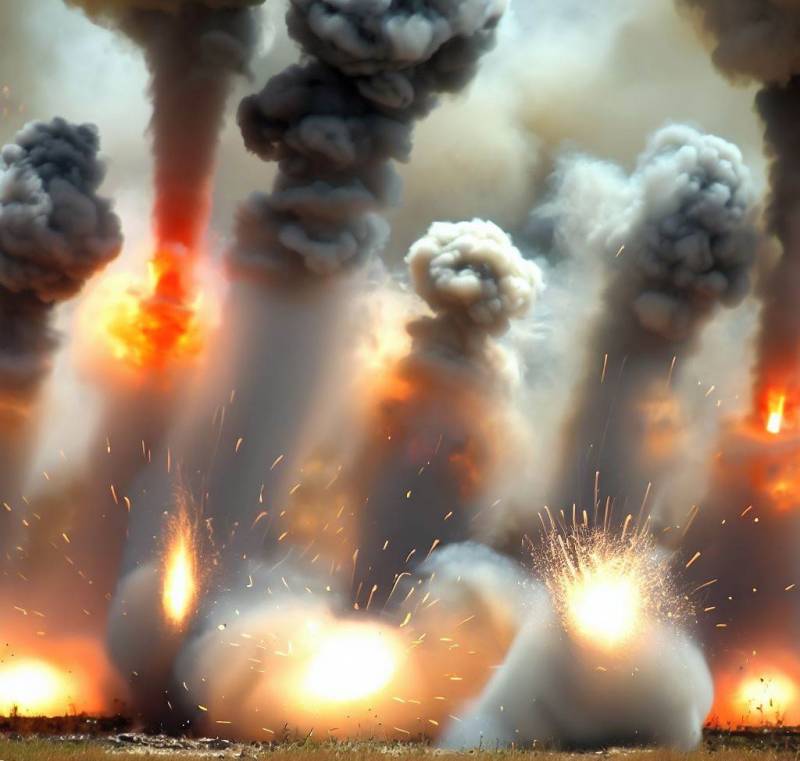 "In the event that the United States supplies cluster munitions to Ukraine, the Russian Armed Forces will be forced to use similar means of destruction against the Armed Forces of Ukraine as a response," Russia also has cluster bombs in service, they are much more effective than the American ones, their range is wider and more diverse ... »
From the speech of the Minister of Defense of the Russian Federation Sergei Shoigu.
As expected, Western handlers and sponsors of the Nazi regime continue to raise the stakes in the Russian-Ukrainian conflict. After the United States studied Russian reaction to the transfer of long-range cruise missiles (CR) Storm Shadow by the UK to the Armed Forces of Ukraine (AFU), they approved the delivery of their high-precision operational-tactical missiles ATACMS. Yes, and France has already transferred the SCALP-EG, the French version of the Storm Shadow CD to the Armed Forces of the Kyrgyz Republic - the causes and consequences of this problem were previously discussed in the material
From Storm Shadow to JASSM-ER: red lines beyond which the security of Russian infrastructure and aviation at airfields will end
.
And now Western countries have decided to take the next step - to start deliveries of cluster munitions - retired US Air Force Lieutenant Colonel Darin Gaub said in an interview with the American Fox News channel that this is being done due to an acute shortage of 155-mm artillery shells - they say, they are supplying something what's left.
It doesn't matter at all whether this is true or not, the only thing that matters is that the next
weapon
, which will kill and maim our soldiers and civilians, and there is no doubt that these shells will be used to shell settlements in Russia (they are already using them in the cities of the former territory of Ukraine). And when the cluster shells run out, then what
supply tactical nuclear munitions
?
By the way, for those who consider the use of cluster munitions a violation of international law, in the inviolability and impartiality of which only a very naive person can believe, it is necessary to mention that the Convention on Cluster Munitions, which prohibits the use, transfer and stockpiling of cluster munitions, which entered into force on August 1, 2010 year, was ratified by 30 countries, but not among them the United States, Russia, China, India, Pakistan, Israel, South Korea and Ukraine. So there are no international legal norms that restrict the supply and use of cluster munitions by all parties in the course of the Russian Special Military Operation (SVO) in Ukraine, however, even if they existed, no one would give a damn about them.
Effectiveness factors
As we have already said in the material
"Palisade for Ukraine: Russian long-range precision weapons that are already being used or could potentially be used in the NVO zone"
, long-range high-precision weapons (WTO) are in fact the only means for delivering strikes deep into enemy territory.
An important factor characterizing the application
aviation
and the long-range WTO in Ukraine is that the airspace over the territory of Ukraine, and partly over the territory of Russia, is under the control of intelligence assets of NATO countries - ground-based radar stations (RLS) and electronic intelligence stations (RTR) located on the territory of countries Baltic States, Poland, Romania and others, as well as early warning aircraft (AWACS), tactical aircraft and reconnaissance unmanned aerial vehicles (UAVs) patrolling the sky near the borders of Ukraine and Russia.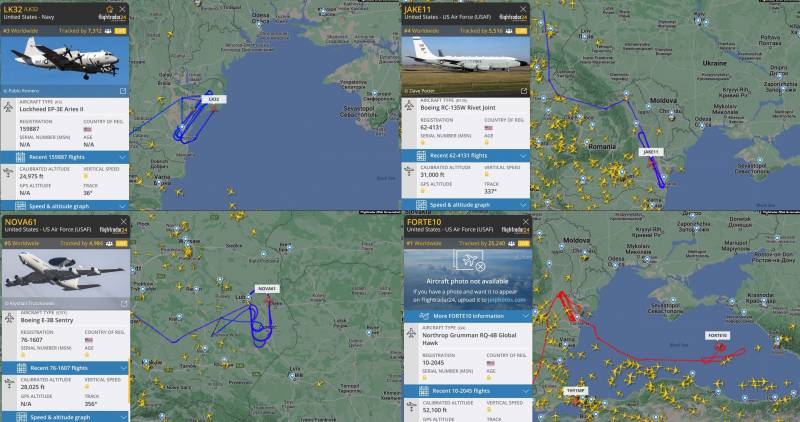 Planes of NATO countries do not depart from the borders of Russia and Ukraine
This means that when delivering long-range air defense strikes, the intelligence structures that control and support the Armed Forces of Ukraine and the Security Service of Ukraine (SBU) provide them with timely notification of the start of strikes, which allows the Armed Forces of Ukraine and the Security Service of Ukraine to change the location of mobile objects that could potentially be targets for strikes, as well as to prepare air defense equipment (AD) to repel strikes.
What mobile targets do we need to quickly destroy in the depths of Ukrainian territory?
First of all, these are Su-24 and MiG-29 aircraft of the Ukrainian Air Force (Air Force), capable of carrying long-range precision weapons (the information has not yet been confirmed regarding the MiG-29). Then come the HIMARS launchers, which will soon start operating with ATACMS tactical missiles, and they cause us a lot of harm with previously delivered high-precision projectiles - after striking, the HIMARS launchers quickly leave the affected area and disperse.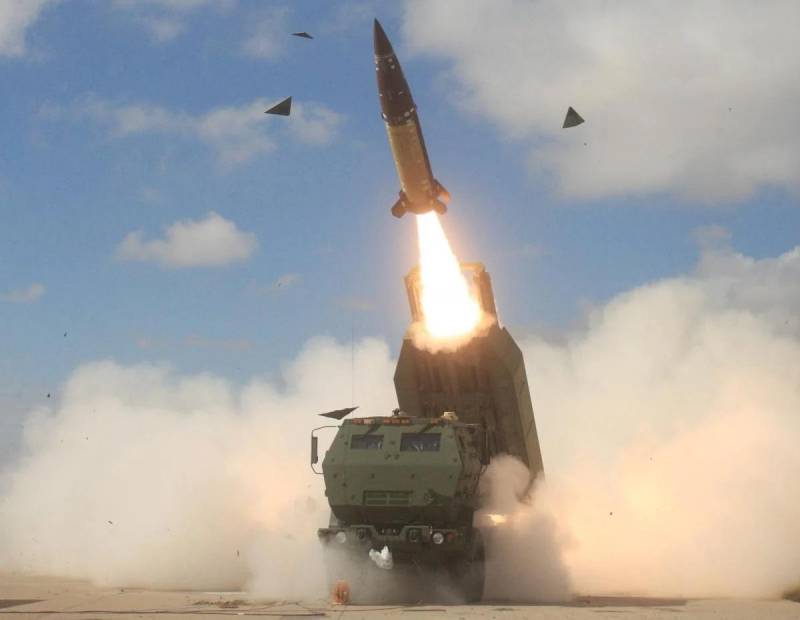 It will be quite difficult to track down and destroy HIMARS launchers with ATACMS missiles
Important targets are enemy anti-aircraft missile systems (SAMs), especially modern medium and long-range air defense systems, which include free-standing radars, launchers and other elements of the complex.
And finally, sometimes the Armed Forces of Ukraine have a habit of collecting armored vehicles and manpower "in a heap", apparently to raise the morale of soldiers and "beautiful" videos for Western sponsors.
What are the similarities between these goals?
The fact that they are highly mobile - upon receipt of notification from NATO countries of an impending attack, the aircraft, even if they do not have time to overtake them to another airfield, will be transported by tractors to another point on the airfield. HIMARS missile launchers can also be relocated, as can elements of air defense systems. Armored vehicles and manpower will be dispersed on the ground.
If all this happened near the front line, then it would be possible to work out the area with Smerch multiple launch rocket systems (MLRS) or something similar, covering areas of hundreds of hectares, but the Armed Forces of Ukraine hide valuable assets in the depths of the territory. Most likely, we do not have long-range retargeting of the WTO in flight, therefore, even if we know that the target has "left", nothing can be done.
Thus, we need to solve two problems at once - to cover potential targets over a large area and to do this at a great distance with a minimum time delay.
This sweeps aside all monobloc warheads (warheads), except for
tactical nuclear munitions
, and low-velocity delivery vehicles such as subsonic KR and
unmanned aerial vehicles (UAVs) of the "Geran-2" type
.
Square strikes
Cluster munitions are the most effective means for area strikes. They were first used by the Germans against the Poles back in 1939. The German aviation was armed with bomb cassettes of various types, for example, the AB 250-3, which had the appearance of a standard 250-kilogram aerial bomb, which was equipped with 108 small-sized SD-2 fragmentation submunitions called "Butterfly" (Schmetterling). The SD-2 submunition was a two-kilogram steel cylinder with a braking propeller parachute.
After the release, the cassette was opened at a given height, and the submunitions, due to the rotation of the propeller, were dispersed over an area of ​​several hundred square meters, their fuses went into firing position. There were three types of fuses - AZ 41 with detonation in the air or on impact with the ground, AZ 67 with a 5-30-minute delay after the fall, and AZ 70B pressure action, which turns the submunition into an anti-personnel mine.
Submunitions with AZ 41 fuses caused primary damage to the enemy, and submunitions with AZ 67 and AZ 70B fuses hit those who came to help the victims. The radius of destruction of the AV 250-3 cluster bomb was ten times greater than the area of ​​destruction of a monoblock bomb weighing 250 kilograms (300 meters versus 30 meters).
Explosions of modern cluster munitions
It can be assumed that it is cluster munitions that can become an effective means for destroying Ukrainian Air Force aircraft at airfields disguised by HIMARS launchers, dispersed medium and long-range radars and air defense launchers, as well as grouped armored vehicles and enemy manpower.
The question remains, how can they be quickly delivered to the target?
And the storm will come...
How to deliver cluster munitions deep into the territory of Ukraine before the enemy has time to react to the strike?
First of all come to mind
hypersonic missiles of the Kinzhal complex, which are almost impossible to repulse
. So far, nothing has been reported about the use of missiles of the dagger complex with cluster warheads, however, such warheads can be used by missiles of the Iskander operational-tactical complexes. Considering that, according to open data, the Kinzhal missile was developed on the basis of the Iskander missile, it can be assumed that the installation of a cluster warhead on the Kinzhal can be carried out in the shortest possible time (if this has not already been done).
Cluster warheads for the Iskander missile can supposedly hit targets in an area of ​​15 square meters (somehow not enough for a warhead weighing half a ton?) And include fragmentation submunitions with air detonation, cumulative unguided submunitions and self-aiming submunitions that hit targets with an impact core, designed to destroy ground equipment, volumetric submunitions - detonating action, submunitions for remote mining with mines of various types and purposes.
Why are Kinzhal missiles not used with cluster warheads?
Perhaps because they are too rare and expensive to be wasted on targets hit by cluster munitions.
For comparison: one 220M9K 27-millimeter ammunition for the Uragan MLRS with a 9N128K cluster warhead weighing 90 kilograms includes 30 9N235 submunitions weighing 1,75 kilograms, each of which contains 300 grams of hexfol explosive, 96 cylindrical fragments weighing 4,5 .360 grams to destroy equipment and 400-2 fragments weighing 9 grams to defeat manpower. The reduced area of ​​destruction of each combat element 235N1 in terms of manpower is 150 square meters, and the entire warhead is 25 square meters.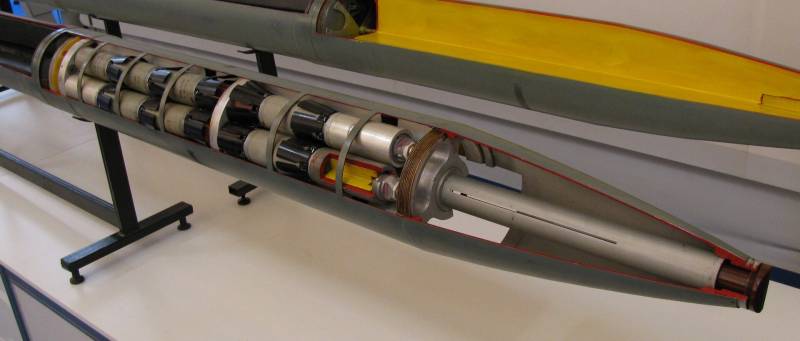 Ammunition 9M27K for MLRS "Uragan" with cluster warhead 9N128K
A volley of MLRS "Uragan" with 16 ammunition 9M27K with a cluster warhead 9N128K destroys equipment and manpower on an area of ​​426 square meters - this is approximately 000x650 meters.
The Armed Forces of the Russian Federation (RF Armed Forces) use Kh-22 Burya supersonic anti-ship cruise missiles (ASC) and their upgraded Kh-32 version during the NMD. Their flight speed reaches 4 kilometers per hour (approximately Mach 000), the mass of the warhead is 3,5 kilograms. The accuracy of these anti-ship missiles is questionable if their design has not been finalized in terms of the guidance system.
The question arises, what if we use the 22N9 submunitions currently used in the Uragan and Smerch MLRS missiles as the warhead of the Kh-235 anti-ship missiles?
The warhead of the X-22 anti-ship missiles weighing 960 kilograms is conditionally 10 warheads 9N128K, covering an area of ​​25 square meters. Three X-010 anti-ship missiles under the wings and fuselage of the Tu-22M22 long-range bomber-missile carrier are approximately two full salvos of the Uragan MLRS, covering an area of ​​3 square meters each.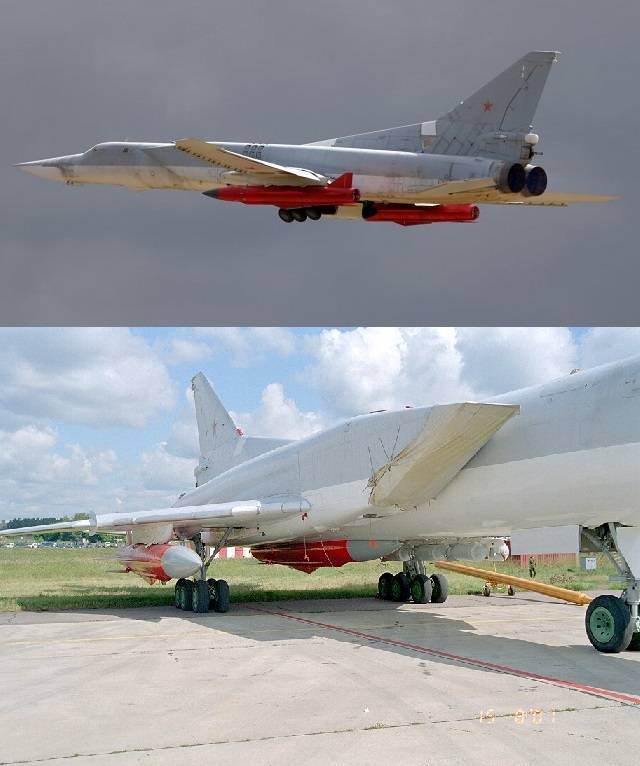 Anti-ship missiles X-22 under the wings and fuselage of the Tu-22M3
Eight Tu-22M3s with 24 modified X-22 Burya anti-ship missiles with a cluster warhead are the equivalent of 16 full salvos of the Uragan MLRS, these are 7 200N9 submunitions, 235 heavy and 690 light fragments.
Conclusions
It is believed that the deviation of the X-22 anti-ship missiles when working on ground targets can reach up to half a kilometer. In the case of the use of several dozen modified X-22 anti-ship missiles with cluster warheads, the affected area can reach several million square meters with partial mutual overlap.
The targets can be such facilities as the Yavorovsky training ground, airfields that can potentially accommodate camouflaged combat aircraft, railway junction stations with accumulations of rolling stock, large industrial enterprises with a "sensitive" infrastructure, large oil storage facilities and warehouses of fuel and lubricants (fuel and lubricants). ), deployed medium and long-range air defense systems, ground military equipment and manpower concentrated on the ground.
Of course, comparing the impact of cluster munitions and tactical nuclear weapons is an exaggeration. However, a massive strike with long-range precision supersonic weapons using cluster warheads, carried out "with a single purpose for a single purpose", can inflict damage on the enemy that could otherwise be achieved only with the help of tactical nuclear weapons.
Only power law plays a role in the war, everything else is just good wishes, naive dreams or deliberate lies.

We should not succumb to illusions that it will be possible to defeat the Western countries on the territory of Ukraine in some other way than force and ruthless determination.