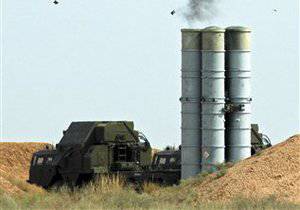 Tehran is conducting fire tests of its own air defense missiles, which correspond in their characteristics to the Russian C-300.
Weapon
was created in connection with the cancellation of the contract for the supply of C-300 to the Islamic Republic, the Iranian state television channel Press TV reported Wednesday referring to the deputy commander of the air defense base, brigadier general Mohammad Hassan Mansourian.
The contract for the supply of C-300 air defense systems to Iran was signed at the end of 2007: Russia was supposed to supply Iran with five divisions of the C-300PMU-1 anti-aircraft missile system worth about 800 million dollars. Russian President Dmitry Medvedev 22 September signed a decree on measures to implement the fourth UNSC sanctions resolution on Iran (1929 from 9 June 2010 of the year). The decree prohibits the transfer to Iran of C-300 complexes, armored vehicles, combat aircraft, helicopters and ships.
"Air defense systems similar to the C-300 are subject to fire tests and refinement in field conditions. Other long-range (rocket) systems are under development and production," Mansuryan said.
The Russian C-300 medium-range anti-aircraft missile system is today considered to be one of the most effective means of defense of various kinds of objects, military bases and command posts from the attacks of all types of missiles, including ballistic and other aerospace attack weapons. According to expert estimates, in terms of basic combat characteristics, it is superior to the functionally similar American Patriot air defense systems, which, in addition to the territory of the United States, are deployed in a number of countries around the world, including Israel.
The latest modifications of C-300 systems are capable of destroying enemy aircraft at a distance of 150 kilometers and an altitude of up to 27 kilometers. Earlier, Russia delivered the Tor-M1 anti-aircraft missile systems to Iran with a range of 12 kilometers (six heights).