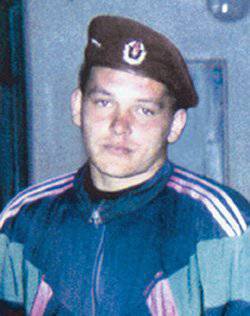 Senior Lieutenant Popov asked Vladimir Fritzisovich when he came to the unit to visit his son: "Have you been preparing him for the special forces all his life?"
It turns out that Ruslan has been preparing himself for special forces since ... six years. First there was swimming - for common development. Then athletics - speed and agility. Barbell exercise poured strength into the muscles. Boxing taught how to beat and defend well. And there were chess - mind gymnastics.
By the age of eighteen, he did not become a superman - he simply became a handsome guy who knows how to love life in all its manifestations. He knew the price of every day, hour, minute. Culinary school - only for laughs the object of jokes, for Ruslan - it is comprehension of a serious profession. He was used to doing useful work from a young age.
From the Latvian roots, from the right family upbringing in him were diligence, accuracy, politeness and tact, male elegance ...
As soon as a team of recruits, including seven Sochi residents, ended up in the training center, the officer in the krapovom beret pointed out Ruslan and his cousin Vitaly: "These are for me!" Both guys are ninety meters long and broad. From the first days only these two "young" trained with the "old men". Three months later, the commander said: "You can donate to the maroon beret." Six months later, we went to the Caucasus ...
When the parents of other Sochi children who got into the war learned that Dukans went to visit their son in part, they advised to set an example in the "saving children". Ruslan's father answered shortly: "My son will not become a deserter, he will not be brought up so well."
They traveled to the North Ossetian village Chermen in agitation. Vladikavkaz was already crowded with troops - the contrast with the resort of Sochi was striking. The commandant in Chermen, having learned who the guests came to, immediately volunteered to help: "We all know these brothers - the golden guys! We will deliver them to you! You will live in the officer room for the time being, and my men and soldiers spend the night ". In those circumstances, it was a special sign of appreciation ...
Ruslan and Vitaly arrived at the front line with clean, vigorous. And still, Lyubov Mikhailovna shed a tear ... Her father, Vladimir Fritzisovich, tried to keep his nerves in his fist. He himself urgently served in the operational regiment of the internal troops, was with a unit in Grozny in the 1973 year, when riots occurred there. But then the troops, acting on behalf of a strong state, quickly put things in order without blood. Today everything is different both in the state and in Chechnya ...
Resting brothers a couple of days for the glory. To part was not easy. Already at the station, my father gave a little slack, quietly and confusedly suggested to his son: "Ruslan, you won back your own in Chechnya, how many months already there. Maybe I will talk with my superiors to transfer you to another part, closer to home? "-" What are you, Dad! But what about the guys who stayed there? .. "
A company of special purpose went on serious missions: they beat out militants from Assinovskaya, stormed Bamut. It so happened that the first wounded was assisted by Ruslan. He did artificial respiration to a friend who no longer showed signs of life. He was told: "Everything, Ruslan, is already useless!" But he didn't want to believe in the death of a friend: "Maybe we can save more! .." Soon he received a contusion and a fragment in his eyebrow. I considered all this nothing. After a short respite there were fights again ...
On that cold morning of 10 on April 1995 of the year, the special forces were covering the riot policemen who were combing the village of Zakan-Yurt. On the eve of the local elders urged the command: "Do not worry, there will not be a single shot from our side, we agreed with the militants, they left ..."
Already at the end of the street, when the special forces were in the open, they were hit in the back by several automatic rifles and AGS.
Grenade exploded in a meter from Ruslan. He, all tattered by splinters, still managed to order: "Go back to Batra!" He decided to cover himself: he got on his knee, started up a grenade from a grenade launcher according to the "spirits" ...
"Pinwheel" came in a couple of minutes. Vitaly bent over his brother with a flask of water.
- Fields on the chest, it's hot, - Ruslan asked and coughed up blood. Then on the bloodied face flashed a semblance of encouraging smile. - Nitsche-e! Three days later - I'm with you!
- Okay, okay, shut up! - Vitaly understood that now he should be constantly with his seriously wounded brother. - I'll fly with you!
But he was expelled from the ambulance helicopter by a company officer: "Get out! See, there is no one to fight! "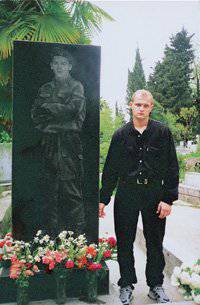 In the hospital, Ruslan died. Vitaly still believes that if he were there, he would have been able to save him ...
Private special forces of the internal troops Ruslan Dukans turned out to be the fifth scoop who died in Chechnya. They wanted to carry the coffin on their hands on the main in the city of Kurortny Avenue. The militia was alarmed - in those April days, the Supreme was at the resort, side by side. Mothers, fathers, fellow soldiers and classmates of Russian soldiers who had fallen in the Caucasus threatened to go on a demonstration to Bocharov brook, to the state dacha ... Bitter tears washed away the cold spring rain from their faces.
In the room of Ruslana there are icons and candles, a portrait, and a maroon beret. Here came his comrades from Astrakhan, Naberezhnye Chelny, Krasnodar, Rostov. At the town cemetery, the monument is up to its full height: a bright person is in a marbled black cold. Orthodox cross, special forces emblem and lines of a soldier's poet:
Who saw the death and the blood of friends,
Salty sweat, eye strain,
He knows us.
We are called - special forces.
There is a surname Dukans on the monument in Krasnodar and in the operational division, where he served ...
One day, even before the service, he stood up for the girl, to whom drunken revelers stuck at the disco. Punched them, but ... fuss, police, protocol.
The attendant in the department, seeing a sober and sensible guy in front of him, asked in surprise: "Did you need it? What are you, Robin Hood? "
The answer was short, with dignity: "I am not Robin Hood, I am Ruslan Dukans."