At the end of the year, it is customary to sum up various results concerning successes or failures in politics, economics, sports, and other areas. Reports, tables, totals and ratings can be treated differently, because it often happens that the indicators of one structure, by and large, contradict the indicators of another. However, if the results are summed up by the representatives of the authorities, then it is simply impossible not to pay attention to them.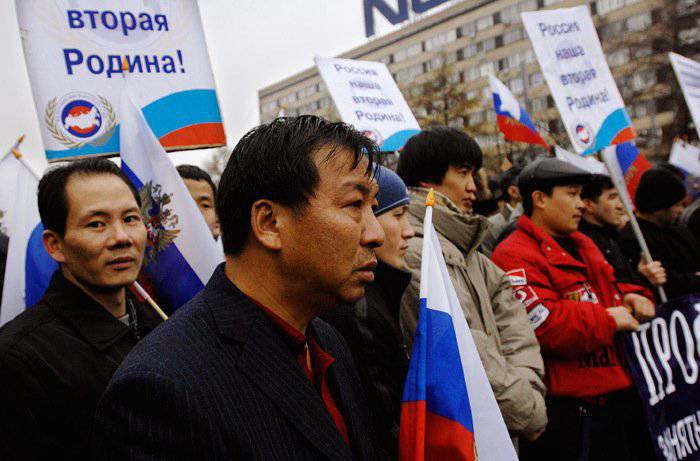 The other day, we summed up our results in the segment of the Russian Government that deals with social issues. Vice premier
Olga Golodets
, in charge of this area, announced that this year Russia has achieved impressive results in terms of resolving issues related to unemployment. According to Mrs. Golodets, the level of this very unemployment today has been reduced to the value in 5,2% of the economically active population of Russia. Here it is necessary to immediately decipher the concept of "economically active population", so that it is clear that 5,2% is generally how much, as they say, in humans - in humans.
Under the economically active population of a country is understood as part of the population, providing the supply of labor for the production of goods and the provision of various services. This part of the population is capable, at a potential level, to have a source of personal income. According to international rules, people between the ages of 10 (!) And 72 years can be included in the number of economically active citizens. However, this criterion is not valid in all countries of the world. For example, here (in Russia) the lower age bracket for an economically active citizen is 15 years.
It turns out that 5,2% in this case corresponds to about four million people - citizens of Russia, of course. If you trust such figures, then, it turns out that Russia has managed to reach the pre-crisis level of unemployment and even slightly exceed (in the positive sense of the word) the 2007 figures of the year.
Vice Prime Minister Olga Golodets declares that there has never been such a low percentage of unemployed in Russia. Her quote: "we are proud of it."
It would seem that all Russians, without exception, should also rejoice at such indicators, but there are several details here that simply cannot be ignored. The fact is that along with record-low unemployment in Russia in recent years, a very negative trend has begun to take shape. It is connected with the fact that the notorious staff turnover is manifested in the country. And very substantial. If an employee of an institution, an enterprise, or a certain company "manages" to work more than 2-3 years in one place, then such a person can be called an employee with a lot of experience. After all, up to a third of the working-age population is forced to change jobs almost regularly.
On the one hand, this may indicate that Russians have a real choice of work places, and citizens can give preference to that workplace, which, let's say, is warmer and more satisfying. But the medal has a downside: staff turnover is associated with new, very peculiar, rules of doing business. Many employers (heads of private companies) are often simply unprofitable to work with the same state. Where it is more convenient to recruit people for a couple of months, then hang shortages, penalties and other financial and professional negative, under the pretext of which to refuse to pay the amounts due for the work done. Of course, this trend does not manifest itself everywhere, but the fact that there are those who apply it "with success" is a fact. Many employees would be happy to continue working in one place, striving for career growth, raising income levels, but their interests often run counter to the interests of the immediate employer.
An entire army of employers is generally unprofitable to use the labor of qualified employees. Indeed, among representatives of business, there is such an admonition: "Why do we need smart servants - suddenly they will begin to steal competently ..." Therefore, they find themselves in shopping centers, banks, sales offices, legal aid centers and other organizations such employees who, in the event of a cash register failure or computer ready to jump off the place and run away with things, just to not catch the eye of the chief. Modern business brings up some kind of humanoid, programmed to strict execution of commands and complete helplessness in the event of a contingency. Because programmed is much easier to manage.
Based on this state of affairs, many employees are forced to change jobs with surprising regularity: a month - there, six months - there, and in the end - neither there nor there.
There is another problem that Olga Golodets decided to ignore. The Russian labor market has a serious imbalance, which many people are talking about today. This imbalance is associated with the reluctance of many Russians to find employment in low-paying jobs. You can, of course, wonder how many it is only few Russian citizens (especially in large cities) want to go cleaners or utility workers, but if you compare the level of wages in these specialties and the level of payment of the same utilities, the questions will disappear by themselves ...
Therefore, it is more profitable for a residential office or, forgive, a "cleaning agency" to recruit so-called external labor migrants from Tajikistan, Uzbekistan or Kyrgyzstan to 15-20, pay them a "minimum salary" and allow the whole "platoon" to live in a transformer booth, at least in basement apartment building. Cheap and angry, as they say. But the rights to download will not ... And they will, because there is such an amazing structure as the FMS, which can suddenly open its eyes to the presence of illegal foreign workers without documents and a work permit. Moreover, the employer himself often all possible sanctions for the provision of jobs to illegal immigrants, in a strange way, bypass the party ... And why would it be? ..
For some time, or rather, since the beginning of December 2012 in Russia, it has been decided to somehow regulate labor issues relating to foreign citizens entering the territory of Russia. First, you need to provide up-to-date data on how many foreign citizens and from which countries (according to official statistics) came to work and study in Russia. Here are some data (the period from January to September of the current year):
Azerbaijan: 16811 profits, 3072 losses.
Armenia: 26949 profits, 3368 losses.
Belarus: 12718 profits, 4057 losses.
Kazakhstan: 32532 profits, 6630 losses.
Kyrgyzstan: 27038 profits, 7868 losses.
Moldova: 16494 profits, 3430 losses.
Tajikistan: 30884 profits, 7963 losses.
Turkmenistan: 3344 profits, 893 losses.
Uzbekistan: 64567 profits (
absolute record
by the number of labor migrants entering the territory of Russia for a specified period), 22896 decline.
Ukraine: 35776 profits, 9374 losses.
Georgia: 5682 profits, 524 losses (
record low departure
back from Russia as a percentage of the number of arrivals).
China: 6321 profits, 2909 losses.
Germany: 3383 profits, 2888 losses.
Estonia: 1120 profits, 423 losses.
Latvia: 1056 profits, 291 losses.
Lithuania: 576 profits, 172 losses.
Greece: 613 profits, 109 losses.
So, the Russian authorities decided at the legislative level to put forward requirements for labor migrants arriving in the country who are going to work in areas with low qualifications. Requirements - basic knowledge of the Russian language. For Belarusians and citizens of South Ossetia, where Russian is the state, an exception is made.
This, according to lawmakers, should reduce social risks and ethnic friction in Russia. Migrant workers, entering the country, and not having a document of education recognized by the Russian Federation, will have to pass an exam on basic knowledge of Russian to obtain a work permit. Such a measure, according to the authors of the innovation, should help to build mutual understanding between foreign citizens and Russians, which has recently begun to appear less and less. The measure seems to be sensible, but it, not having time to become a reality, is already subjected to sharp criticism. Moreover, criticism most often comes from guest workers themselves. And the main stumbling block here is the price of testing. The average cost of passing the test and obtaining a special certificate for foreign nationals who arrived in search of unskilled work is 3000 rubles (less than 100 dollars today). Foreign labor migrants in several regions of Russia declared at once that it was literally a robbery, provocation and violation of human rights ... Like, where they would get plasterer from Kulyab or a janitor from Bukhara whole 3000 rubles at their wages. And where does he take them for living in Moscow or St. Petersburg, and even for regular remittances abroad, the same people, for some reason, do not ask ...
Moreover, the leaders of the so-called trade unions of guest workers (and there are in Russia and organizations that call themselves something like this) immediately after the law came into force, they began to receive statements that they recommend that visitors refuse to take the test under various pretexts ... This is what sabotage? Hmm ... It turns out that the leaders of migrant workers with foreign passports are going to sabotage Russian laws? Somehow it does not fit in with the plans for transparent work with the payment of taxes to the Russian treasury.
There is an opinion that foreign citizens are discouraged from taking a test of knowledge of the Russian language, not at all because it is expensive, but because when passing the exam, it is possible, excuse me, to "burn" before the accounting services. After all, according to official data, about 31 thousands of citizens of Tajikistan have entered Russia, and after introducing the exam rate, they may appear more in 2-3 more ... In this case, the fears of the leaders of the "trade unions", diasporas and other relevant, let's say, institutions are clear. Yes, and many Russian employers are clearly not happy with the new law. And the point here is not at all that they don't want the employees of their companies to speak Russian well, but that the illegal immigrants they use for personal and corporate savings can "surface".
After all, if everything manifests itself, then the level of labor dumping in Russia may decrease, which is not beneficial for many interested parties. And the dumping press will be reduced - you have to hire Russians and pay the actual wages. So for many business representatives, a non-Russian-speaking representative of the peoples of Central Asia without a certificate of passing the exam and without a work permit is much more preferable than the same one, but with a certificate and permission, and certainly more preferable than any Russian. The second and the third will cost more ...
By the way, over the past few days a whole series of reports has arrived that in a number of regions migrants fail the Russian exam. Consciously or not - until the question.
To get the "cherished" crust you need to answer at least 65% of the proposed questions. Here is one of the test questions:
All workers go to the medical center by bus
. On what vehicle do the workers go to the medical center?
It is a pity that the answer options are not attached: a) on the bus, b) on Bentley, c) on the donkey, d) I won't go to any medical center at all.
In general, 5,2% unemployment is, of course, a success, but it is time to start implementing a real policy of control over the state of the labor market, including in its migration sector, in order not to get a situation similar to that in some "hospitable" EU countries. Yes, and the need to comply with the laws for entering Russia with different goals, too, should think about, not postponing questions for tomorrow.