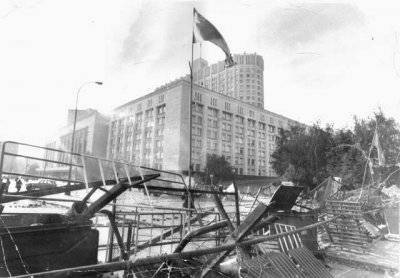 Maybe I'm wrong, but the consolation, like anesthesia, the word "stability" makes me nauseous. Not the best cult of cash has come to replace the cult of personality enslaved in the coffin. Honey slaughter - from one hand, on the other - the factory of tears, squeezing a drop from a person's man. There are only villains in power, fools outside of it. Charity - care for the poor, multiplying their livestock. Astrology - the science of the influence of the heavenly bodies on human darkness. Disarmed forces Bank formation. "Knock on the money." "Pet sucker." And the main difference from the overthrown system in 91: everyone has learned to lie slyly - and crime rules the ball.
In general, cannibalism in its purest form. It eats people a million a year: here there are already serial teeth kills, suicides, and simply incompatible with life, like trauma, poverty.
Well, yes, and a dog with him! - habitually responds in those killed by the current struggle for survival of hearts. And the flies get blindly under the fly swatter - so what? Do not fold the wings to other flies!
For flies - no questions. But are we different from those flies, or are we no different? If nothing, this stability is just right: whoever dared, he ate; those who did not have time to thrust their proboscis into the stream were late. And all the signs of this human degeneration are evident: we no longer read human books, literary magazines do not go out. In the course of one anesthetic stage: "Ha-ra-sho! Everything will be ha-ra-sho! "Love - there is no such word anymore, there is" fuck "or" love-carrot ". For every three marriages, two divorces - which, in the official language, "entails, along with the growth of extramarital births, an increase in single-parent families ..."
And yet - the growth of the invisible world, not wanting to see anything, orphan tears - yes, the dog and with them! For the word "conscience" is also no more. And you can build a life with crystal locks on the ruble is not something that on the tears of an innocent child - on the whole Niagara Falls such tears!
But still, it seems to me that this spiritual collapse cannot be complete. Some kind of human instinct invested in us at the gene level is ineradicable. To be more precise, to say this: we will still remain human if this eclipse passes — or not in any way. You can not bring down the level of consciousness of a monkey to the level of a frog, there will be no macaques. And the human soul can not be cut to Macaque - there will be no people.
But why is this eclipse? Where did this crust clog our natural human spring? In my opinion, these are all the berries of the two putsches of 91 and 93, which are already quite forgotten, but which deeply determined our present consciousness and being.
I was on both of these putsches - and I'd never agree that in 91, the White House was defended by villains who were bribed by someone. Rather - idiots, from among whom I do not exclude myself. Because he accomplished a personal feat there - and not because he was some exceptional hero, but because he was just in that number.
When all that movie was suddenly cut off on television on the morning of August 19 and between the mourning corps de ballet the GKChP performed with his trembling insincere hands, I sincerely rushed to the subway and left in the center. Other viewers did the same, as there is a rule: he took up his chest - say something! And these immediately startled tremors, muttering something slurred, drove dumb
tanks
on the chest - and not gu-gu.
And we, already spoiled by the rally freemen, come on, as a woman during inept boarding, to resist these silent people. We are leaving the subway, we see armored vehicles lurking in the alleys - this is against us, civilians! - and begin to find out where the epicenter of violence. After an instantaneous shu-shu, which worked better than it swallowed the language of Ostankino, we learn: from the White House, the Russian residence, the name of Yeltsin, the government. And like streams from the mountains, forming further the river, we flock there from all over Moscow.
There they are already building barricades, dragging the armature - and the same armored cars lined up in a column along the new Arbat bridge. And at the same time, in their frightening and annoying dumbness, they stand as embodied violence - whereas from our side everything is growing this very shu-shu. The main thing in it is where Yeltsin will be able to break through to us from his summer cottage or not? And how, with or without him, we, without having the same tanks, will be able to defeat these stagnates? And that they need to be conquered - it went into the minds of itself, this was their very trembling look, not compensated by any armor, he immediately convinced everyone.
And then - the first key breakthrough. For the time being, our only communication strength is the very shu-shu — it conveys: Yeltsin broke through! Well, cheers! And here he makes his most winning move in this fight. He climbs into the tank in the middle of the crowd - and he says the same tribunal word that our entire crumpled chest was waiting for the most. That is, he reads his decree that these armored defenders are rapists and villains, but he will sweep them all away, and will save us, and we, as a woman, are ready to give all-out to the deliverer. For here the people and the woman are one: just pat them correctly, animate them and scratch the opponent's eyes for you. And we, more and more boldly, we go to the bridge - where these tanks all show us, like in vain exposed shame, their non-firing guns.
Someone from the brain office in the White House, who worked much better than the State Emergency Committee, found and gave everyone a trick on how to take the chest of those who first wanted to take us. Go to those tanks in peace and come into contact with their crews - offering them coffee sandwiches in the form of a goodwill gesture. And then already everywhere, where these pugachs were leaving, they were cut off by nimble "nines", from which they got buckets of sandwiches - what filled the volunteers who went to storm tankers. And in 91, this zhrachka with its armor-piercing power even surpassed the Chechen grenade launchers, of which in 95-m shot down federal armor in Grozny.
And when this still timid contact attempt on the bridge just came, an army bobik flew in, from which a colonel jumped out with a machine gun on his shoulder: "Everyone back! Get away from the technology! "His gloomy face, then known to the whole country, was in a hell of a sweat, he walked from tank to tank, separating people on both sides of the armor, like a lightning fastener.
But just around me there was a hitch, peaceful people tried to say something to him, but he yelled in a low bass:
- I'm an officer, I have an order to shoot! I can put everyone now! - and his hand nervously rummaged on the forearm
weapons
.
It was then that I, authorized by a universal heroic impulse, jumped forward like a breast from a bra:
"What kind of officer are you!" Shit! When a Russian officer received such an order, he put a bullet through his head, not in children and women!
And my voice trembling on a high note had suddenly a completely unexpected action. In the face of the colonel something broke, he turned purple, turned around - and through the victoriously parting civilian system he trotted away. And at once everything that had been disconnected by him again concurred - and was no longer separated until the very victorious end.
I spent all three days on that defense of the besieged fortress, and I can say that heroism really hit there with the key. No one knew then: will there be a shooting assault or not? And yet we all alternately drove away to their homes - to eat and sleep, but when it was heard that the shooting would begin now, no one had abandoned their positions.
All this has already been shown more than once in the most flattering form for the victors, in this case many who are directly at risk of life; who is a timely jogging - they made their percussive careers. But how ingloriously this epic ended for me.
When at last it was spread that ours took, Gorbachev was rescued, and the coup leaders were arrested, most of us, as if passing the watch, began to disperse with a light heart. But the next day I could not resist the temptation of the winner to return to victorious places. And he was surprised that the crowd at the fortress, which no longer needed to be defended, only grew even more. But I didn't meet any of my acquaintances from the past days - and in order to find them, I moved into the thick of the ground, already organized as at former parades, by some activists who had never been seen before.
And I have one of them: "Where are you going? You didn't stand here! "By inertia of the past day I wanted to easily pass through it - as before through the armor barrier:" It didn't stand here! I stood here for three days! "-" And I'm standing now! "And the renewed crowd that came to the safe parade ground parade stood up for him, not for me, with a feeling of a well-adjusted rear elbow. And I, having felt that this rear link will be, perhaps, stronger than all frontal armor, did not begin to swing the rights and, having not found former acquaintances, left to annoy home with annoyance.
It was then that all the sobering up after the victorious yesterday and it came - when the fiesta of these interceptors of someone else's victory was on TV. That is, that skewed already to finish the country, under the guise of finishing the State Emergency Committee, a concert at the White House with Rostropovich and others, who had all the fear and risk sitting in the gaps and got out there to bring down Dzerzhinsky - and with it the whole country. I, like the idiots like me, thought that he had defended her, but it turned out that he had betrayed into the hands of the marauders who had uncovered it after the units and overturned them in further devastation.
Yes, I really didn't know what I was doing - I don't boast or blame for anything, but I confess what I sincerely say. But could it somehow somehow beat the State Emergency Committee, whose goals: preserving the country, preventing further slaughter — with all his manual trembling were still nobler than the winners?
I think in any way: there was him a pure zugzwang, that is, a situation in a chess game, where any move only worsens the position of the person who entered it.
Well, let's say, in time they arrested b Yeltsin, they even killed b. It is easy to imagine how he would immediately become a saint - even that one, the legendary friend of the people of the 91 model, and not the drunken disgrace that everyone felt sick afterwards. The people who had already been missed by yesterday's fathers of the nation would not forgive him for imprisoning him, much less murder — and would have fallen down his name with his hands, rushing to their profit.
I remember how one of the most intelligent lady of that time almost scratched my face when I doubted that Yeltsin, becoming the secretary of the Sverdlovsk regional committee, moved to the hostel to live closer to the people. Then, in Yekaterinburg itself, I asked: was there really such a thing? Yes, it was: for himself and the near nobility, he built their house-palace on the Iset embankment - and in order not to pay rent, spent it as a hostel at the House of the collective farmer. But his myth, in the creation of which he surpassed all former party lies, then had an unprecedented success - and demanded for debunking such skill, which the gamers did not have and close.
To give the command to the firing assault - again, the people, inflamed with the dream of centuries about freedom and endless sausage, stood to death and the putschists would drown in the blood they shed. Because Yeltsin really irremediably motivated this dream: commodity intervention, price cuts on everything, a rise in wages — and so on, right down to the oath to lie on the rails, if tricked. On the one hand, no one has yet lied so excitedly, on the other - famous actors, academicians, or indeed being seduced by a crazy fairy tale, or how, they vowed that it was doable. And all you need is to knock over a handful of old partocrats! Well, we are such a people: even if you shoot at us, we will believe in these wonders of freebies; Yeltsin saddled this fabulous faith - and won.
And what could the coupters say in response - except for the banal and disgusting people of the 91 sample of truth, that free cheese is only in a mousetrap? But they did not even say it, so that it came to the heart, to the mind. And steel has become extremely unconvincing to defame the fiery scoop - which, as is well known, only raises such in loving eyes fixed on him.
People's love — that's what these couplists didn't earn, some vivid action, a word that, like the Decembrists 'feat, didn't work then, then it would come up later. And by this their failure was foretold.
The victory of the White Sea fighters in 91 predestined their defeat in 93. My friend, an opera singer with the earliest ear for music, who spent the same three days living with a human shield in the same crowd, said to me afterwards: "When I understood who I defended and for whom I was ready to shed blood, I gave myself a pledge: never again into politics do not climb. There is nothing dirtier in the world, it will spoil you, even if you thrust into it with the best of intentions. " And in 93 the defense of the again besieged stronghold, already with Rutsky and Khasbulatov, many did not go in principle - remembering how foolishly they had been deceived last time.
But for all that, civil non-resistance to vicious violence is evil itself, and therefore I, no longer ill deceived by new insurgents, again deliberately went to the same rake. Now, from the quickened riot policemen, who chased the people there more than past tanks, he got a cudgel along the ridge - but that was not until the end of the bloody this time from the game. And because I soon realized that this time, Rutskoi's business with Khasbulatov was already very personal in many respects, doomed.
Whatever you may say, but in 91, the White House exceeded its opponents first of all with its mind - and then it was decided to take the upper hand by force. Only with their victims the halo began to acquire the sympathy necessary for the victory of the masses, as they fell into the obvious trap - having gone to a forceful seizure of Ostankino.
And it was only their opponents who waited - to tell those thyroid masses: look, this is no sufferers, no sheep! And they themselves beat at the Ostankino shrine, where Vlad Listyev himself creates the Field of Miracles for the country! Clear power that such villains, encroached on the most sacred, only from tanks and crush! And when Korzhakov's tanks, unlike the Swan's tanks, which took off on the one that didn't shoot, shot at the narrow windows, the people who came to be shot as on Listiev's talk show almost sent greetings to his relatives and friends. He also worked on bloodshed with such a link: that if they win, they would cancel the then-voucher for the "Volga" - and according to the latest calculations of Chubais, these "Volg" have not one for each, but for all two!
Well, once in two - although no one has yet seen one - then, of course, beat the Rutsky, save a freebie! And the 93 th riot that did not spark mass heroism was, by and large, not from tank guns - but by the indifference of the majority who had fallen away from it. Which already spontaneously understood: no matter how rebellion, ultimately, these "they" will win, ready to promise everything, but as a result, putting our life into a penny. But at the same time they misunderstood that they wouldn't rebel at all - they wouldn't give a penny!
The revolt of the Decembrists, too, was once fatally doomed. But he stretched forward a charge of high personal honor and dreams for a hundred and fifty years. Since the person is still the main thing in cash, and no matter how the waves of low human self-interest are digging at us, for some time everything remained a nation of people - and not fly-like creatures. And because only won in wars and labor, could store and multiply our wide spaces. But only this spiritual basis disappears from some nation, it ceases to exist - like ancient Rome or medieval Byzantium. There is even an expression in the Russian language: "And aki doom died", - about the mythical people that once conquered huge spaces, but then, according to the chronicler, died out "by itself".
And both of these coup 90-x left us a trace of deep spiritual devastation: the blood was shed in vain - and even with a negative outcome. In 91, our best impulses, filled with the literary boom of perestroika — and all previous ones, from the Decembrists' human dream, were brought to us, as if on the Senate Square, to the defense of the devil who knows. And the heroic impulse intercepted by these devils knows the chem, exchanged for self-interest and led to the collapse and disgrace of the whole country, sowed in us an allergic aversion to all spiritual food - replaced later by that pop show. The people rejected the very idea of ​​any battle for their rights, seeing twice that villains thrive in their field, which was stained with the blood of useless victims.
Therefore, now with all the trampling of all divine and human laws, this "stability" reigns in our country, a synonymous loss of that fundamental principle, without which a nation is no longer a nation, but a prophetic, and even more often not even native shepherds, a herd.
And we, for the rest of the world, who had previously bowed to our conquests, are increasingly doing something like a boring fly, from which there is only filth and itching. We can't swat us away - because of our still huge amount, but measures to our reduction are already being taken. We are busy today only pumping our bowels and stealing income from them from each other. These two putsches ruined the most important thing in us: faith in our victory, will to it. All that remains is the same gloomy face of soulless power — and the already economically mutually hating and future-free dismemberment into "we" and "they."
And therefore, I see our national way out in the only alternative to this stability that buries us steadily: in the new, third putsch, which, so far, as they say, lacks coke. But if on those stars that are now ridiculous, but for some reason our people are still watching, it is written to us not to die, this coke will be found. But only once in a hundred or ten years to come to the square, to win there overnight, or to blow and run up - zero sense. It is necessary in the soul to stand on this square and the human honor to have always. Since all of us can survive only in the form of a man, and never in a mushin form.
This, of course, is terribly difficult, more difficult than a disposable syringe of dizzying heroism. But there is no other way to life.