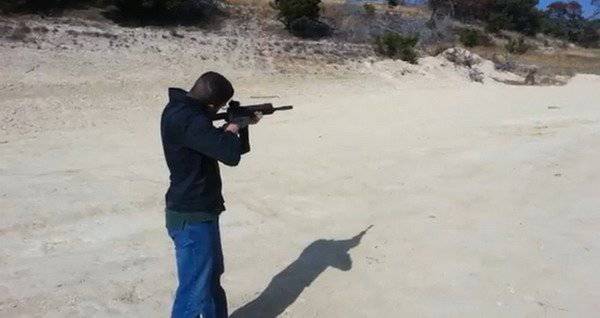 A group of gunsmiths - creation enthusiasts
weapons
By the method of three-dimensional printing, I took another step towards creating a weapon that can be downloaded from the Internet. A test of a rifle partially printed on an 3D printer was carried out to find out how many shots its plastic parts would withstand before crumbling. Result? Six shots.
As the creators of the rifle themselves say: "We knew that it would break, but we did not think that it would happen after six shots. We were counting on 20. "
The rifle that was tested was not fully printed, but only partially. The trigger and grip were printed - for the home-made version of the AR-15 rifle, developed by amateur engineer Michael Guslik. And I must say that the design invented really works, although it is much inferior to a standard rifle.
To create a rifle, the community of gunsmiths "Wiki Weapons" first rented an industrial 3D printer, but after a company representative found out about the community's plans, the leasing agreement was canceled and the printer was withdrawn with reference to the "Undetected Weapons Act", which outlaws plastic weapons that can bypass security scanners.
However, after that, the project founder unexpectedly received help from two unnamed companies located in the cities of Austin and San Antonio in the USA, where the group was able to print and test their rifles. He is currently awaiting a license from a federal arms manufacturer, since the "Undetectable Weapons Act" provides an exception for prototypes of plastic weapons manufactured by a licensed manufacturer. Also, the existing gunsmithing community was incorporated into a non-profit organization.
But nothing brings the company so much inconvenience as its public nature, and its plans to distribute printed circuits of weapons through the Internet. This is a matter of great concern for arms control organizations. And although the gunsmiths themselves plan to print rifles officially, this, of course, does not apply to any other owners of 3D printers - the number of which is constantly growing - who will be able to download the scheme of any weapon from the Internet.
Another question is whether you end up with a working weapon, or a weapon that will become unusable in a few shots. To date, this issue is not fully resolved. But the indisputable fact is that the printed rifles are now a reality, and they will only get better.