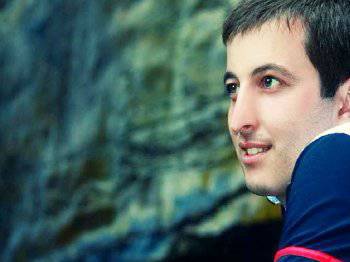 The Investigation Committee of Russia clarifies that the identity of one of the alleged killers of journalist Kazbek Gekkiyev was established. They turned out to be a member of the bandit underground 30-year-old Zeitun Bosiyev, a native of Nalchik. Earlier, agencies reported the arrest of a suspect in the murder of a journalist.
According to the official representative of the TFR, Vladimir Markin, the murder of the TV presenter was committed from the same
weapons
as previously killing policemen. "The ballistic examination gave investigators reason to believe that the murder of Gekkiev was committed from the same weapon that was used in the attacks on law enforcement officers. In this regard, the criminal case on the fact of the murder of Kazbek Gekkiev is combined into one proceeding with the criminal cases mentioned," Markin's words ITAR-TASS.
"During the investigation, it was established that Zealun Bosiyev, born in Nalchik, born 1982, was involved in the murder of Gekkiyev. According to the investigation, Bosiyev is a member of an illegal armed group operating in Nalchik," said Markin.
According to preliminary data, Bosiyev committed a number of crimes as part of illegal armed groups - 14 November 2011 of the year in Nalchik took part in the murder of two district police officers, 1 on June 2012 of the year - in the murder of DPS inspector and 29 on July 2012 of the year - in an attempt on the lives of military personnel of the Ministry of Internal Affairs of Russia troops and an OMVD officer in the Cherek district of the Kabardino-Balkarian Republic.
Kazbek Gekkiev, the host of the Vesti. Kabardino-Balkaria program, was shot dead in Nalchik on December 5. Law enforcement agencies are looking for two people who have committed a crime.
Kazbek was just 28 years old. Among the versions of the murder - the professional activities of a journalist. Gekkiev replaced on the air his colleagues, who received threats from representatives of the terrorist underground operating in the CBD. Back in February, two employees of the Kabardino-Balkaria State Television and Radio Company, Arina Zhilyasova and Aznor Attayev, received very unequivocal threats. An entry appeared on the Internet on which one of the leaders of the bandit underground promises to disfigure them for what the journalists described in detail on the air the successes of counter-terrorist operations. As a result, the presenters quit their jobs. The broadcast took Kazbek Gekkiev.