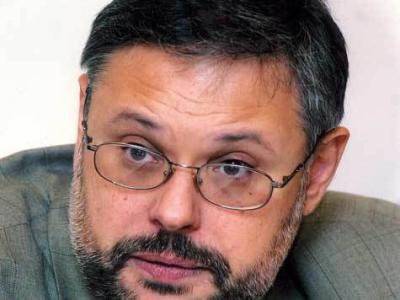 The main operating mechanism of the world's disintegration into currency zones is spelled out quite clearly in our theory: a decrease in aggregate demand due to the inability to maintain it at a level that significantly exceeds the population's real disposable income will lead to a fall in the level of division of labor. This, in turn, will reduce the value added created in the economy, which will make it unprofitable to maintain the global infrastructure of the global division of labor system. And, accordingly, it will break up into more "cheaper" in terms of service fragments.
But this, so to speak, is a generalized model. But how will all this happen in practice, who and how, with its natural actions, will provoke the disintegration of the world into currency zones? And here you can also give some explanations and explanations.
As Sergei Yegishchyants told us (with reference to official statistics, of course), the overwhelming part of the profits of companies from the S & P500 index came from only four of them. From the point of view of the theory of crisis, this is natural: since further expansion of markets is impossible, the deepening of the division of labor (that is, intensive growth) also fails, which entails a crisis of falling capital efficiency. That is, there are investments, but there is no return on them (profit).
Someone will say that this is not quite true, since the total profit of the index is still quite decent, and, thus, we are talking only about the redistribution of money between companies. To this, however, there is a serious objection, which consists in the fact that it is necessary to take into account the global increase in profits associated with the issue. And, thus, we get approximately the following picture: the total profit falls, but some companies compensate for this by accessing emission money.
Then you can argue who and how it does, but this is not quite a theory of crisis. We still once again note that in this place the theory is well confirmed in practice. And it is precisely here that one practical mechanism can be noted, which can precisely ensure the achievement of the theoretical conclusion described above. So, consider a typical country (or region) that is included in the global division of labor and has both export and import flows. The standard of living in the country is gradually falling, as export flows deteriorate, as does domestic support for demand. The question arises: how to compensate them?
The natural option is to start import substitution. In a normally growing global economy, this is far from always possible: investments in creating own production are large, domestic markets for their compensation are insufficient, and the WTO rules prohibit them from being closed for import. At the same time, world leaders are not asleep and are flooding your market with modern designs, while you are seriously lagging behind. In general, the game is not worth the candle.
A completely different situation in a crisis of falling capital efficiency. New items are quite rare, and, most importantly, they are not so new. In addition, people have less money, and they begin to look not only at the novelty and bells and whistles, but at the duration of work and efficiency. Finally, the cost of the production base falls all the time: it becomes easier and simpler to buy a plant. And the protection of their markets can be carried out including due to the devaluation of the national currency.
For example, take modern Russia. The total imports here are about 400 billions of dollars a year. Suppose (I did not carry out an exact analysis — perhaps more) that half of this money can be closed by import substitution. Then we will get a double picture: on the one hand, Russian producers will get more profit on 200 billions, and on the other hand, consumers will increase their purchasing power on a substantial part of these same 200 billions (since they will receive a salary). Agree, not so bad!
And now - how much investment can we "swallow"? If we proceed from the yield in 10% (which is not so little in the current environment), then in Russia today we can safely invest in the import-substituting production of 2 trillion dollars! At the same time, a part of this money can be taken on the domestic market, and eventually, it is possible to switch almost completely to the ruble provision of this turnover. Here you are, by the way, and the ruble financial center, about which they speak so much in the Kremlin and our government, only things are there.
A similar situation, only on a different scale, occurs in many countries of the world. But at the same time you need to understand: if we refuse to import, then someone receives less profit! And, accordingly, it becomes more and more difficult for him to maintain all sorts of costly infrastructure facilities. At the same time, it is becoming more and more difficult for national governments to abandon the proposed scheme, since this is a real tool for compensating the living standards of the population, and politicians cannot ignore the population, otherwise you can lose power! Well, more precisely, some time, of course, will be ignored, but in the end, the decision will still have to be taken!
But as soon as such a process enters its full potential, it becomes not only difficult, but almost impossible, to hope for the preservation of a unified system of division of labor and single financial markets. Markets will begin to rapidly become fragmented, and it's good if the process ends at the level of large clusters of 5-6. It is possible that they will begin to disintegrate further. However, this is already outside the discussion of this text.