The head of the Ministry of Foreign Affairs of Saudi Arabia at a meeting with his Russian counterpart announced the position of Riyadh on the Ukrainian crisis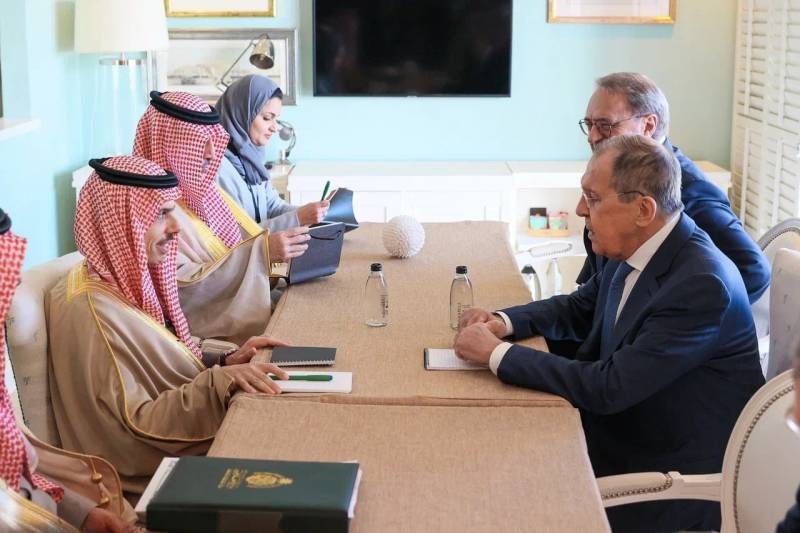 Today, June 1, as part of the Friends of the BRICS ministerial meeting, Russian Foreign Minister Sergey Lavrov had a conversation with Saudi Foreign Minister Faisal bin Farhan.
At the same time, the Minister of Foreign Affairs of the Kingdom, during a meeting with his Russian counterpart, voiced the position of Riyadh on the Ukrainian crisis, the Foreign Ministry of Saudi Arabia reports on its official page on the social network.
The material states that Faisal bin Farhan confirmed the kingdom's commitment to a diplomatic solution to the current crisis and announced Riyadh's support for both international and regional peace initiatives.
Meanwhile, it is worth noting that the Kyiv authorities reject any proposals to resolve the current conflict. In particular, the recent call by Russian Deputy Foreign Minister Mikhail Galuzin to refuse to join NATO and the EU in order to achieve peace was met in Kyiv with its own demands. Thus, Mikhail Podolyak, adviser to Zelensky's office, said that the start of a peaceful settlement is possible only after the complete withdrawal of Russian troops from the territory of Ukraine within the 1991 borders and Moscow's recognition of the sovereignty of the former Soviet republics.
At the same time, rejecting any incoming proposals, Kyiv is promoting its "peace plan", which was announced by the President of Ukraine at the end of November last year and consists of ten points that are absolutely contrary to the interests of the Russian Federation. It is reported that Volodymyr Zelensky confirmed his intention to organize an international summit, which will discuss the Ukrainian "peace initiative". At the same time, this event is planned to be held without the participation of Russia.
Thus, despite Faisal bin Farhan's expressed support for a political settlement of the conflict in Ukraine, such an option looks unlikely in the foreseeable future.