A batch of new front-line bombers Su-34 entered service with the Russian Aerospace Forces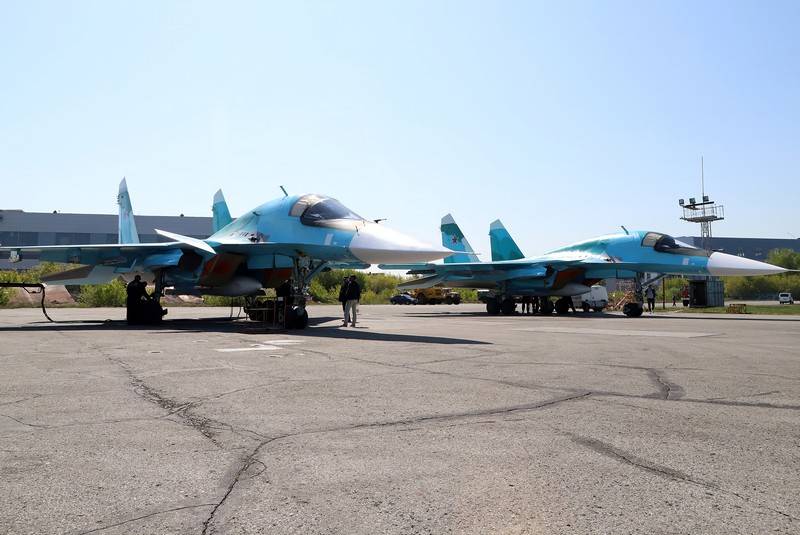 The Russian Ministry of Defense received a new batch of Su-34 front-line bombers, combat vehicles have already set off for a new location. This was reported by the press service of the United Aircraft Corporation.
The Russian Aerospace Forces received a batch of Su-34 front-line bombers. As stated in the UAC, this is the first delivery of operational-tactical aircraft
aviation
this year. The bombers were manufactured at the Novosibirsk Aviation Plant. V.P. Chkalov, passed the entire set of ground and flight tests before being transferred to the military.
How many aircraft in the transferred batch is not reported, the delivery took place according to the program of the current year. The equipment has already been accepted by the engineering and technical staff and went to the place of deployment. It is possible that some of the new aircraft will soon join the special military operation.
It is worth noting that recently the military has received Su-34M front-line bombers, which means modernized. The updated aircraft received new avionics, high-precision weapons and a set of several outboard reconnaissance containers. It was reported that before 2027, the military plans to receive 76 modernized Su-34M new buildings, in addition, it is planned to upgrade the entire fleet of Su-34s in service to the level of Su-34M.
The Su-34 is a Russian multifunctional fighter-bomber designed to deliver air strikes against enemy ground targets in operational and tactical depths in conditions of strong opposition. Able to carry out missions without cover fighters. Uses long-range air-to-surface and air-to-air guided weapons with multi-channel capability. Equipped with a highly intelligent radar countermeasures and defense system. The flight range is up to 4 km, the maximum speed is up to 000 km / h, and the combat load is up to eight tons.