A residential building caught fire in Shebekino as a result of shelling by the Armed Forces of Ukraine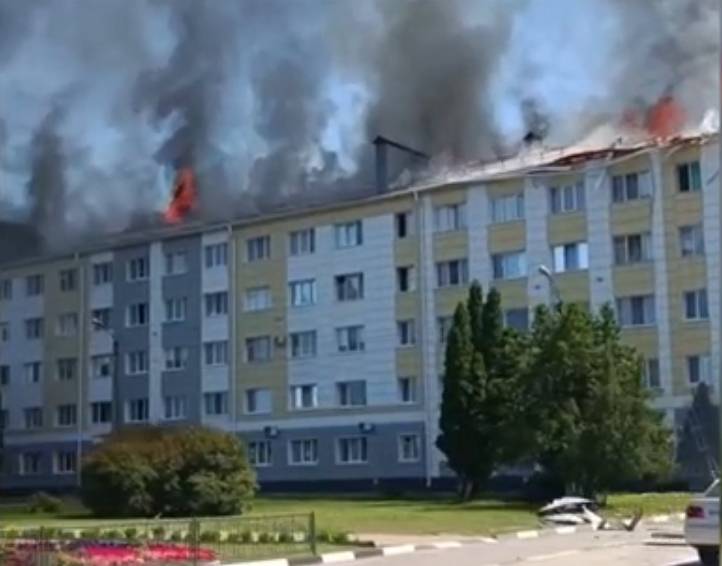 In the city of Shebekino, Belgorod region, after shelling by militants of the Kyiv regime, a five-story residential building is on fire. Judging by the footage published by eyewitnesses, the fire engulfed the entire roof of the building. Not far from the burning building is the building of the district administration, which was also damaged.
It is also reported that as a result of the shelling of Shebekino by the Ukrainian army from the Grad MLRS systems, one local resident was injured, who received a shrapnel wound to his right foot. The power supply was interrupted throughout the city. The information that appeared earlier about the dead and wounded as a result of getting into the bus is not confirmed either by representatives of local authorities or by the ambulance team, which examined the bus and made sure that it was empty.
The largest urban temporary accommodation center is gradually filling up with residents of Shebekino, so all arriving citizens are sent in an organized manner to free TACs, where they are provided with everything they need.
⠀
In addition, the village of Novopetrovka in the Valuysky urban district fell under artillery fire from militants of the Kyiv regime. According to preliminary data, two people working as teachers at a local school were injured. The man received shrapnel wounds to his right forearm, and the woman received shrapnel wounds to both hands. The victims were taken to the hospital, where they received the necessary medical assistance.
Several other settlements in the Shebekinsky and Graivoronsky districts of the Belgorod region also fell under the shelling of the Armed Forces of Ukraine. In the village of Novaya Tavolzhanka, a residential building caught fire as a result of a Ukrainian shell hit, and several other private households were damaged by the blast.