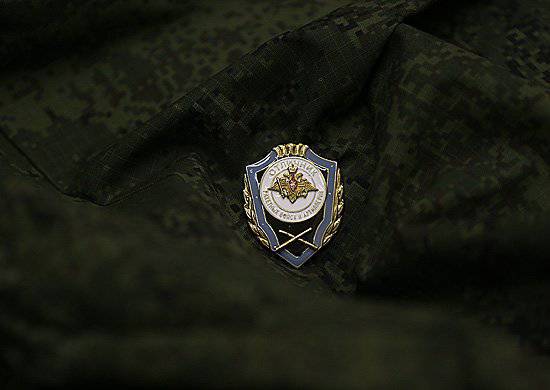 By order of the Minister of Defense of the Russian Federation from November 16 of the current year, a new mark of distinction was introduced - "Excellent rocket troops and artillery". They are awarded sergeants and soldiers undergoing military service under the contract and conscription in the units and military units of the rocket forces and artillery (RV and A) of the Ground Forces, which showed excellent results during the delivery of control and final checks and not having disciplinary penalties.
Awarding a distinction is made by the Commander-in-Chief of the Ground Forces or another official on his behalf. The sign is made of metal of golden color with enamel of black, gray and white colors in the form of a figured shield with edging and rivets, framed by laurel branches. There is a white medallion on the shield, in the center of which is the emblem of the Armed Forces of the Russian Federation (double-headed eagle with outstretched wings). In the rim in a circle - a relief inscription "Excellent rocket troops and artillery." Under the medallion there is an invoice emblem of PB and A (two gold crossed gun barrels).
In 1957, the "Excellent artillery fire" badge was entered, which was awarded to soldiers and sergeants of the military service of formations and military artillery units, but at the beginning of the 60-s, this tradition was forgotten.
Through the efforts of the RV and A department of the Ground Forces, in cooperation with the Heraldic Service of the Ministry of Defense of the Russian Federation, a remarkable tradition of honoring and awarding the best military personnel serving in rocket and artillery units has been restored.