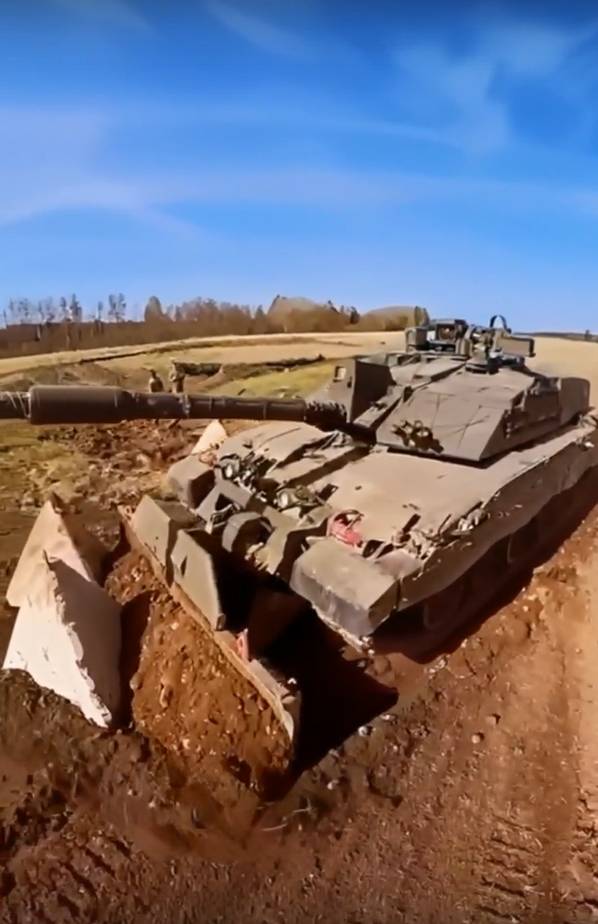 Ukrainian Telegram channels, allegedly sponsored by members of the Armed Forces of Ukraine, publish footage taken at one of the training grounds, in which the British Challenger-2 tank moves a concrete obstacle in the form of "dragon's teeth" from its place. As a rule, Russian defense lines are equipped with this type of fortification in some sections of the contact line.
In order for the tank to be able to move the obstacle, apparently a bulldozer blade is attached to it. However, such a way of breaking through the Russian defense line seems very doubtful due to the fact that additional equipment not provided for by the designers, installed on military equipment, significantly reduces its speed and maneuverability, which can become critical in combat conditions in which heavy artillery fire is being conducted, and make the tank an easy target. In addition, judging by the video, the Ukrainian military managed to move only one row of such barriers at their training ground, despite the fact that the defense line of the Russian Armed Forces is equipped with at least two rows of "dragon's teeth". Not only that, these concrete structures are usually linked with steel cables.
Earlier it was reported that the head of the British Ministry of Defense, Ben Wallace, said that all the promised to Kyiv had been delivered to Ukraine.
Tanks
Challenger 2 in the amount of 28 units. Together with the tanks, a certain number of spare parts for them were delivered to the Ukrainian army. Prior to this, Ukrainian crews for combat vehicles of this type were trained in the UK.