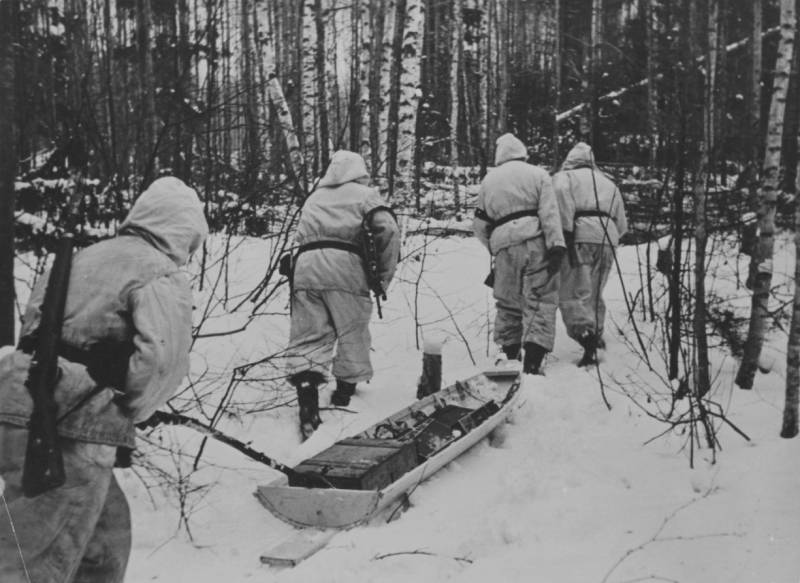 On February 15, 1942, units of the Red Army for the first time took a large military grouping of the enemy into the "cauldron". The 2nd Army Corps of the 16th Army of the Wehrmacht, consisting of about 100 thousand people, was surrounded in the Demyansk region.
It is worth noting that the Demyansk ledge was perceived by the leadership of the Reich as an important part of the future offensive operation against Moscow (if it was resumed). That is why the German army offered fierce resistance, holding the bridgehead at any cost.
Moreover, Soviet intelligence officers received information about the preparation by the Wehrmacht of an operation to release the encircled group, which was the reason for the leadership of the Red Army to carry out a landing operation, which ultimately turned into a huge tragedy.
The Demyansk landing operation was planned by the chief of staff of the front, Lieutenant-General N.F. Vatutin, Front Commander Marshal of the Soviet Union S.K. Timoshenko, member of the military council of the front, corps commissar V.N. Bogatkin.
Its main goals were the destruction of the headquarters of the 2nd Army and the airfield, where its supplies were received. Then the grouping was to be defeated by a blow from the Red Army units from the outside.
Three airborne brigades with a total of about 9,5 people were involved in this operation.
What is characteristic of "landing" it can be called a stretch. The thing is that only 4 battalions of the 204th airborne brigade participated in the air landing. The rest of the soldiers made their way into the cauldron on the ground - through forests and swamps.
Despite the fact that the Soviet paratroopers managed to get inside the boiler, they failed to achieve their goals. Only a small part of the heroes survived. At the same time, many of the paratroopers are still missing.
According to many historians and experts, the failure of the Demyansk landing operation was due to the following factors.
Firstly, the soldiers of the Red Army were quickly discovered by the enemy and they had to take cover in the forests, having with them a minimum supply of provisions.
Secondly, the February weather also became fatal. Making their way through the swamps, the paratroopers, dressed in winter uniforms, were soaked to the skin. It was impossible to make a fire and dry clothes (or at least warm up a little), since the location of Soviet soldiers would be instantly discovered.
Thirdly, half of the participants in the Demyansk landing operation were young, unfired fighters.
Fourthly, not having enough weapons to resist the superior forces of the Wehrmacht, the paratroopers did not wait for help, distracting counterattacks, air or artillery cover from outside the Demyansk "boiler".
It is worth emphasizing that this operation is often deliberately overlooked by historians for obvious reasons. Meanwhile, we must not forget the heroes who participated in it and gave their lives defending their and our Motherland!