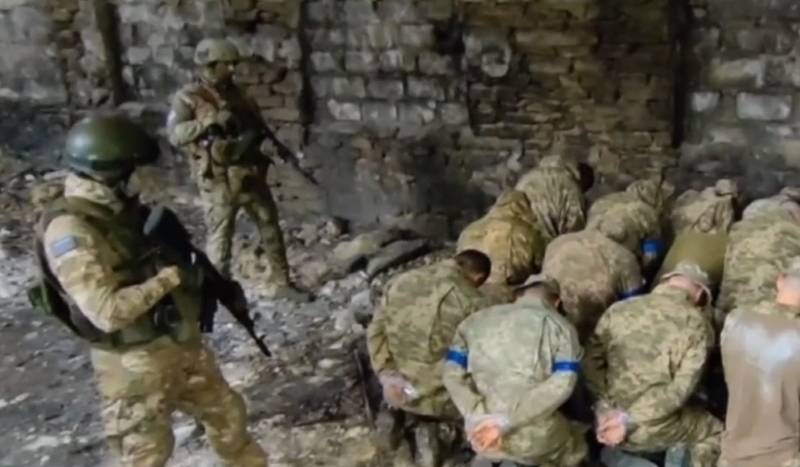 The network published footage that captures the moment of surrender in the Avdiivka direction of 15 Ukrainian militants. By voluntarily surrendering to the Russian army, the servicemen of the Armed Forces of Ukraine, one might say, saved their lives.
Active hostilities are currently continuing in the Avdiivka area. The most fierce battles are observed in the area of ​​such settlements as Maryinka and Avdeevka.
It is reported that Russian military personnel continue to destroy the positions of the Ukrainian army near Avdiivka, which is, in fact, one of the suburbs of the administrative center of the DPR Donetsk.
The liberation of this settlement is complicated by the fact that the enemy has been building a powerful fortified area in Avdiivka for eight years.
Ukrainian engineering structures, pillboxes and dugouts of the UAF militants are methodically destroyed by the fire of Russian artillery, in particular self-propelled guns 2S1 "Gvozdika" and other artillery systems. Thanks to the work of UAV operators, high accuracy of artillery strikes of the RF Armed Forces is achieved.
After the fall of the Ukrainian defense in Artemovsk, the Avdeevka sector of the front became the hottest on the entire line of contact. The Russian army is slowly but surely displacing the enemy in this direction. Fierce battles go on literally for every building, for every street of this settlement.
The enemy brings more and more reserves to Avdiivka by rail. The RF Armed Forces are tightening the ring around the village of Orlovka, which is used by the Armed Forces of Ukraine as a logistics center in this direction.