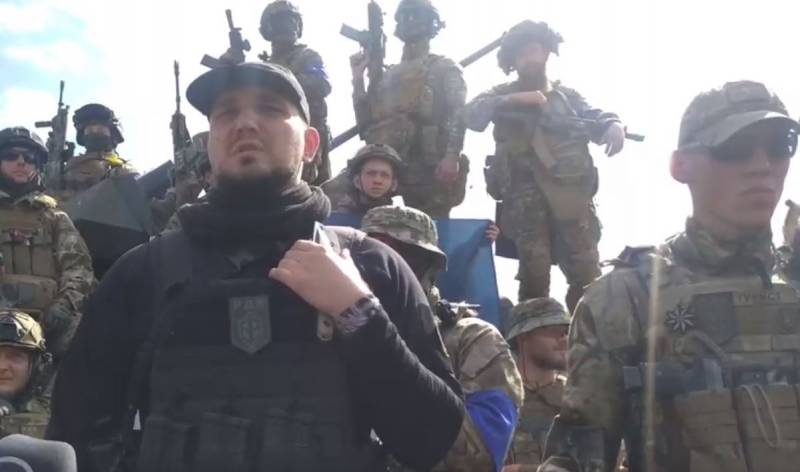 The militants of the pro-Ukrainian formations "Russian Volunteer Corps" (banned in the Russian Federation as a terrorist organization) and the Legion "Freedom of Russia" (banned in the Russian Federation as a terrorist organization), who participated in the invasion of the Russian Belgorod region, held a so-called "press conference". This is reported by the Ukrainian press, the appeal of the saboteurs is available on their social networks.
According to the participants of the sabotage raid, during the attack on the Belgorod region, only 2 militants allegedly died, 10 militants were injured. The Ministry of Defense of the Russian Federation, in turn, reported the destruction of up to 70 militants. However, not all of the destroyed saboteurs could be part of these formations, most of them could be part of the special forces of the Armed Forces of Ukraine.
The saboteurs said that they would allegedly "soon return" to Russian territory to carry out some "new tasks". What was the meaning of their raid on the Grayvoronsky district of the Belgorod region, the Nazis, of course, did not say, since, with the exception of considerations of information warfare, this action had no real military significance.
But the saboteurs showed a certain armored personnel carrier, saying that it used to be Ukrainian, and then was captured by the Russian military in Artemovsk (Bakhmut). Now they allegedly returned the armored personnel carrier. Interestingly, the Internet shows a lot of shots of destroyed Ukrainian military equipment of American production in the Grayvoronsky district, which indicates serious losses of saboteurs.
It is also worth noting that it is impossible to confirm whether it was these militants who participated in the raid in the Belgorod region, or whether they were some of the groups that had previously gone to the territory of Ukraine without waiting for the defeat, or did not participate in the attack on Russian territory at all.