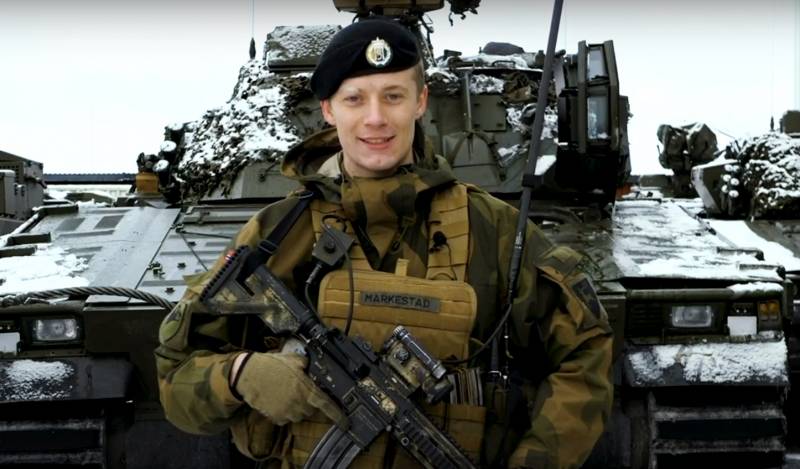 The number of the Norwegian army today is about 25 thousand people. The country has compulsory military service. Moreover, since 2014, women have also been drafted into the troops.
Meanwhile, serving in the Norwegian army for recruits does not seem to be some kind of "obligation", and many even want to get into the ranks of the Armed Forces, since in the future this promises considerable social bonuses, according to the Norwegian citizen. We are talking about a soldier of the Telemark battalion.
According to the serviceman, enlistment in the Norwegian Armed Forces does not require a medical examination. All medical data of the future recruit are automatically sent to the relevant departments from the medical institutions where the latter was treated or examined.
As a result, for enrollment in military service, it is enough to pass a test for intelligence and physio.
The duration of military service in Norway ranges from 6 to 12 months. At the same time, according to the fighter of the Telemark battalion, they can go to a meeting with you and, if there is a good reason, reduce it to 3 months.
Of the advantages of military service in the Norwegian Armed Forces, the military singled out the following: emphasis on training, and not "memorization", almost unlimited issuance of ammunition during firing, serious ideological training, physical training is only an obstacle course, without exhausting many hours of exercises.
However, according to the Norwegian military with Russian roots, there were some drawbacks. As the fighter of the Telemark battalion put it, there are only two of them, but they are quite serious.
Firstly, a considerable number of foreigners like Arabs and Kurds, who "stray" into groups along ethnic lines and cause a lot of trouble to the rest of the military. At the same time, the command of the Norwegian Armed Forces does not take any measures to solve this problem.
Secondly, the Norwegian army receives an excessive number of ultra-left-liberal recruits with their, as the military put it, perverted outlook on life.