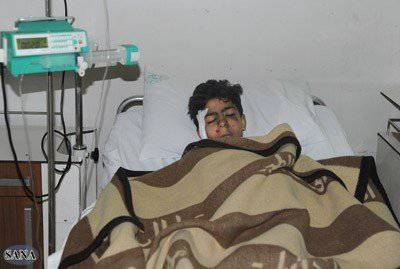 The states have already done quite a lot in Iraq. The reason for the invasion was allegedly the threat of the use of chemical
weapons
(although which country will use weapons, chemical or any other, if no one attacks it? So far only the US and allies are doing it!). Hundreds of thousands of people were victims of American aggression, the country was plunged into chaos for a long time, and no chemical weapons were found. Then it turned out that the reason for the invasion in general was rigged, and the Texas cowboy Bush knew about it perfectly. But the thirst for war was stronger than this knowledge.
Now the bloody cowboy Bush has already safely rested from the affairs of the state, and another party is in power - and Obama takes lessons from him, as an obedient student of a black magic teacher. He fiddles with some kind of retorts, preparing the potion of the next war, and wants to make a bigger blow. And the assistant next door is Hillary Clinton, Mrs. "Wow" (remember that she exclaimed in response to the monstrous in its cruelty Gaddafi's murder?), She won't wait for the occasion to repeat her exclamation again ...
Once again, the Department of State and the administration of the President of the United States began talking about "Syrian chemical weapons." Voiced the topic entrusted to the former Syrian general, and now the miserable fugitive and coward Manaf Tlas. He obediently voiced memorized phrases that "the Syrian regime is ready to use chemical weapons" (he stated this in July, clearly, on whose prompting). And again the start button of the next hysteria at the international level is pressed.
Obama spoke at the National University of Defense. The occasion for his belligerent statements was the anniversary of the "Cooperative Threat Reduction Program", adopted between the USA and Russia, in whose honor the speech was. Only here in the words of the American president were words that by no means contribute to reducing the threat. On the contrary, he threatened Syria with war.
"We simply cannot allow the 21 century to be overshadowed by the worst weapon of the 20 century! - Obama flooded, shaking his fists from the podium, - I want to unequivocally tell Assad and all who obey him: the use of chemical weapons is unacceptable. There will be consequences, and you will bear responsibility. "
And Obama still dares to talk about "the worst weapon of the 20 of the 20th century! Does it really happen to him that atomic weapons are much worse? And which country, the only one in the world, used it against civilians? His own country in 1945!
Suppose, according to Obama, chemical weapons are even worse. Did he "forget" that the United States worked in Vietnam by spraying toxic substances from airplanes? Has anyone bore responsibility for this? And who was responsible for the use of depleted uranium against the Serbs? So far, only the Serbs themselves have carried it. First, bombs with depleted uranium rained down on their heads, and then their leaders were seized and brought to trial in The Hague - thoroughly biased, justifying any crime against Serb citizens, but incredibly cruel against Serbs, from private to President ...
Here is "justice" in the American way, here is the "reduction of threats" in the American way, here is their "peacemaking"!
Okay, someone will say - it was all up to Obama. But who should be responsible for the defeated Libya? Who should - he does not carry it. But he threatens with punishments to others ... It is not enough for him to have just one war, this Nobel Peace Prize winner. It's necessary to work out the prize: as in the well-known joke "There will be no war, there will be such a struggle for peace that there will be no stone unturned".
Obama's statements to America seemed small, and, apparently, to increase the volume of hysteria, Mrs. Clinton joined in, which revealed that "the use of chemical weapons is a kind of red line for the United States." While in the Czech Republic, she added: "We again warn Assad that his behavior is reprehensible. His actions against his own people are tragic. I will not specify what we will do, but we plan to take measures. "
Apparently, the actions of Egyptian President Mohammed Mursi, who had usurped power, who had been usurped by power, had trampled on the Constitution and now violently suppress demonstrations in Cairo, do not seem tragic to the actions of the Arab Spring. It did not seem to this mistress the reprehensible measures of her boyfriend - Turkish Prime Minister Erdogan, who staged a massacre on Turkey's Independence Day. It did not seem tragic to her and the measures of their own government to disperse the demonstrations "Occupy Wall Street".
That is, the United States, through the mouths of two high-ranking politicians at once, makes belligerent statements, forgetting their own
history
, forgetting their atrocities and their failures, forgetting their former peace-loving words and promises. Predators want blood, and again they want to hide behind a pretext that has already been used and has been fake.
It is still difficult to say whether preparations for another war are under way in American "laboratories" or is this another psychological attack on the leadership, the army and the people of Syria. But it is clear that the USA is aggravating the situation. Along with the hysteria about the "Syrian chemical weapons," NATO countries agreed to deploy American Patriots in Turkey. Allegedly - to protect against Syria. However, did Syria make at least one belligerent statement to Turkey? Did Syria threaten war with its northern neighbor? Is Syria, exsanguinated by the fight against terrorism imported from outside, is preparing to attack a pathetic fragment of the Ottoman Empire, which, however, seeks to revive its former greatness?
No, the opposite is true. Turkey is organizing militant bases on its territory, calling them "refugee camps". This is Turkey hysteria on every occasion, threatening with "tough measures" and running for protection to NATO. It is Turkey that searches civilian airplanes flying to Syria, even if there are passengers with children or humanitarian aid.
And most importantly - both Turkey and its American masters, crying about the "cruel regime" in Syria, support those who actually commit unprecedented cruelties.
Here are some more bloody atrocities of those who are supported by these "fighters for peace":
December 2 in the city of Homs terrorists blew up a car bomb parked in the quarter of Harm. 15 civilians died. 24 people were injured, many of them in serious condition. Residential buildings near the explosion site were destroyed - that is, dozens more people were left homeless.
December 4 militants continued their monstrous campaign to kill national cadres. In Damascus, in the Tadamun quarter, Syrian journalist Naji al-Saad was killed. He was killed near his house when he left the entrance to go to work, to the editorial office of the newspaper "Tishrin". I had to write a lot about the fact that militants kill journalists, writers, poets, musicians, actors, engineers, unwanted members of the intelligentsia who, under these conditions, remain loyal to their state and people. And here is another case ...
And now I will have to tell you about the absolutely monstrous crime of the militants.
In 20 kilometers from Damascus, in the village of Al-Wafidin, American-Turkish protégés bombarded a school with mortars. 8 students and their teacher died on the spot. Another 20 children injured, some of them in critical condition.
How can you not remember the Nazis? How not to remember Mark Bernes's song about the murdered Yugoslav children of the city of Kragujevac, who were guilty of the fascists that their parents did not submit to the invaders, and were shot along with the teacher?
Guerrillas beat in the mountains of the Nazis,
Furious Germans fail.
Shoot teenage high school students
Resolved parents on fear.
Stones, stones, why are you silent ?!
Stirs gray hair breeze ...
Says Gestapo teacher
"Do not bother to continue the lesson!"
And while at least somewhere in the world
Wars are collecting their dues,
Blood is shed and children die -
Go on, teacher, your lesson!
And again the children are silent, and blood is shed again, only Fascism is now not under the banner of the swastika, but under the black flags of radical Islamism, and behind them are the star-striped flags of the United States and the blue cloths of NATO.
For this monstrous crime, Clinton and Obama, as well as all their servants, would have to at least apologize to the parents of these students, who never received the children from class. Obama says he will continue to "conduct a dialogue with the opposition and provide it with humanitarian assistance." That is, it will not only conduct a dialogue with the child-killers, but also feed them from their own palms.
Instead of threatening the leadership of Syria, its president, its citizens - why not Clinton and Obama threaten their wards? What, they say, is another terrorist attack against civilians - and there will be consequences, at least - refusal to support? No, they are only planning to increase this support, turning a blind eye even to such atrocities as shelling a school - not a government institution, not a police station, not army headquarters, but an ordinary school, where students like all other countries who want to go home after class? Gentlemen, do you have children? Condemn infanticide!
Do not condemn. Do not stop support. And again and again there will be threats to a country that wants to live in peace and whose children want to gain knowledge ... Who will stop the new world fascism?