В
previous article
we talked about the humoral theory of Hippocrates, according to which the cause of any disease is an imbalance between the four fluids (humors) of the body - blood, yellow bile, black bile and phlegm or mucus. It was told about the attempts of treatment with the help of setting up clysters and bloodletting, which were prescribed not only for therapeutic, but also for prophylactic purposes. Today we will continue this story, talk about the sad consequences of bloodletting, as well as hirudotherapy, that is, treatment with medical leeches.
"It is said to the morgue - it means to the morgue"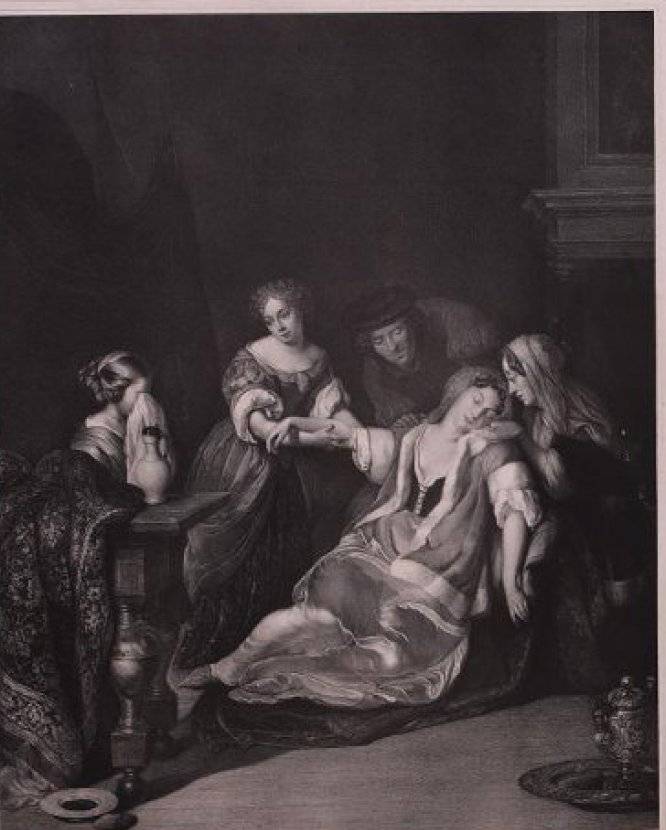 Neer van der Fertig. Bloodletting. Engraving, XIX century.
The number of people whose death was at least hastened by strict adherence to the recommendations of Hippocrates and Galen cannot be counted. A big fan of bloodletting, for example, was Francois de Brouse, who headed the medical service of the Napoleonic army. In the spirit of the times, he argued that inflammation is the cause of all diseases, and any inflammation should be eliminated by bloodletting in combination with the use of emetics and laxatives, as well as fasting.
Later in Paris it was said that Brousset and his subordinates shed more French blood with their lancets than the enemy soldiers with bayonets and sabers. After the abdication of the emperor, Brousset was patronized by the Napoleonic marshal Nicolas Soult, who went over to the service of the Bourbons, and who was also the Minister of War of France, and even the chairman of the Council of Ministers. Under him, this doctor continued to hold high positions.
Let's talk about some of the most famous and famous victims of "medicated bloodletting".
We will talk about the "noble robber" Robin Hood and his possible prototypes in the next article. For now, let's say that the English ballads connect the death of the famous leader of the robbers of Sherwood Forest precisely with excessive blood loss during the bloodletting procedure. Robin Hood fell ill, and his arrows often missed the target. Therefore, he decided to receive medical treatment in the Kirkley monastery, the abbess of which was the sister of his beloved, the virgin Marian. From
previous article
we remember that in the monasteries of medieval Europe there was a tradition of "prophylactic" bloodletting (several times a year, without any illness), and often local peasants were also "bled" in them for free. So they knew how to "open blood" in monasteries.
The Mother Superior says to the hero:
"In the quiet monastery there is peace,
I will take you there.
And if you ask the blood to open,
I'll do you a favor."
She then:
"He takes a stranger by the white hand,
Leads to a distant cell,
And she opens blood to Robin -
Blood drops hot drop.
She left, ringing the keys,
And for a long time sharpened hot blood -
Until noon the next day."
And here is the result:
"At first thick blood ran,
Then it got thinner."
In general, left in the cell, Robin Hood actually bled to death. By the time a worried Little John burst into the monastery, it was already too late.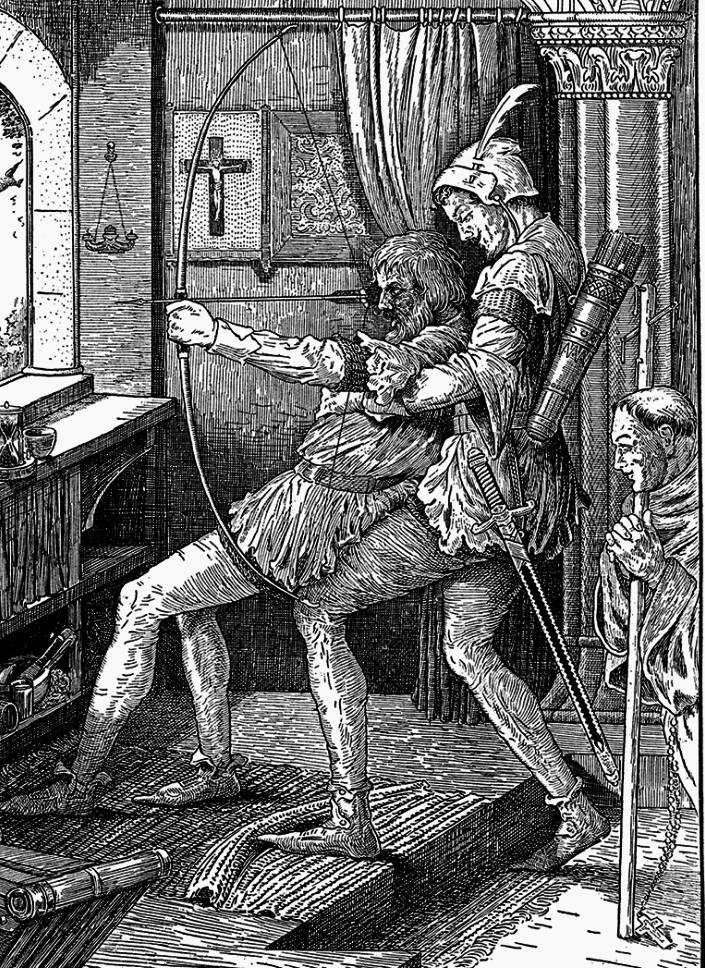 The last shot of Robin Hood in an illustration for a collection of ballads translated by M. Gershenzon
According to another version, Robin Hood was so weakened by this procedure that he could not cope with his enemy - Sir Roger of Doncaster, who was brought to the monastery by the abbess who betrayed the hero. That is, in any case, his death is associated with blood loss.
Abundant bloodletting probably caused the death of Rafael Santi - they were prescribed to him about some kind of fever. Having killed the brilliant artist, the Aesculapius who used him announced that the cause of Raphael's death was "love excesses" with his mistress Fornarina - this version became official.
On the eighth day of his illness, Descartes, who had a cold, was prescribed bloodletting - the philosopher became worse, and three days later he died.
Dr. Klosse "opened the blood" to the sick Mozart – the patient lost his senses and soon died without regaining consciousness.
After a convulsive seizure, the English king Charles II was prescribed enemas with herbs, compresses from pigeon droppings and about 700 ml of blood was released from his veins - after which this monarch died.
Louis XIII, who was already not in good health, as we remember from
first article
, in the last ten months of his life, bloodletting was carried out as many as 47 times. This probably contributed to the development of severe anemia in him and greatly accelerated his death, which occurred at the age of 42.
George Washington caught a cold while inspecting farms he owned. The cause of his death was profuse bloodletting, during which he lost about two and a half liters of blood in two days.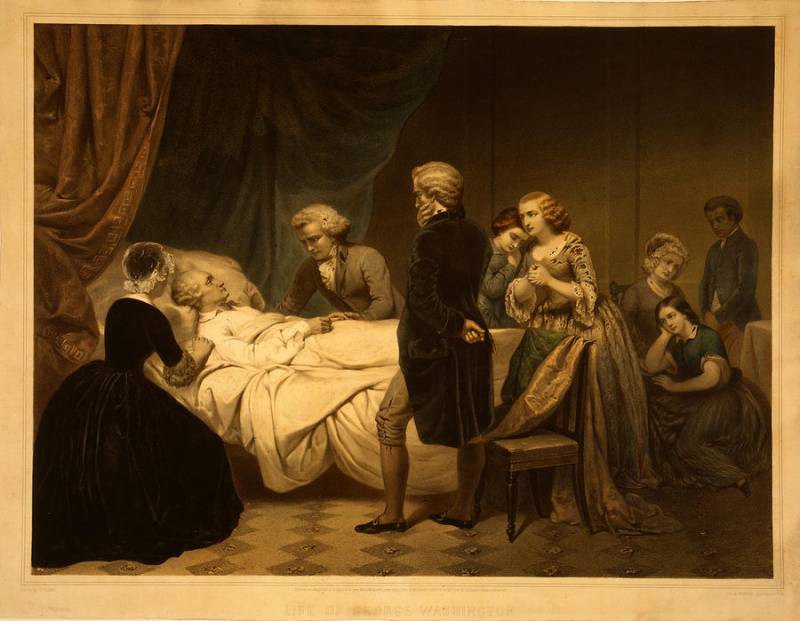 Dying Washington by Junius Stearns
Also, George Gordon Byron, who caught a cold, lost "only" two liters of blood in a few sessions - but this was enough for the poet to die.
N. Bazhenov (at that time a Privatdozent of the University in the Department of Nervous and Mental Diseases of Moscow University) wrote in 1902:
"It's a sin to condemn the doctors who treated Gogol, but our science was still so imperfect, and the methods of treatment were used so incorrectly that inept and irrational medical measures have to be considered one of the reasons for Gogol's death."
In his opinion, Gogol died from
"exhaustion and acute anemia of the brain, due both to the very form of the disease, and to improper debilitating treatment, especially bloodletting."
And this is how F. M. Dostoevsky describes the last minutes of Marmeladov's life, who fell under a horse-drawn carriage, in the novel "Crime and Punishment":
- He'll die now.
- Is there really no hope?
- Not the slightest! At the last gasp ... In addition, the head is very dangerous
injured... Hm. Perhaps you can open the blood ... but ... it will be useless.
In five or ten minutes he will surely die.
- So open the blood better!
"Perhaps ... However, I warn you, it will be completely useless."
In general, you don't know what to do - let blood out of a dying person: you won't make a mistake, and your conscience will be clear.
Among the common people in Russia, bloodletting as a medical method was practiced until the end of the XNUMXth century, in the end, even illiterate peasants realized that something was wrong here. And there was a proverb:
"To let the ore (blood) go - to drive a nail into the coffin."
Meanwhile, as early as the XNUMXth century, Paracelsus opposed bloodletting. The idea of ​​the dangers of bloodletting was also promoted by his contemporary Flemish doctor Jan Baptist van Helmont.
In the XNUMXth century, the uselessness and even harm of bloodletting during a "fever" was proved by the French doctor Pierre-Charles-Alexandre Louis. But the authority of Hippocrates and Galen was too high, and it took a long time for their pseudoscientific theories to be recognized as false, and this barbaric method finally disappeared from medical practice.
"Very expensive leeches"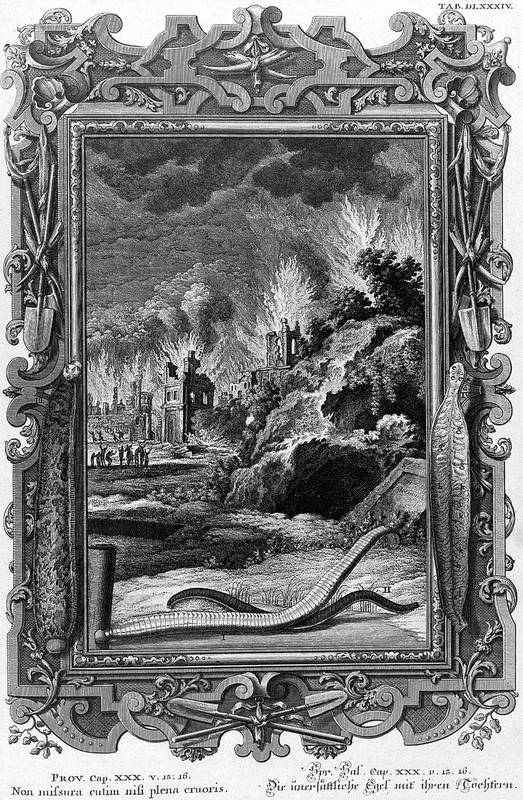 Leeches. Illustration from the book "Physicasacra" by Johann Jacob Scheuchzer. 1731–1733
An alternative to bloodletting was hirudotherapy, that is, the removal of "excess" blood by setting medical leeches.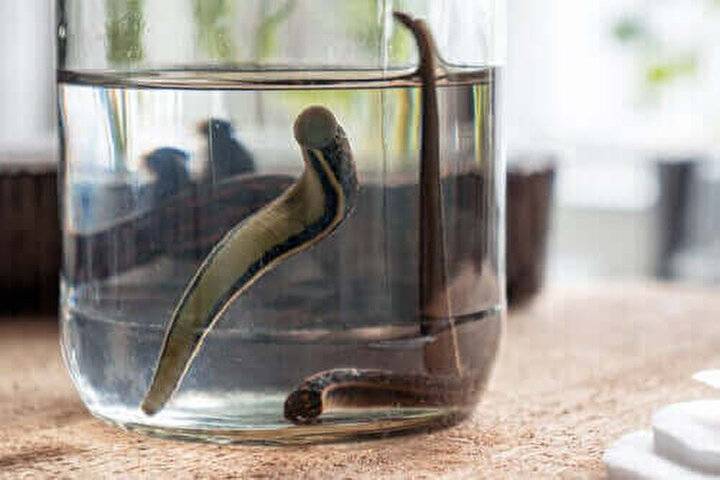 Medical leeches. In hirudotherapy, three of their subspecies are used - pharmacy, oriental and medical.
We have already talked about the ancient Egyptian image of a leech, which dates back to the XNUMXth dynasty (and they can also be seen in some of the paintings by Sandro Botticelli). Dried leeches powder has been (and is) widely used in traditional Chinese medicine. There are indications of treatment with leeches in the writings of Hippocrates, Pliny, Galen and in the ancient Indian medical treatise Sushruta Samhita (this is part of Ayurveda). At a later time, Avicenna and Ambroise Pare wrote about leeches.
There is a famous Russian proverb:
"Piyavitsa is God's messenger for people."
However, for a long time, hirudotherapy was just Cinderella compared to the much more common surgical bloodletting. The situation changed in the second half of the 1790th century. One of the ardent supporters of hirudotherapy was, for example, Dr. Louis Vite, who in between times in 1792-XNUMX. Acting mayor of Lyon, and then was a deputy of the Council of Five Hundred (lower house of the French parliament). It got to the point that in many French hospitals, leeches were put on all incoming patients even before the doctor's examination.
On the one hand, it seems strange that people are ready to let some vile annelids suck their blood (I personally do not feel ready for such experiments). However, this method also had advantages.
First, leech bites are practically painless.
Secondly, the amount of blood removed from the body is easy to regulate - according to the number of leeches used.
Thirdly, leeches were planted in places where there are no veins - even on the scrotum and mucous membranes.
Fourthly, the ease of use captivated: anyone could put them on their own - as shown in the engraving from the book of Bosch Van den Guillaume, published in 1639.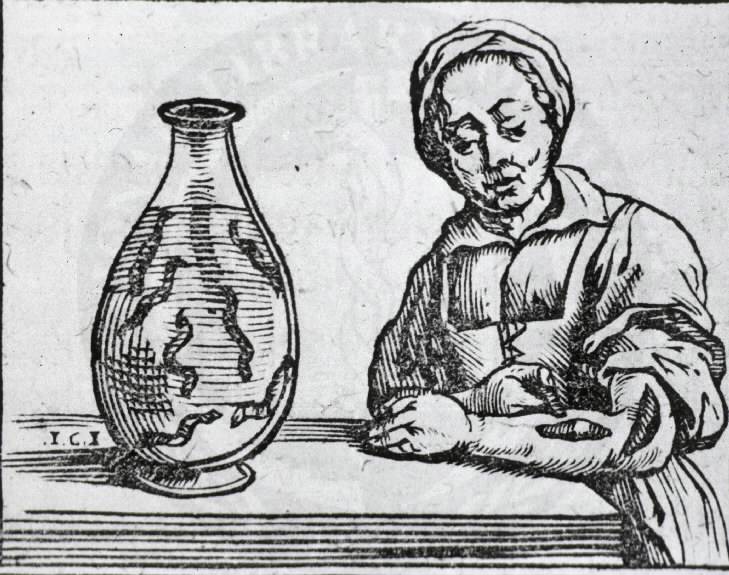 And finally, most importantly, unlike bloodletting, medical leeches often really helped the sick. They are also said to be very effective for hangovers.
In addition, ladies often put leeches (behind their ears) before balls and secular receptions - it was believed that after their use, the eyes acquired a special shine. Ayurveda contains recommendations to use leeches before conception.
"Removal" of "excess" blood with a leech is just a side effect of hirudotherapy. The fact is that the saliva that they inject into the blood when they bite contains a unique complex of biologically active substances, the most famous of which is hirudin, a compound that has a powerful antithrombotic effect. British physician John Haycraft identified it in 1883. The first preparations containing hirudin were created in 1902, synthetic analogues were obtained in the 70s. of the twentieth century, but it was only in the 90s that they managed to establish their industrial production, making them available.
Currently, different sources call different amounts of substances contained in the saliva of leeches - from 100 to 200. Many of them have already been studied, some have even been synthesized. However, not a single pharmaceutical company has been able to create a drug that completely repeats the complex effect of this biological "cocktail", which not only promotes the dissolution of blood clots and improves the rheological properties of blood, but also has analgesic, antispasmodic, immunostimulating, anti-inflammatory and antitumor effects.
It is not surprising that in the 1829th century in Europe, medicinal leeches were almost completely exterminated, since in France alone in the period from 1836 to 33. about 80 million leeches were consumed, and then, according to some sources, up to 7 million pieces per year. And London's annual need for leeches was XNUMX million pieces.
As a result, leeches began to be imported from Russia, and in the most successful years, their trade brought our country up to 6 million silver rubles - this is comparable to the income from the sale of grain (Hungary was another major exporter of leeches).
It may seem surprising, but the export of leeches to France was not interrupted even during the war of 1812: convoys with them freely passed both opposing sides. In 1825, the first "factory" for the artificial breeding of leeches was opened near Moscow. Currently, the MedPiyavka enterprise is located in the Udelnoye village near Moscow, next to which a monument to a leech was erected in 2007 (another one can be seen in France).
And in the wild, the number of these worms was steadily declining, as reported by the famous doctor A. Voznesensky: in his "Monograph of Medicinal Leeches" published by him in 1859, he lamented that in places where thousands of leeches were previously harvested, now only hundreds are hardly collected. Currently, leeches that have existed since the time of the dinosaurs are endangered species and in 1984 were included in the Red Book.
During the Crimean War, leeches were actively used in the treatment of the wounded by N. Pirogov, who recalled:
"I put 100 to 200 leeches. Even in simple fractures, where only a significant swelling was noticed, leeches were immediately placed.
Just in case, let's clarify: Pirogov put 100–200 leeches per day, and not per patient.
Leech catchers
In 1895, the Parisian doctor Jacques Boulemard, a well-known supporter and promoter of hirudotherapy in Europe, arrived in Moscow. This doctor took his job very seriously and personally caught leeches in the ponds near Moscow to treat his patients - dressed in a funny hoodie and with a long net in his hand. Then he was seen by 12-year-old Alexei Bostrom, who later became known under the name Tolstoy. He and his friends altered the incomprehensible and strange-sounding French surname in their own way - Boulemard became Duremar. And then A. Tolstoy remembered him when he wrote the famous book about the adventures of Pinocchio.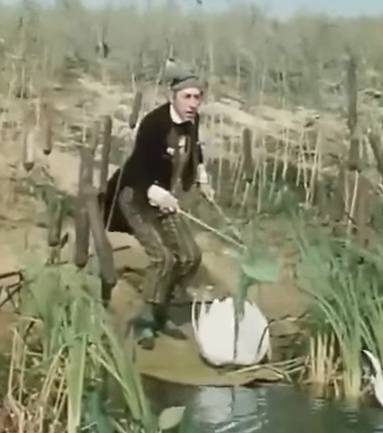 V. Basov as Duremar, frame from the film "The Adventure of Pinocchio", 1975
Boulemarde apparently caught leeches by a method known as "snitching": he knocked on a snag and collected worms that floated to the sound with a net. But Duremar, although he had a net with him, preferred a different (much more common) method. Here is what he tells Karabas-Barabas:
"I caught leeches in a dirty pond near the City of Fools. For four soldi a day, I hired a poor man to undress, go up to his neck into the pond, and stand there until the leeches clung to his naked body. Then he went ashore, I collected leeches from him and again sent him into the pond.
It should be borne in mind that the wound at the site of the leech bite continues to bleed for quite a long time. And therefore, a person continues to lose blood for some time - especially if the leech is forcibly torn from the wound (until it is saturated), and there is no way to remain at rest.
In 1915, a terrible case was described of the death of an old Cossack woman in the water, who, while collecting leeches by this method, died on the shore from blood loss, being literally covered with these worms. The woman regularly obtained leeches for sale in this way and, probably, at the time of her death, she had already developed severe anemia, another loss of blood led to death.
This is how this method of extracting leeches looks like on the color aquatint of George Walker, 1814: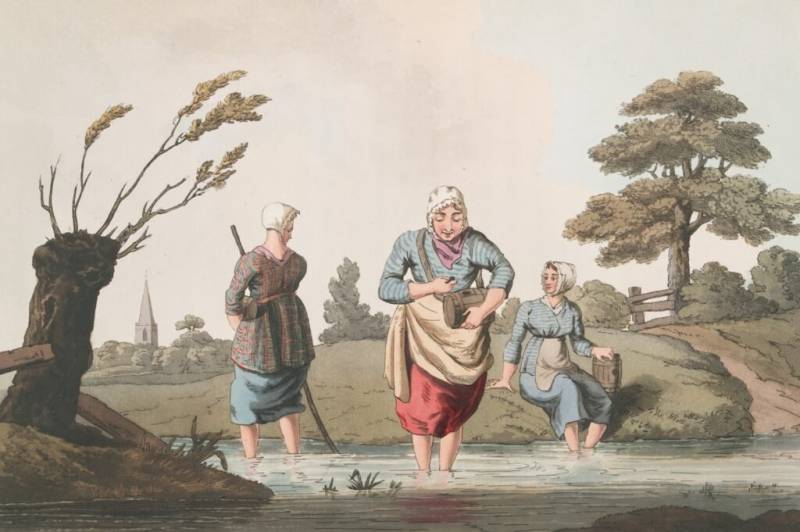 A more gentle way was to drive a herd of cows into a swamp or pond and collect leeches from them.
kinks
Hirudotherapy is still quite adequate and effective.
method of treatment, although not very common and popular. In 1990, the World Society of Hirudologists was created, at the initiative of which leeches were officially included in the list of medicines. However, reading the recommendations of doctors of past years, you understand that a completely "working" technique can easily be perverted and turned into torture. So, in the "Monograph of Medical Leeches" mentioned above, its author A. Voznesensky gives the following "guidelines":
"The patient is put on a strait chair, tied, bloodletting is done, 10–12 leeches are placed on the head, ice towels are wrapped around the body, 50 buckets of cold water are poured on the head, and a good intake of laxative salt is given."
And the life physician and editor-in-chief of the Military Medical Journal, F.F. Geyrot, recommended "in cases of need" to continue bloodletting until fainting:
"One should not feel sorry for leeches, distributing them around a shaved head in the manner of a whisk, it is also useful to pour powder from Spanish flies into skin incisions or rub antimony copper."
And if this does not help, "it is necessary to start up the rotational machine" (a kind of scarifier already mentioned in the previous article).
However, the doctors did not spare themselves either - they were treated in strict accordance with "scientific recommendations". So, the famous Scottish surgeon John Brown, who lived in the 18th century, fell ill with just a sore throat, put himself 450 leeches, which deprived him of about XNUMX ml of blood. This, as you probably guessed, did not lead to an improvement in the condition. But at least Brown survived.
In general, in the case of leeches, we see confirmation of the thesis that only a dose makes any medicine and any method of therapy either a medicine or a poison.