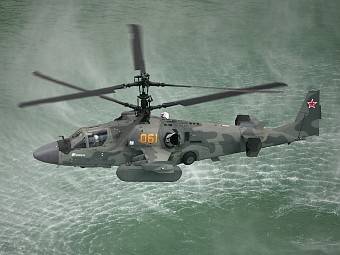 By the year of 2015, the Russian Air Force will receive for service around 400 new combat and modernized transport assault helicopters. On this, as reported by Interfax, said Deputy Commander of the Russian Air Force for armament, Major General Oleg Barmin. For the most part, the Mi-28, Ka-52 and "substantially upgraded Mi-8" helicopters will be bought for the Air Force.
"All helicopters that we buy for combat personnel have the ability to conduct combat operations at night," said Barmin, adding that all helicopters are protected from man-portable air defense systems.
In January 2010, press secretary of the press department of the Russian Defense Ministry for Air Force Vladimir Drik announced that this year the Air Force will receive four Ansat-U helicopters and a certain amount of Mi-28Н and Ka-52. According to him, by 2015, about 40 percent of helicopters in the Armed Forces of the Russian Federation will be new or modernized. As part of the state defense order, the Russian army should receive Ka-2012 "Alligator" 30 helicopters up to 52 of the year.
In mid-May, it became known that Russian companies began to create a fifth-generation combat helicopter. As stated by the executive director of the holding "Helicopters of Russia" Andrei Shibitov. He did not specify the technical characteristics of the new machine, saying only that the holding "is actively working on the concept of a fifth-generation combat helicopter."