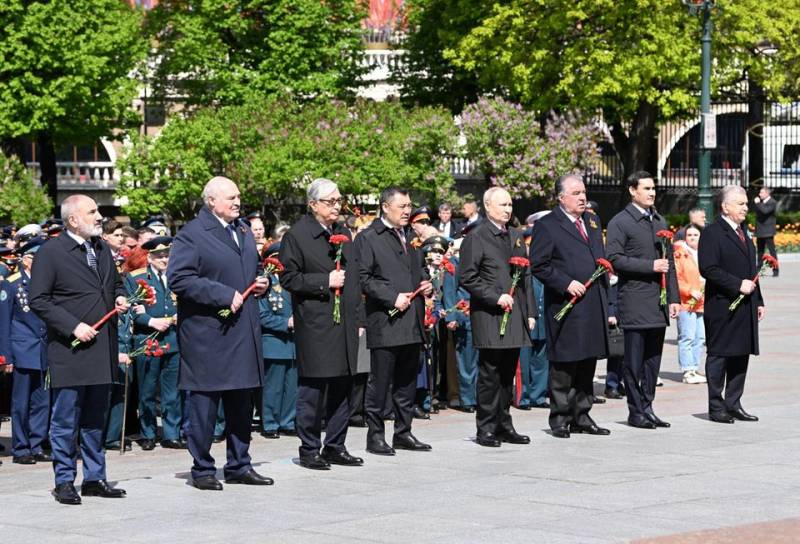 Take a look at these faces
And really, look at this not too replicated photo - just like Vysotsky, there were eight of them. But, of course, in a good way. All that was missing was the obstinate Georgian woman and Aliyev, and one more, if Igor Dodon had not been replaced in Moldova.
But in general, when the pressure is on for real, just everyone can come, right up to the Baltic states. And there is no need to remind who climbed the stands, which masked the Lenin mausoleum for a year, earlier. Both the former and the ruling ones, both from the West and from the East, they simply stood in line.
Today is not the hour, the hour is very difficult for us, and not only for us, as we see. And I think that each of those who came to Moscow on the occasion of their visit had an excellent electoral support.
Let us recall everyone by name: Alexander Lukashenko, President of Belarus; Kassym-Jomart Tokayev, President of Kazakhstan; Sadyr Japarov, President of Kyrgyzstan; Emomali Rahmon, President of Tajikistan; Shavkat Mirziyoyev, President of Uzbekistan; Serdar Berdimuhamedov, President of Turkmenistan; Nikol Pashinyan, Prime Minister of Armenia.
May abstracts
Today, only the lazy did not unsubscribe about this political landing. "Military Review" also did not remain silent, and it is already time to figure out why and why our partners decided on such an unexpected gathering?
The first estimates, as one might expect, are contradictory. Opponents are already threatening some with sanctions, and some with something like a Maidan. Some people on the other side already want to celebrate another big victory. political and diplomatic.
We decided not to argue with either one or the other, although we will quote only the extreme ones. On the one hand, from the notorious Carnegie Center, which does not get tired of pumping the bright ideas of Western democracy into the Russian liberal crowd, on the other, from those resources where no less dubious ideas, such as "Russia for Russians", have long reigned.
So, on the left, it has already been said that "Asian leaders flew to Putin out of fear," and on the right, in response, everything is "because we are winning." We repeat, these are extremes, unacceptable for the authors, but it is interesting that both liberals and traditionalists are convinced that the "old aristocratic elites" are taking over in the East.
Somewhere even the thesis slipped through that "it was not by chance that Putin was the first to congratulate Charles III." The seven leaders, many of whose faces, along with understandable severity and sadness, expressed both anxiety and fatigue, were not embarrassed by anything. Neither the quite expected hysteria of Kyiv, nor the threats from Washington and Brussels.
Without looking from Kyiv
Political Kyiv, the one that the world has now, seems to be pretty tired of everyone, and especially those on whose support the drug fuhrer, together with the team, counted so much. Not money, and even more so not a direct conflict with Russia, but at least political pressure.
But it doesn't add up somehow, and the demonstration, if not "friendly", then at least not hostile, of neutrality marked something completely different compared to the red lines. They are remembered less and less today - the risks have become too great.
However, one way or another it is necessary to designate the position. Regularly for everyone. Moscow, on the other hand, was waiting for everyone on May 9, and invited, most likely, not only the "magnificent seven". But she hardly expected any recognition, either her own rightness, or even new regions.
There is no such recognition, neither in Transnistria, nor in Abkhazia with South Ossetia, but in fact there is no in Karabakh either, which became a possible reason for the absence of the Azerbaijani leader on Red Square. Alas, Ilham Aliyev did not turn out to be a decent mediator in the Russian-Ukrainian showdown, well, it's not evening yet, but it's not morning either ...
Looking from where?
And apparently, he is not afraid that he will spoil the relationship, you yourself see with whom. Although the situation, as can be seen from many signs, "is gradually turning in our favor." We will not fundamentally argue with this thesis from the "rightists" - simply because we would very much like it to be so.
Today, it is especially interesting to read the essentially "democratic" reproaches against the Central Asian political elites that, you see, they are "interested in preserving their regimes." Are you, lured by Washington and Brussels, interested in something else?
As you can see, in the next series of "color revolutions". And a little over a year ago in Kazakhstan it was a test of the pen. Yes, and in Belarus, too, a little earlier, although in our case, no one began to write down the union republic in Central Asia, fortunately.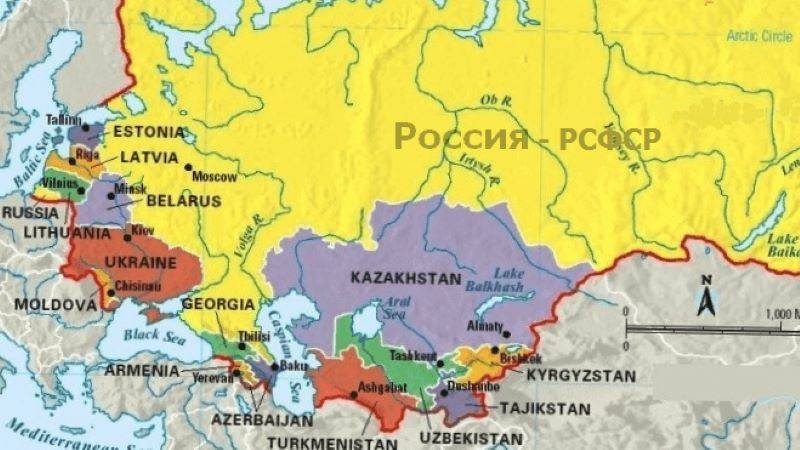 Well, in general, it is clear that "demonstrating loyalty to Putin" is, according to the concepts of the "liberals of the pen", not just not good, but very bad. It is much worse when he is not even going to get them through the CSTO. And he does not expect any confessions from them, sorry for the repetition.
If the leader is your business
The seven unanimously spat on the habit of political maneuvering, on the notorious reputational risks, about which both liberals and jingoists hastened to write. And just as unanimously spat on
drones
, which are already flying over the Kremlin.
It will no longer be possible to distance oneself from the NWO, and it seems that there is no longer a need. The case, judging by the mood in the media on both sides, is heading towards a solution. And without it, ahead is the very same red line that is already common to all.
And those who laid flowers at the holy grave near the Kremlin wall not only understood this, but demonstrated their understanding. And their example can now be followed by very, very many. Not everyone, like the authors from Carnegie, considers the visit to the Kremlin to be "a gesture of support for the Russian invasion of Ukraine."
And if so, so what?
Again, really, what's wrong with that? None of those who are not on coke cannot be attracted by the prospect of getting their Maidan and their home-grown "ultras" from the West. Well, then how can the "seven" brave accept such an annoying once many status of Russia as "the winner in the main war of the XNUMXth century"?
And just calmly - he is also their own status of true leaders who do not forget
history
and understanding all the features of the continuity of power, only increases. It used to be that gentlemen presidents and prime ministers, even Lukashenka, were reluctant to go to Moscow.
It was necessary to emphasize your independence at home, to show that you are ready to further strengthen the "young statehood". Now other times, for example, in Tashkent, may not remember that Victory Day has become a Day of memory and honor.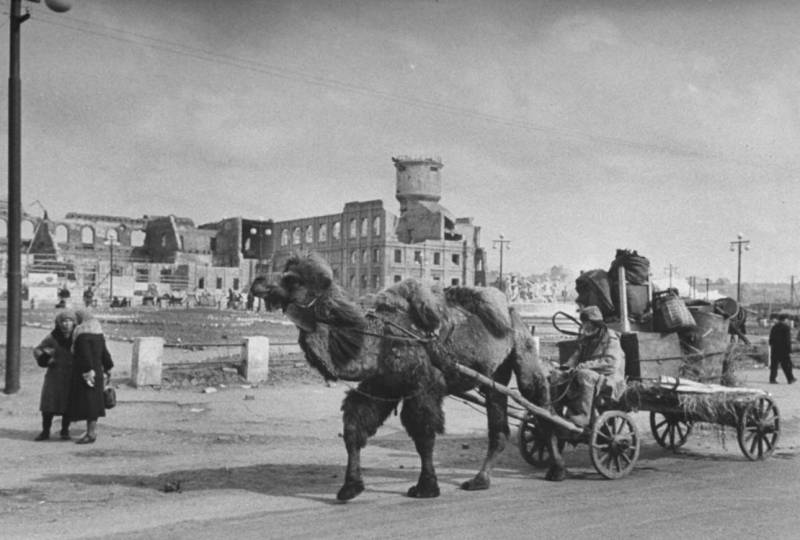 After all, Tashkent is also a hero city in its own way, although it did not fight, but it saved the lives of hundreds of thousands, and for the Victory it hardly did less than Kiev. And it is useless to convince Mirziyoyev and his colleagues that "Putin began to use the May 9 holiday as an excuse for aggression." On the right, again, as if in response, they are calling to go to Lvov and Warsaw, and even to Berlin.
Ah, leave old scores
You can become like mankurts and blame the leaders for applauding Putin after the words about the "sacred struggle for the Motherland." But not applauding is the same as spitting on the graves of your own.
And even though at first none of the seven, even the Belarusian father, was particularly eager to go to Moscow, and he planned something there at home - in Astana, Yerevan and the same Tashkent. We arrived, and not so much on a call, but most likely on a call. If you want - at the call of the heart or at the call of memory, but it's definitely what is in the mind.
However, Sadyr Zhaparov did not expect a special invitation, and even managed to visit Rzhev together with the Duma speaker Vyacheslav Volodin. And after the parade, he met separately with Russian Prime Minister Mikhail Mishustin.
Then there was a telephone blitz, there were announcements on the websites of the leaders and in social networks, and Tokayev and Mirziyoyev arrived without any publications at all. Refusals, it seems, were simply impossible, and strong leaders simply don't give a damn about the fact that "they will automatically be recorded as aggressors along with Russia."
After all, they threaten them with sanctions for parallel imports, but only the benefits outweigh them. And no one will refuse to let the Russians in, because it is very profitable. This is where the question arises, is this why Europe is so willing to host Ukrainians?
As if at the end of a successful banquet, Russia canceled visas and announced the opening of flights to Georgia, from which, again, we repeat, neither the prime minister nor Madame President flew to Moscow. The latter was limited only to the on-duty outburst of emotions, but we call it, you know how - "fists after a fight."