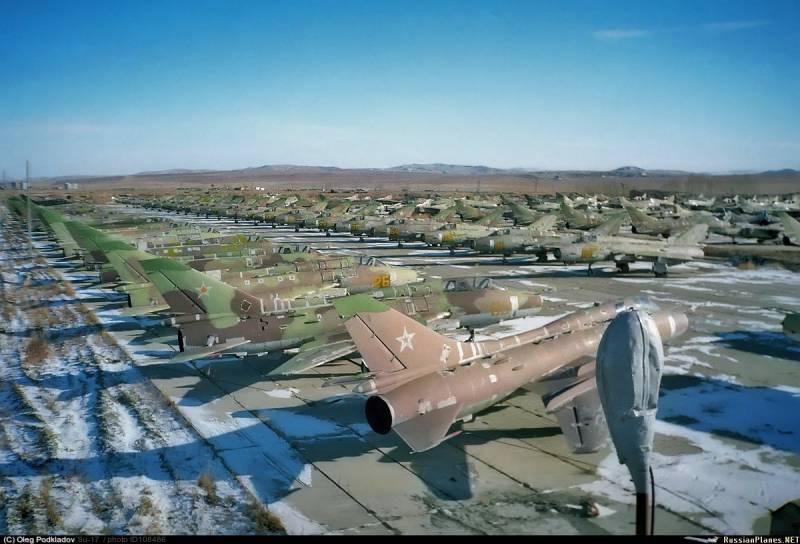 Extermination
Exactly 30 years ago, through the efforts of the late Commander-in-Chief of the Russian Air Force Pyotr Deinekin, the destruction of the numerous IBA - fighter-bomber
aviation
.
Many hundreds of Su-17M2, M3, M4, MiG-27 aircraft of various modifications, and with them MiG-21, MiG-23 fighters, ended up at the so-called "aircraft storage bases", which were then renamed "reserve bases". , storage, disposal of aircraft. The reason was allegedly the low reliability of combat aircraft with one engine, which did not correspond to the truth at all.
During numerous local wars, all these aircraft demonstrated the highest survivability.
Together with them, hundreds of Su-25 attack aircraft and Su-24 bombers of the first series were enrolled under the same brush. So these bases ended up with entire air divisions, often brand new aircraft, many of which had a flight time of only a few tens of hours.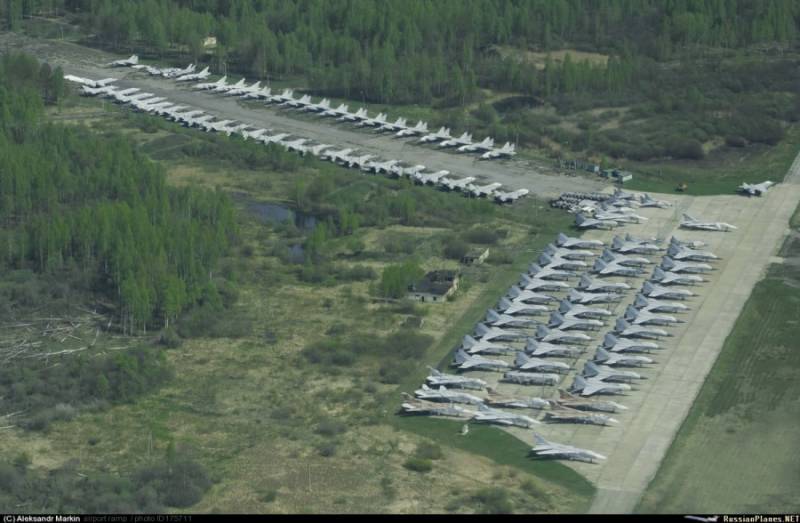 These were thousands of quite modern combat aircraft.
Many aviation technicians, who were ordered to destroy their own brand new aircraft, wept.
Su-17M4, MiG-27D, MiG-23 MLD had quite decent sighting and navigation systems even by today's standards. And the Su-24 could fly in the MVP mode - low-altitude flight in the mode of enveloping the terrain.
They say that in those damned 90s, many people involved got rich on the sales of non-ferrous and precious metals from the "destruction bases".
And what now?
Now, when the public now and then raises the question of why the Russian Aerospace Forces are having difficulty hitting targets, including bridges and tunnels, deep behind enemy lines, the answer is usually given an explanation that the air defense of Ukraine, reinforced by Western means of detection and destruction air targets, retained its combat capability.
And to destroy a bridge or a tunnel, many tons of explosives must be spent. In conditions of undestroyed air defense, this threatens with heavy losses. All this is so.
But ...
One, even the old Su-24 (without the letter "M"), is capable of taking 25 OFAB-250-270 aerial bombs and delivering them at extremely low altitude, making it difficult to detect it to the desired bridge or tunnel.
In this aircraft, the flight in the terrain avoidance mode is automated.
And what will happen to the object after 6 tons of air bombs hit it, even if it is a bridge across the Dnieper, there is no need to say. In addition, such an approach will make it easy to open the enemy's air defense system, which will be forced to switch to combat mode and reveal itself.
After that, the destruction of enemy air defense facilities by means of destruction of the Russian Aerospace Forces or missile forces will only be a matter of a few hours.
Installing remote control and guidance equipment in automatic mode on such aircraft at the current level of development in this area is not a big deal.
Simply put, you can simply adapt existing similar systems with UAVs. This is exactly what Azerbaijan successfully did during the last Karabakh war with An-2 aircraft.
One should not think that Russia does not have aviation equipment left in storage. It still exists, and there are many.
So, maybe you should treat her in a businesslike way?
Do not cut it further to replenish the budget or, God forbid, to enrich some people. And to conduct a survey, select suitable specimens and send them for strikes against the objects of the Ukrainian Nazis.
And then to remember with a kind word the great Soviet designers, production workers and the planes themselves, who went on their last flight in the name of Victory over Nazism of the XNUMXst century.